Tuesday Teaching Tips Episode 229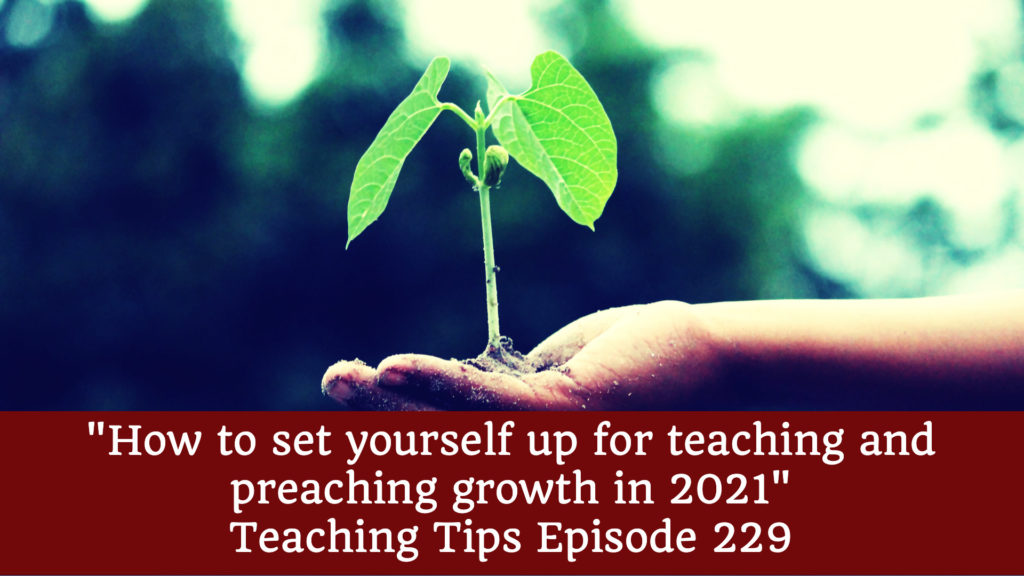 The previous episode was about how to assess your speaking year. Your speaking effectiveness. This week, just a brief note to ask how it's going? I'm recording this before I received my feedback, so I can't give you a perspective on that. However, I'm looking forward to whatever you and others share with me so that I can become a more effective speaker in 2021.
Here are three things to consider as you ponder the feedback you receive:
Pray over the feedback
Whittle the list of suggestions down to a maximum of three things to work on in 2021
Pick the one that appears most significant, and commit to working on it for the first quarter of the year.
And if you're not sure if the feedback is reasonable, accurate or healthy, talk to a trusted friend who can help you to be objective.
---
Feedback is a humbling yet beautiful thing! I hope, as you hear from your friends, you will hear from God. Remember, we're not trying to please people, but God. However, it is by listening to people that we are able to hear the voice of God.
---
At the time of recording, I don't have any specific goals for 2021. Much will depend on the feedback I received. However, what I will say is that, if 2020 has taught me anything, it has revealed the importance of being flexible.
Learning how to speak affectively through Zoom and other platforms has been a steep learning curve, but quite an exciting one at the same time. I cannot be certain, but I somewhat suspect that I and all of us will need to learn to be more flexible in the way that we speak as the future unfolds.
Thus, what I am identifying here is not so much a practical, as a spiritual principle. Stay open to the Spirit's guidance about your speaking and be willing to learn whatever is useful for the people to whom we speak..
---
Please add your comments on this week's topic. We learn best when we learn in community.
Do you have a question about teaching the Bible? Is it theological, technical, practical? Send me your questions or suggestions. Here's the email: malcolm@malcolmcox.org.
If you'd like a copy of my free eBook on spiritual disciplines, "How God grows His people", sign up at my website: http://www.malcolmcox.org.
Please pass the link on, subscribe, leave a review.
"Worship the LORD with gladness; come before him with joyful songs." (Psalms 100:2 NIV11)
God bless, Malcolm