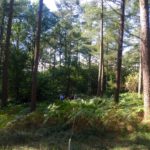 Yesterday I wrote about the death of a baby and what I had been learning in preparation for the memorial service today. This morning we gathered in a very special place to grieve and to celebrate. Grieving because of our loss, and celebrating because this baby is a gift.
The setting and the day could not have been better. Last week the parents buried their son at a Greenacres Woodland Burials Site and we returned there for the service  today. Sunlight slipped between branches to shade the mourners as we stood around the small grave. Several buried babies ring an oak in a solemn circle of pain and love. Each one marked with a name. Some with a few words on a plaque. One with an elephant carving – I suppose to say the parents would never forget. I can't imagine anyone does.
Our tears co-mingled with comfort. It might seem a strange combination, but there was a reason. Just before walking out to the grave we took communion. Bread and wine symbolising the body and blood of Jesus and reminding us that God's son also died before his time. We know God understands loss – even unjust loss. Therefore we know his comfort is available and powerful, "Praise be to the God and Father of our Lord Jesus Christ, the Father of compassion and the God of all comfort, who comforts us in all our troubles, so that we can comfort those in any trouble with the comfort we ourselves receive from God. For just as we share abundantly in the sufferings of Christ, so also our comfort abounds through Christ." (2 Corinthians 1:3–5 NIV11)
Quiet contemplation of the grave and sharing our sorrows was enough today. We did not need answers to "why", we just needed our compassionate God to say, "I'm here".  If you're going through a time of loss, I pray you too will find the comfort and hope available from the God of all comfort. Our friends will return to visit their babe in the woods, and I know they will find he is not alone. God is right there with him.
Malcolm