Quiet Time Coaching Episode 244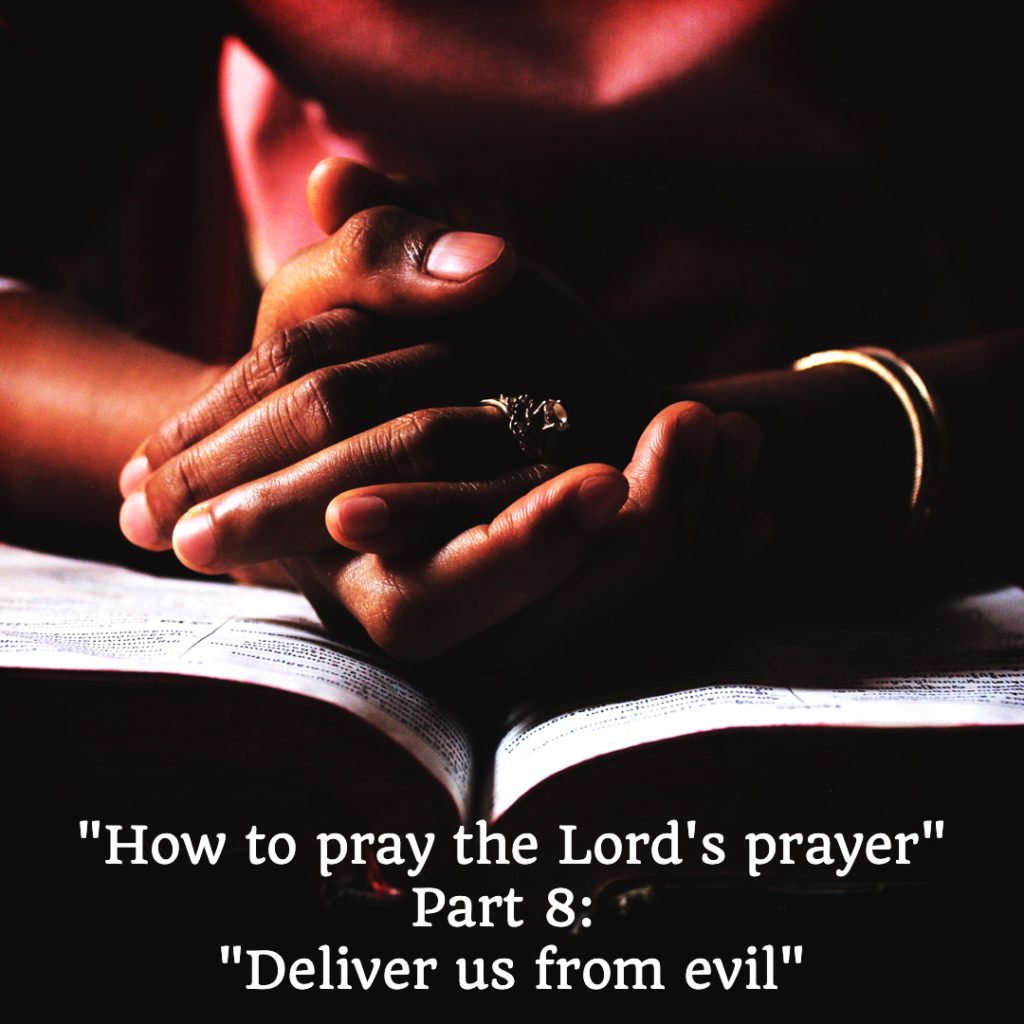 "deliver us from evil" NIV11
"Keep us safe from ourselves and the Devil!" (Matthew 6:13 MESSAGE)
Deliver us
What are we praying for, when we pray asking to be delivered from evil?
Perhaps stress is on vulnerability of a disciple. We are dependent on God for help because we are weak.
Just as we need to depend on God for physical needs (Mat 6:11), we need to remember to be actively dependent on him for spiritual victory and moral triumph. This also echoes the first beatitude, Matthew 5:3.
""Blessed are the poor in spirit, for theirs is the kingdom of heaven." (Matthew 5:3 NAS95)
Evil
The evil one
"the Lord's model prayer ends with a petition that, while implicitly recognizing our own helplessness before the Devil whom Jesus alone could vanquish (4:1-11), delights to trust the heavenly Father for deliverance from the Devil's strength and wiles." Carson, D. A. Matthew. EBC 8. Edited by Frank E. Gaebelein and J. D. Douglas.
Don't forget that you are in enemy controlled territory
"Enemy-occupied territory, that is what this world is. Christianity is the story of how the rightful king has landed, you might say landed in disguise, and is calling us to take part in a great campaign of sabotage. (C.S. Lewis – Mere Christianity)
"So let God work his will in you. Yell a loud no to the Devil and watch him scamper." (James 4:7 MESSAGE)
"But resist him, firm in your faith, knowing that the same experiences of suffering are being accomplished by your brethren who are in the world." (1 Peter 5:9 NAS95)
"For our struggle is not against flesh and blood, but against the rulers, against the authorities, against the powers of this dark world and against the spiritual forces of evil in the heavenly realms." (Ephesians 6:12 NIV11)
"Satan may be a vanquished foe whose demise is inevitable, but the aggression of his death-throes remains terrifying. 'He is filled with fury, because he knows that his time is short' (Rev. 12:12)." Greig, Pete. How to Pray: A Simple Guide for Normal People (p. 172). John Murray Press. Kindle Edition.
Conclusion
Doxology
Based on: "Yours, LORD, is the greatness and the power and the glory and the majesty and the splendour, for everything in heaven and earth is yours. Yours, LORD, is the kingdom; you are exalted as head over all. Wealth and honour come from you; you are the ruler of all things. In your hands are strength and power to exalt and give strength to all." (1 Chronicles 29:11–12 NIV11)
Questions for discussion:
What stands out to you from this verse?
How might your prayer life grow because of what this verse teaches you about God, yourself and prayer?
Suggestion: Pray this verse every day for a week
Please add your comments on this week's topic. We learn best when we learn in community.
Do you have a question about teaching the Bible? Is it theological, technical, practical? Send me your questions or suggestions. Here's the email: malcolm@malcolmcox.org.
If you'd like a copy of my free eBook on spiritual disciplines, "How God grows His people", sign up at my website: http://www.malcolmcox.org.
Please pass the link on, subscribe, leave a review.
"Worship the LORD with gladness; come before him with joyful songs." (Psalms 100:2 NIV11)
God bless, Malcolm
PS: You might also be interested in my book: "An elephant's swimming pool", a devotional look at the Gospel of John