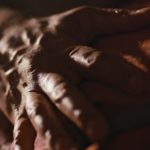 Next week the Watford church is looking at Luke 13.10-17 (see below). In preparation for this I've been digging into the passage. My digital highlighter was clicking away merrily in my Bible software this morning when something caused me to press the 'pause' button on my preparation. The question that arose in  my mind was, "Who gets the praise when God does something great?"
In the incident we meet a woman who cannot stand up straight. Not because of lazy posture, but because of a crippling spirit. She is healed by Jesus, and what does she say? Does she thank Jesus? Does she praise Jesus? No. Instead, "immediately she straightened up and praised God." (Luke 13:13 NIV11)
She has a God-perspective, while the synagogue leader has a 'law' perspective. Perhaps we should not be too surprised. Human nature is to miss the big picture. The issue of the synagogue leader is one for another time. But for today, why did she not praise Jesus? He performed all the actions needed for her healing. He "saw her…called her forward…said to her…you are set free from your infirmity…put his hands on her" (Luke 13:12–13 NIV11) He stands in front of her, his hands are on her, his voice rings in her ears. He is unmissable as a person, as a healer, as the one with the power. Yet, she praises "God".
It would not have been inappropriate for her to praise Jesus (he is God in flesh anyway). But she does what Jesus would have told her to do if it had been necessary. As he tells a man earlier in the Gospel, "Then Jesus ordered him, "Don't tell anyone, but go, show yourself to the priest and offer the sacrifices that Moses commanded for your cleansing, as a testimony to them."" (Luke 5:14 NIV11) Jesus was not embarrassed by his power, nor was he trying to diminish its significance, but he was not going to let people see him as a miracle-worker, one they would try to hold onto for their own ends. Instead he was clear that his mission was to complete the task the Father had given him. This labour was not to heal everyone. Jesus said that he had, "brought you glory on earth by finishing the work you gave me to do." (John 17:4 NIV11) The cross was the summit of that work. Jesus models humility in all his powerful actions.
So to bring this topic down to a personal level, we may ask this question, "Who do we praise when we see God at work today?" The one through whom the work was done? Or the one who's power accomplished the work?  I'm all for giving encouragement to people who allow themselves to be God's channels of love in this world (I rather like such encouragement myself!), but it is also necessary that the emphasis is on God, rather than the human being involved. The next time someone reports an answered prayer, a powerful response to a lesson or a miraculous God-incidence I'll try to remember to do two things:
i. Encourage the person
ii. Praise God
What's your take on this passage and my thoughts here? How do we best make sure we encourage one another, but ensure the praise gets directed back to God? Is this important, anyway? Let me know your thoughts.
God bless, Malcolm
"On a Sabbath Jesus was teaching in one of the synagogues,and a woman was there who had been crippled by a spirit for eighteen years. She was bent over and could not straighten up at all.When Jesus saw her, he called her forward and said to her, "Woman, you are set free from your infirmity."Then he put his hands on her, and immediately she straightened up and praised God. Indignant because Jesus had healed on the Sabbath, the synagogue leader said to the people, "There are six days for work. So come and be healed on those days, not on the Sabbath." The Lord answered him, "You hypocrites! Doesn't each of you on the Sabbath untie your ox or donkey from the stall and lead it out to give it water?Then should not this woman, a daughter of Abraham, whom Satan has kept bound for eighteen long years, be set free on the Sabbath day from what bound her?" When he said this, all his opponents were humiliated, but the people were delighted with all the wonderful things he was doing." (Luke 13:10–17 NIV11)