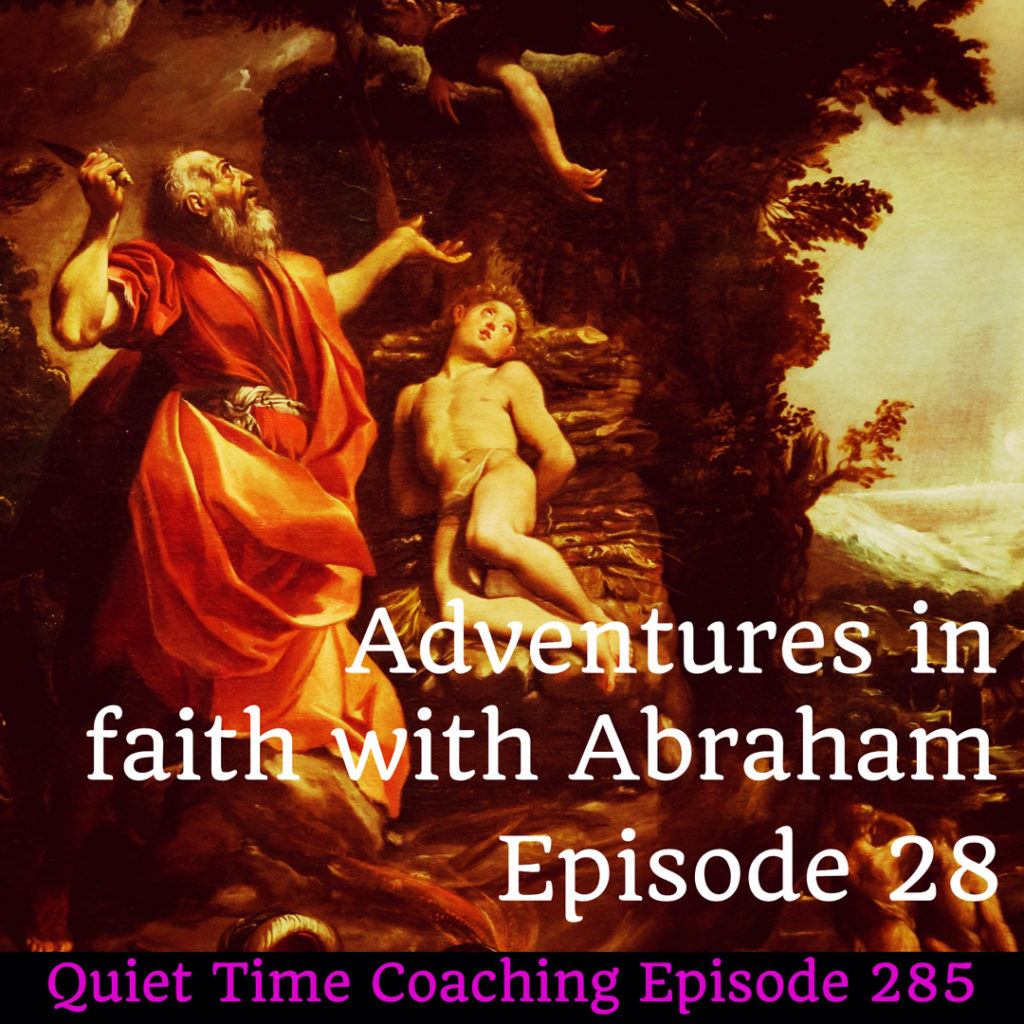 Would you like to learn more about faith? You've come to the right person. No, not me, Abraham. This is a daily devotional podcast supporting a teaching series for the Watford church of Christ and the Thames Valley churches of Christ called "Adventures in faith with Abraham". It is also part of my quiet time coaching series.
What is it about Abraham which is so admirable? Many things. But perhaps above all else his adventurous faith, "By faith Abraham, when called to go to a place he would later receive as his inheritance, obeyed and went, even though he did not know where he was going." (Hebrews 11:8 NIV11)
Join me as we step out on a faith adventure with Abraham.
---
Episode 28
---
Today we continue in chapter 17
"God said further to Abraham, "Now as for you, you shall keep My covenant, you and your descendants after you throughout their generations. "This is My covenant, which you shall keep, between Me and you and your descendants after you: every male among you shall be circumcised. "And you shall be circumcised in the flesh of your foreskin, and it shall be the sign of the covenant between Me and you. "And every male among you who is eight days old shall be circumcised throughout your generations, a servant who is born in the house or who is bought with money from any foreigner, who is not of your descendants. "A servant who is born in your house or who is bought with your money shall surely be circumcised; thus shall My covenant be in your flesh for an everlasting covenant. "But an uncircumcised male who is not circumcised in the flesh of his foreskin, that person shall be cut off from his people; he has broken My covenant."" (Genesis 17:9–14 NAS95)
What are we seeing here? The expectations of God are meaningful and manageable.
God has just presented Abram with a comprehensive and inspiring set of blessings. The verses following are his longest speech in chapter 17 . The theme is not hard to discern. He mentions "covenant" and "circumcise" over and over again.
When God makes promises to humankind, he does not do things by halves. A previous example of something so significant might be what happened after the flood.
""It shall come about, when I bring a cloud over the earth, that the bow will be seen in the cloud, and I will remember My covenant, which is between Me and you and every living creature of all flesh; and never again shall the water become a flood to destroy all flesh. "When the bow is in the cloud, then I will look upon it, to remember the everlasting covenant between God and every living creature of all flesh that is on the earth."" (Genesis 9:14–16 NAS95)
On that occasion God provided the sign himself. This time he expects Abraham to partner with him in the sign of circumcision.
---
Devotional thought for today
Is Abraham's responsibility difficult or easy? Well, there was some pain involved, and the whole episode cannot have been exactly pleasant. However, considering the grandure of the promises, Abraham's role is miniscule!
God expects that Abraham will follow through on his part of the covenant. But his part is hardly worth comparing to God's.
What is our part of the bargain? To live faithful to Christ.
"And, "But my righteous one will live by faith. And I take no pleasure in the one who shrinks back." But we do not belong to those who shrink back and are destroyed, but to those who have faith and are saved." (Hebrews 10:38–39)
We are called to live by faith. Just like Abraham. That face results in a life which pleases God. Sometimes living this way is difficult. But it never even begins to match the depth, breadth and height of the glories of God's gifts to us.
---
Prayer point for today
Ask God to help you gladly embrace a life of faithfulness, even if it is costly
---
If you have any questions or feedback please contact me: malcolm@malcolmcox.org.
The apostle Paul said of Abraham, "He is the father of us all." (Romans 4:16 NIV11) Let's allow him to be the father of Faith to you and me in January and February 2021.
Many thanks for listening today. See you tomorrow as we continue our adventure of faith with Abraham.
Take care and God bless, Malcolm