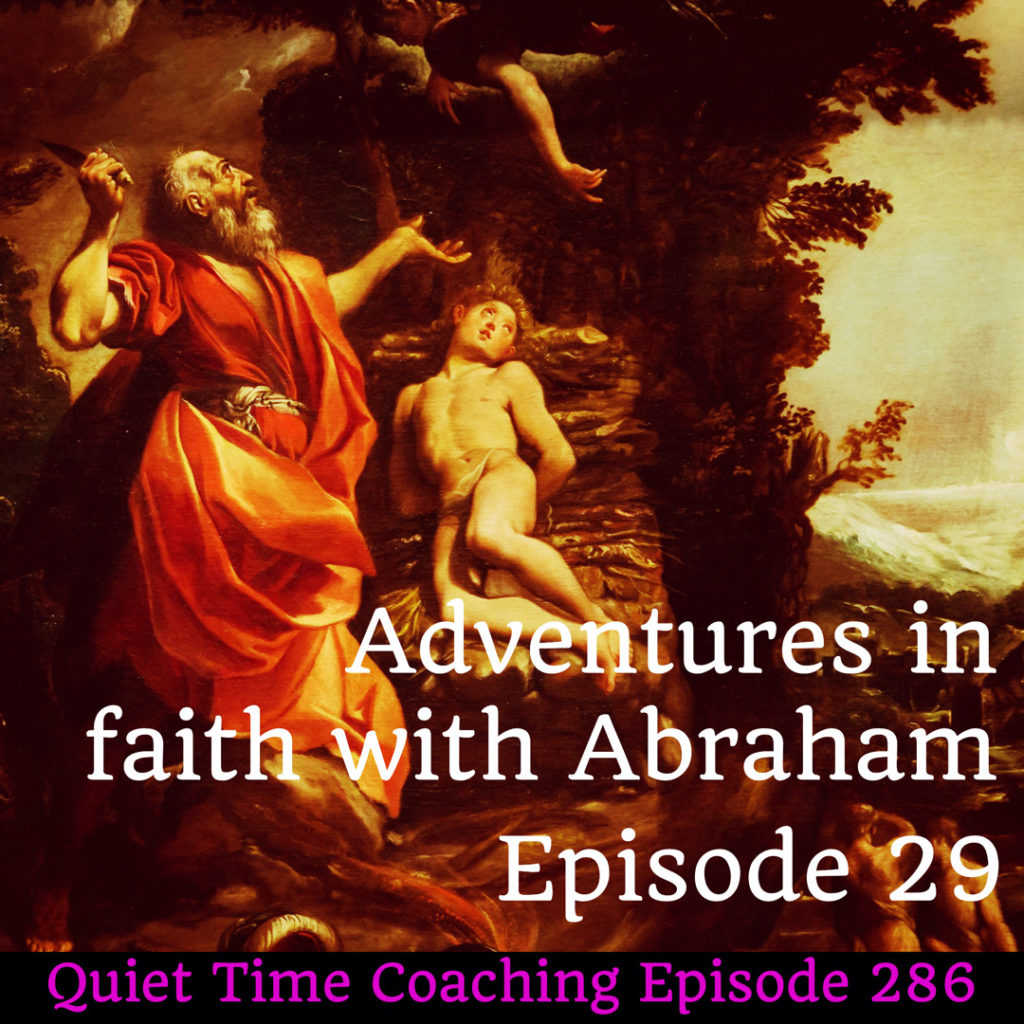 Would you like to learn more about faith? You've come to the right person. No, not me, Abraham. This is a daily devotional podcast supporting a teaching series for the Watford church of Christ and the Thames Valley churches of Christ called "Adventures in faith with Abraham". It is also part of my quiet time coaching series.
What is it about Abraham which is so admirable? Many things. But perhaps above all else his adventurous faith, "By faith Abraham, when called to go to a place he would later receive as his inheritance, obeyed and went, even though he did not know where he was going." (Hebrews 11:8 NIV11)
Join me as we step out on a faith adventure with Abraham.
---
Episode 29
---
Today we continue in chapter 17
"Then God said to Abraham, "As for Sarai your wife, you shall not call her name Sarai, but Sarah shall be her name. "I will bless her, and indeed I will give you a son by her. Then I will bless her, and she shall be a mother of nations; kings of peoples will come from her." Then Abraham fell on his face and laughed, and said in his heart, "Will a child be born to a man one hundred years old? And will Sarah, who is ninety years old, bear a child?" And Abraham said to God, "Oh that Ishmael might live before You!" But God said, "No, but Sarah your wife will bear you a son, and you shall call his name Isaac; and I will establish My covenant with him for an everlasting covenant for his descendants after him. "As for Ishmael, I have heard you; behold, I will bless him, and will make him fruitful and will multiply him exceedingly. He shall become the father of twelve princes, and I will make him a great nation. "But My covenant I will establish with Isaac, whom Sarah will bear to you at this season next year." When He finished talking with him, God went up from Abraham." (Genesis 17:15–22 NAS95)
What are we seeing here? God can handle our incredulity.
Abraham already knew he would receive a son, but he did not know it would come through Sarai. She, like her husband, is renamed. Both versions of the name mean 'princess', so nothing fundamental has changed, but it is probably symbolic of this new revelation.
Abraham's response? To laugh. God's response to his laughter? To carry on with business.
It seems that everyone gets a blessing. Sarai, Abraham, Isaac and Ishmael. God is not mean with dishing out his blessings!
---
Devotional thought for today
Isaac's name means "laughter". In laughing at God's promise, Abraham confirms it without realising what he was doing. I too might well have laughed. What about you?
Some things God tells us appear ridiculous. That we can have the peace that passes understanding? Are we going to have the joy of the spirit? That we can be confident of our salvation? That we will be give us strength to love our enemies?
Which of the promises of God do you find most difficult to accept? The ones which make you laugh in your heart, even if never out loud?
It may not be a sign of great faith when we laugh, but it is honest. God can handle our laughter, our incredulity, our honesty.
At the end of this paragraph God just takes off. He does not attempt to persuade Abraham out of his doubt, but simply tells him what he will do. It should be, and indeed was enough for Abraham. Let God's word be enough for you and me.
---
Prayer point for today
Ask God to help you trust his promises – every one of them
---
If you have any questions or feedback please contact me: malcolm@malcolmcox.org.
The apostle Paul said of Abraham, "He is the father of us all." (Romans 4:16 NIV11) Let's allow him to be the father of Faith to you and me in January and February 2021.
Many thanks for listening today. See you tomorrow as we continue our adventure of faith with Abraham.
Take care and God bless, Malcolm