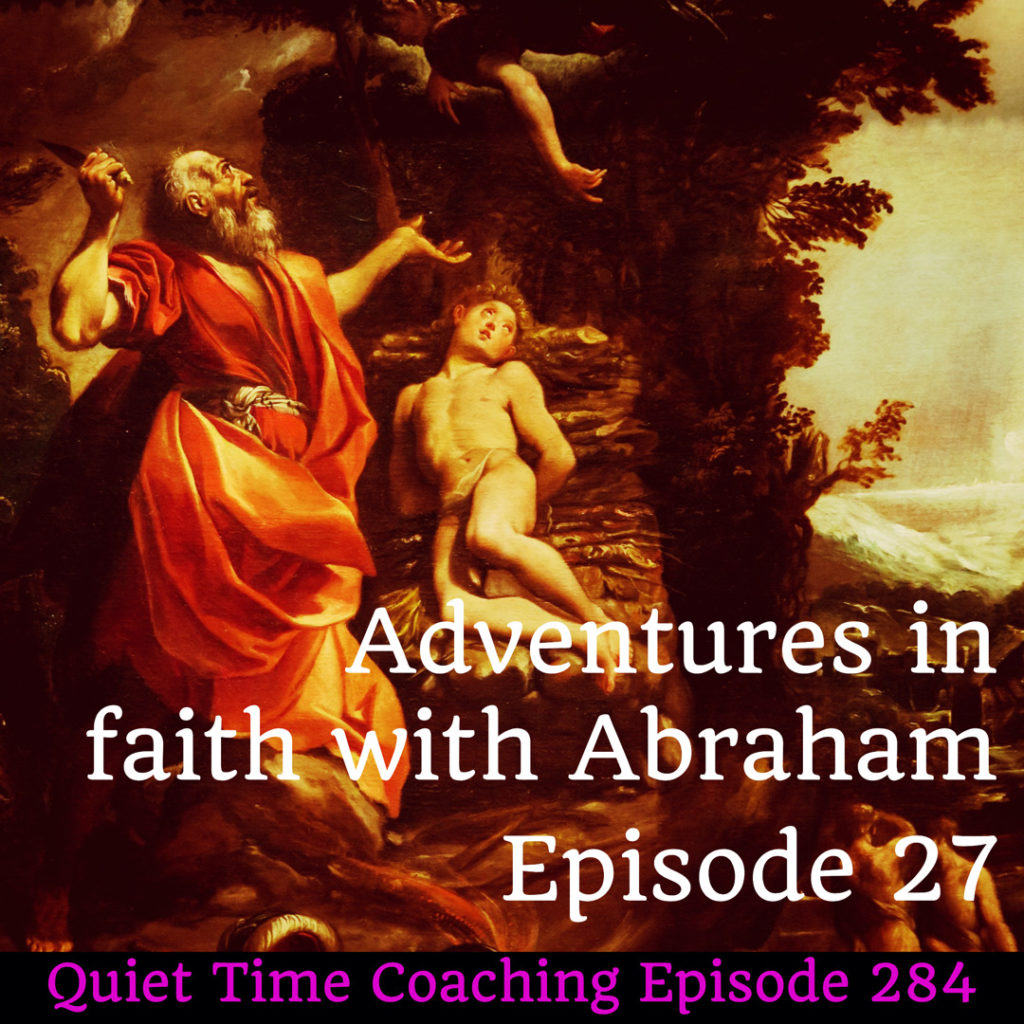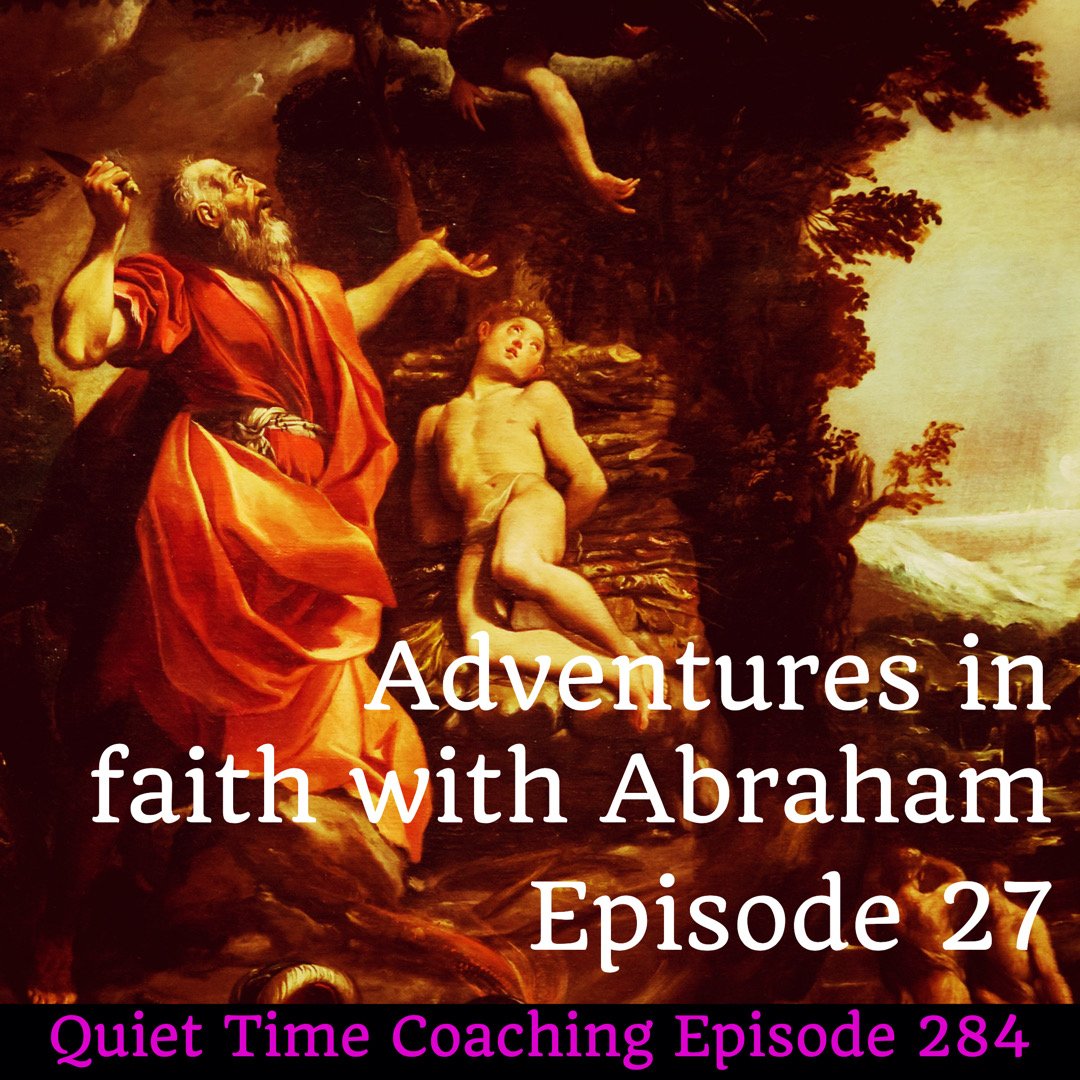 Would you like to learn more about faith? You've come to the right person. No, not me, Abraham. This is a daily devotional podcast supporting a teaching series for the Watford church of Christ and the Thames Valley churches of Christ called "Adventures in faith with Abraham". It is also part of my quiet time coaching series.
What is it about Abraham which is so admirable? Many things. But perhaps above all else his adventurous faith, "By faith Abraham, when called to go to a place he would later receive as his inheritance, obeyed and went, even though he did not know where he was going." (Hebrews 11:8 NIV11)
Join me as we step out on a faith adventure with Abraham.
---
Episode 27
---
Today we start chapter 17
"Now when Abram was ninety-nine years old, the LORD appeared to Abram and said to him, "I am God Almighty; Walk before Me, and be blameless. "I will establish My covenant between Me and you, And I will multiply you exceedingly." Abram fell on his face, and God talked with him, saying, "As for Me, behold, My covenant is with you, And you will be the father of a multitude of nations. "No longer shall your name be called Abram, But your name shall be Abraham; For I have made you the father of a multitude of nations. "I will make you exceedingly fruitful, and I will make nations of you, and kings will come forth from you. "I will establish My covenant between Me and you and your descendants after you throughout their generations for an everlasting covenant, to be God to you and to your descendants after you. "I will give to you and to your descendants after you, the land of your sojournings, all the land of Canaan, for an everlasting possession; and I will be their God."" (Genesis 17:1–8 NAS95)
What are we seeing here? A watershed event.
Chapters 12-16 all point towards this moment.
In the preceding chapters, the land becomes 'this land', then, 'all the land which you can see' then 'from the river of Egypt to the great river, the river Euphrates, and now, 'I shall give to you . . . the whole land of Canaan as a permanent holding'.
Abraham was told he would become a "great nation." Then his descendants will be as numerous as the dust of the earth; then as many as the stars, then too many to count, now a 'multitude of nations' and 'kings shall be descended from you'.
Small wonder that Abram falls flat on his face!
The Word Biblical Commentary notes this:
"From this point in Genesis, divine speeches become rarer and little new content is added to the promises, but the fulfilment of these promises becomes more visible."
---
Devotional thought for today
In some ways God is acting here rather like a parent. He is setting out the future of his 'son'. Indeed, he is naming him. The meaning morphs from "the father is exalted" to, "the father of a multitude".
Why he is chosen for this is hard to say. The same question arises for you and me. Why did God choose to reveal himself to you, and not your sister, your Uncle, your school friend, your work-mate?
We may never know in this life. But, that is not meant to stop us rejoicing.
"Peter, an apostle of Jesus Christ, To God's elect, exiles scattered throughout the provinces of Pontus, Galatia, Cappadocia, Asia and Bithynia, who have been chosen according to the foreknowledge of God the Father, through the sanctifying work of the Spirit, to be obedient to Jesus Christ and sprinkled with his blood: Grace and peace be yours in abundance." (1 Peter 1:1–2 NIV11)
We have been chosen by Grace, and appointed for obedience. For what purpose? So the world will know. Gods purpose for Abraham was never that his relationship with Abraham should be exclusive. Rather, it was intended to be as inclusive as possible.
Rejoice you are chosen, and rejoice that you are free to invite others to be chosen.
---
Prayer point for today
Ask God to help you rejoice at being chosen, and to rejoice at the opportunity to invite others to be chosen
---
If you have any questions or feedback please contact me: malcolm@malcolmcox.org.
The apostle Paul said of Abraham, "He is the father of us all." (Romans 4:16 NIV11) Let's allow him to be the father of Faith to you and me in January and February 2021.
Many thanks for listening today. See you tomorrow as we continue our adventure of faith with Abraham.
Take care and God bless, Malcolm