"There is a time for everything",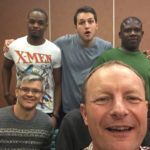 said Solomon "a season for every activity under the heavens."¹ Everything? Apparently so.² Even where the men staff of your churches are concerned. We've just spent two days together in Oxford (historic city, and developing harvest field) praying, studying God's word, and learning from one another.
I very much enjoyed praying with Stefan on Saturday morning – walking down the Oxford canal in the rain (he is far left front in the photo). Lunch with Roger Frimpong (long-time friend and all-round pure-heart) and dinner with Mike Desouza (even longer-time friend and master of the sermon illustration) were similar highlights. Mohan's lesson this morning challenged the heart and gave us a clear context to Paul's situation when writing to the Philiipians as well as several useful tips to help us serve our congregations better.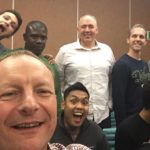 But too much ministerial concentration can give you spiritual constipation. A fella's gotta have a little fun. The dam broke while Andrew Agerbak was, manfully, attempting to create some semblance of order in lining us up for a group photograph. We got there eventually, but in the meantime I have to report a certain level of disorderliness amongst our church leaders! No sin was committed, and no furniture broken, but much laughter ensued.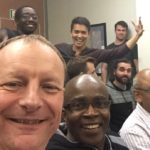 I don't know if you are reassured (or disturbed!) by the images attached to this article, but I find it somewhat comforting to see the brotherly bonding that's been going on. If Jesus was a humourless bore I doubt the children would have been drawn to him. Some of his stories are hilarious, and the crowds were delighted by them.
We need some fun and even silliness in our lives – may it long continue amongst our staff, and in our churches.
Mind you Toks & I, as the oldest men in the room, were far too sensible to participate!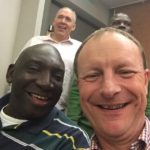 Malcolm
¹ Ecclesiastes 3:1-8 NIV11
² Birth, death, planting, uprooting, killing, healing, tearing down, building, weeping, laughing, mourning, dancing, scattering, gathering, embracing, refraining, searching, giving up, keeping, throwing away, tearing and mending, being silent and speaking, loving and hating, waring and a time for peacemaking." (Ecclesiastes 3:2–8 NIV11)