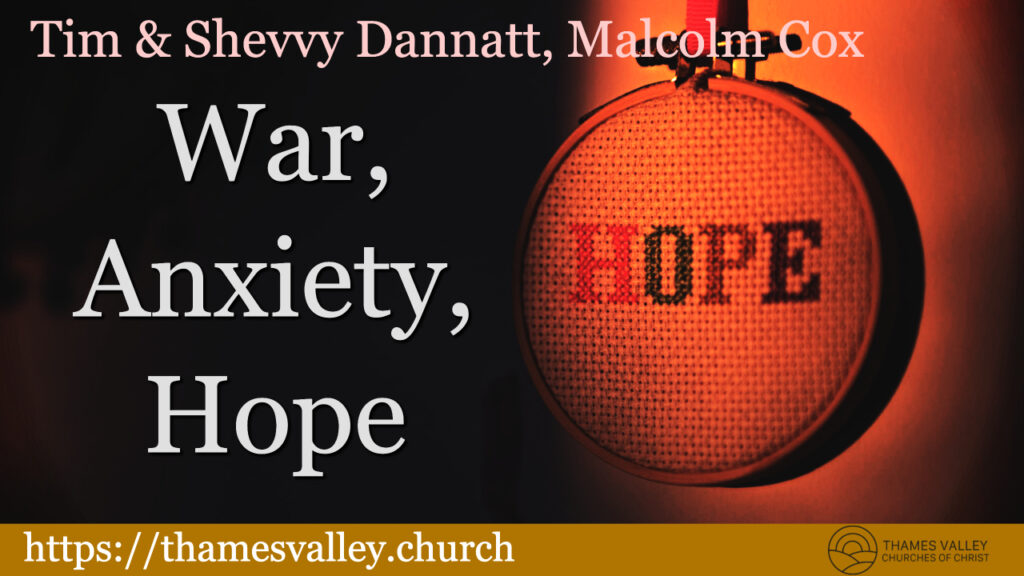 We were asked to provide a spiritual perspective on what is going on in Ukraine at the moment. How do we handle our anxieties and what do we pray about?
Tim reminds us that God is sovereign, he has a plan somewhere in this, and that he cannot be opposed. He shares from Matthew 2:13-15 to show that a wicked ruler like Herod was ultimately thwarted by God.
Shevvy offers reassurance in our uncertainty by bringing us 1 Peter 5:7 and Philippians 4:6-7, reminding us that God cares about us and is able to give us a deep peace beyond human understanding.
I share some personal thoughts and some teaching about war and pacifism. Additional notes are attached for those who wish to look into this more fully.
Ten Peacemaking Practises: Stassen & Gushee, https://goodfaithmedia.org/revisiting-the-10-practices-of-just-peacemaking-theory/
Support non-violent direct action
Take independent initiatives to reduce threat
Use cooperative conflict resolution
Acknowledge responsibility for conflict and injustice; seek repentance and forgiveness
Promote democratic, human rights & religious liberty
Foster just & sustainable economic development
Work with emerging cooperative forces in the international system
Strengthen United Nations & other international organisations
Reduce offensive weapons and weapons trade
Encourage grassroots peacemaking groups and voluntary organisations
Augustine's just war conditions
Just cause
Last resort
Lawful public authority
Reasonable hope of victory
Balance towards potential good
Right conduct and means
Bonhoeffer – https://youtube.com/playlist?list=PLvooTf8NEU5TiKytmCgWYKOnkkmfQ-_TP
Are all or any types of war legitimate for a Christian to participate in? See "Slavery, sabbath, war and women", Willard Swartley
Here is the (current) link for donations to the Ukrainian crisis appeal: https://www.hopeworldwide.org.uk/ukraine-relief/ – choose "Ukraine Refugee Crisis" from the drop-down options.
Douglas Jacoby Podcasts on war and pacifism.

https://www.douglasjacoby.com/?s=pacifism
https://www.douglasjacoby.com/new-the-douglas-jacoby-podcast/
http://playpodca.st/douglasjacoby
"Now inquiry is made about the point of whether a believer may enter into military service. The question is also asked whether those in the military may be admitted into the faith… A man cannot give his allegiance to two masters – God and Caesar.… How will a Christian man participate in war? …For the Lord has taken the sword away. It is also true that soldiers came to John [the Baptist] and received instructions for their conduct. It is true also that the centurion believed. Nevertheless, the Lord afterward, in disarming Peter, disarmed every soldier. Tertullian (c. 200, W), 3.73.
Dictionary of Early Christian Beliefs: A Reference Guide to More Than 700 Topics Discussed by the Early Church Fathers. David Bercot, https://www.amazon.co.uk/dp/1565633571/ref=cm_sw_em_r_mt_dp_YKJJPCRHVP9V6P72GN9D
Please add your comments on this week's topic. We learn best when we learn in community.
Do you have a question about teaching the Bible? Is it theological, technical, practical? Send me your questions or suggestions. Here's the email: malcolm@malcolmcox.org.
If you'd like a copy of my free eBook on spiritual disciplines, "How God grows His people", sign up at my website: http://www.malcolmcox.org.
Please pass the link on, subscribe, leave a review.
"Worship the LORD with gladness; come before him with joyful songs." (Psalms 100:2 NIV11)
God bless, Malcolm