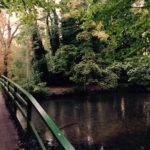 Autumn is upon us ('fall' for my American cousins). The leaves are falling. Change is everywhere. However, not everything progresses as expected. An unusually warm season means we're mowing more often that usual. Today I trimmed some hedges because they've put out new growth at a time when they would normally be conserving their energies in advance of winter. That's not the only unexpected sight I've come across recently.
Yesterday morning's prayer walk took me over a bridge. What did I see? A leaf. But not in its normal place. It was not on the river bank, or the path, not floating on the water. It was suspended in mid-air. It was as if frozen. A freeze-frame leaf moment. I continued over the bridge and found that from a different angle it was possible to see a spider's web stretched from a tree on one bank right across to a tree on the opposite side. Kudos to the 8-legged beastie. That was one weird web-tastic wonder!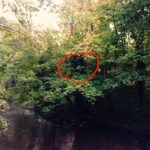 We don't always 'fall' as we expect. Neither do events. Last night Joe, another member of the Watford church of Christ, & I met on a similar nearby bridge to pray. One of our themes was asking God to give us the humility to be useful to Him as He sees fit, rather than as we would like be used. The early church did not expect to be scattered as they were (Acts 8.1-4). Paul did not expect to be confronted with Jesus (Acts 9.4), nor to be "the apostle to the Gentiles" (Romans 11:13 NIV11). It doesn't look like Timothy expected to be a church leader (2 Tim 1.7), and Philemon didn't expect to get Onesimus back – as a brother! (Philem. .16). I could go on.  Have you 'fallen' into a place in life you did not expect, desire or like?
We know not what will befall us. Worry could set in. How do we avoid anxiety? Perhaps this passage helps:
"Are not two sparrows sold for a penny? Yet not one of them will fall to the ground outside your Father's care. And even the very hairs of your head are all numbered. So don't be afraid; you are worth more than many sparrows." (Matthew 10:29–31 NIV11)
If God knows all the sparrows and hairs we can be sure he knows what's going on. Even the tiniest details of our lives matter to him. And if we are worth more than a bunch of sparrows we're confident in his consistent care and company as we walk through the unexpected lifts and falls of life.
Whether you're on the path, the river bank, the water, or suspended in a spider's web, I hope and pray you're able to trust God that he's watching out for you and only has your best interests at heart.
God bless,
Malcolm