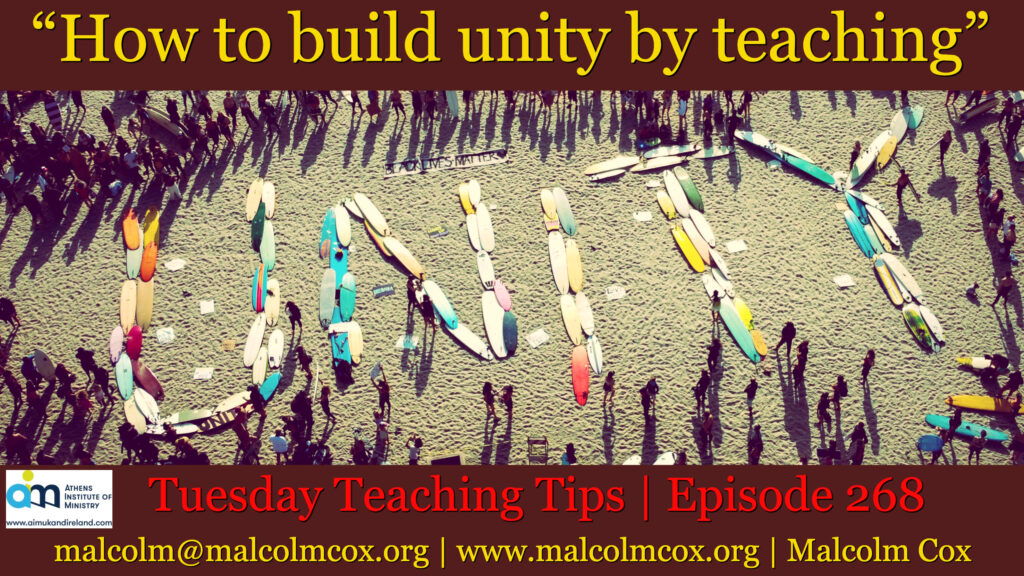 How do we make sure we teach in such a way as to build unity not weaken it?

"Thank you" to Tina Poole for your post in the AIM UK & Ireland forum as well as the comments from Geordan, Mike, Charlie, Madalena and Andy B. You have inspired me to make this recording.

https://www.aimukandireland.com/

First let us have a look at one of the classic unity passages, then I will offer a few tips.

"So Christ himself gave the apostles, the prophets, the evangelists, the pastors and teachers,
Teaching, as well as unity, is Christ initiative, not ours. Therefore, we keep Christ at the centre and visible.

to equip his people for works of service,
For a positive purpose. In other words we're not trying to prove other people wrong so much as help people to be able to do right

so that the body of Christ may be built up
While this all applies to the church universal, perhaps Paul had in mind the local Ephesian body. Most of the time when we teach it is to help the local body, those present, with only half an eye at most on anyone beyond the local group. If we build up the body in Christ we will build unity

until we all reach unity in the faith and in the knowledge of the Son of God and
Remember it is God's unity (by the Spirit), not ours. Understand what unity is. In other words, not trying to make everybody think the same way about issues that are not core doctrines.

become mature, attaining to the whole measure of the fullness of Christ.
Maturity is the goal, not conformity. Maturity involves helping people to make their own decisions based on what they trust to be the meaning of Scripture as (hopefully) helpfully explained by you.

Then we will no longer be infants, tossed back and forth by the waves, and blown here and there by every wind of teaching and by the cunning and craftiness of people in their deceitful scheming. Instead, speaking the truth in love, we will grow to become in every respect the mature body of him who is the head, that is, Christ.
Good teaching inspires congregational members to speak Scripture truth to one another. Good teaching, over time, creates a more Christlike body.

From him the whole body, joined and held together by every supporting ligament, grows and builds itself up in love, as each part does its work."
(Ephesians 4:11–16 NIV11)

A sign of healthy teaching, over time, is that Congregational members participate in the work of the kingdom with their own motivation, not needing to be chased, or pressed into a mould designed for them by leaders.

Tips
1. Run new ideas past a few trusted advisors
2. Ask yourself – in what way will Christ he honoured by what and how I teach today, on this topic, from this passage?
3. Make it your aim to build up, not tear down. Build faith and hope. Will people leave you with greater hope in their hearts?
4. Always aim to accentuate the positive, rather than belabour a negative.
5. Teach to please God, not yourself, not the congregation.
6. Participatory learning may engender unity more than didactic teaching on its own.
7. Don't make methodology a dividing point:
"many times huge divisions come between people who can sign the same doctrinal statement but can't agree on the same methodology."

Francis Chan, Until Unity (p199).
That will do for today. Much to be said on this topic, but I wonder what you think? What approaches to teaching engender unity, and which ones prevent it? What have you seen done that you might hope I and others would imitate?

Please add your comments on this week's topic. We learn best when we learn in community.

Do you have a question about teaching the Bible? Is it theological, technical, practical? Send me your questions or suggestions. Here's the email: [malcolm@malcolmcox.org](mailto:malcolm@malcolmcox.org).

If you'd like a copy of my free eBook on spiritual disciplines, "How God grows His people", sign up at my website: http://[www.malcolmcox.org](http://www.malcolmcox.org/).

Please pass the link on, subscribe, leave a review.

"Worship the LORD with gladness; come before him with joyful songs." (Psalms 100:2 NIV11)

God bless, Malcolm