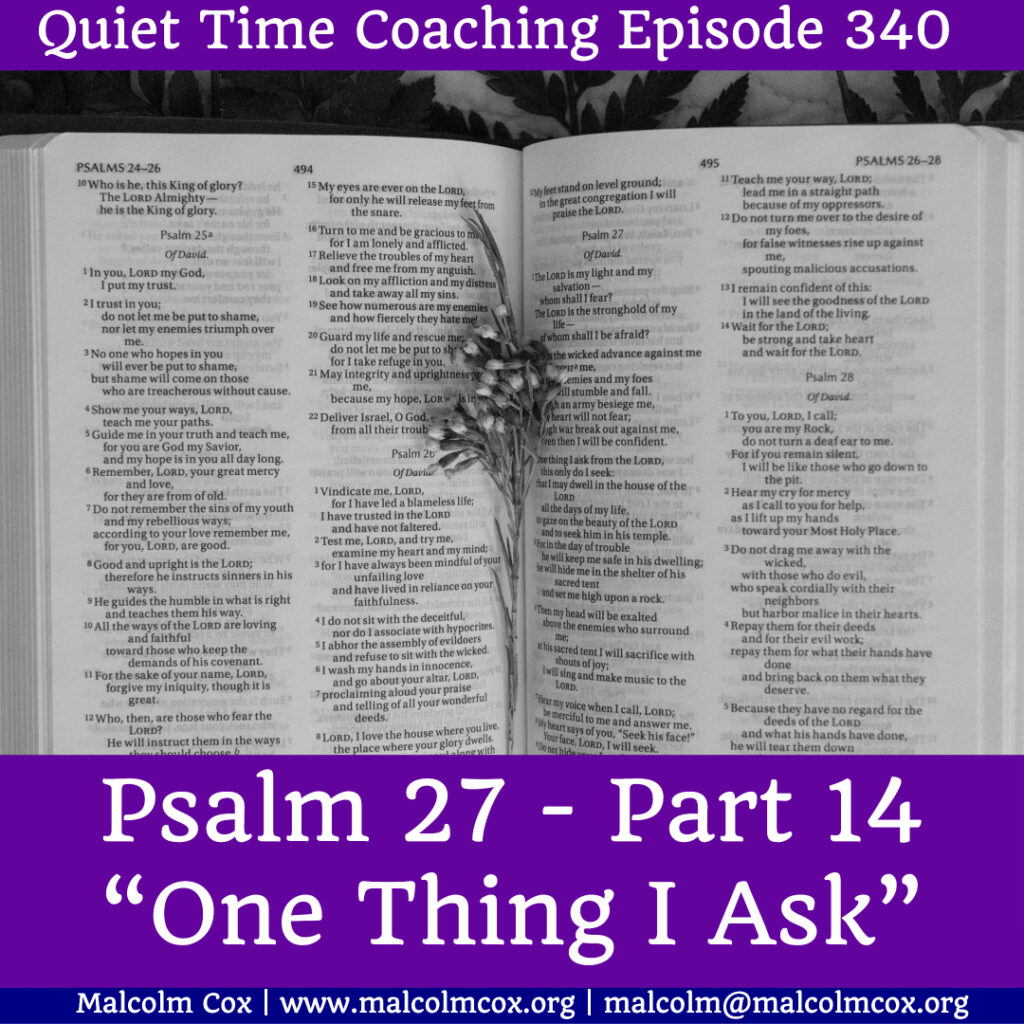 Today we continue with a series based on Psalm 27. If you haven't already done so, I recommend listening to the first episode which covers some background thoughts on the context of the Psalm. 
Now, on to today's verse.
"I remain confident of this: I will see the goodness of the LORD in the land of the living." (Psalm 27:13 NIV11)
David's statement is literally, 'I am still confident'. He has this confidence despite how things look, not because the problems are resolved.
"Confidence: Scripture shows that confidence in God will never lead to disappointment. Out of the fifty-three references in Scripture to confidence, approximately half refer to the ability to have confidence in the Lord or one's standing before him. Time and time again those who trust in the Lord see victory; believers can know that there is certainty and security in Christ. As Proverbs 3:25–26 states, "Have no fear of sudden disaster or of the ruin that overtakes the wicked, for the LORD will be your confidence and will keep your foot from being snared" (NIV). Those who trust in God will not be disappointed, but those whose confidence lies elsewhere will come to ruin (see also 2 Chron 32:7–8; Ps 71:5; Jer 17:7–8; 2 Cor 3:4–5; Eph 3:12; Phil 3:3; Heb 3:14). Likewise, confidence of our standing with God allows us to declare that we "will see the goodness of the LORD in the land of the living" (Ps 27:13). We can approach God with confidence, knowing that we will not be destroyed by his wrath because of our sin, but rather will be loved and heard because of our redemption (Heb 4:16; 10:19; 13:6; 1 Jn 3:21)." IVP Biblical Imagery.
"When we pray "Deliver us from evil," we are asking to be able to see, enjoy, and live in accord with what is true but still largely unseen in the present. We know that Jesus has already secured our final release from the Evil One, but we still sense evil's nearness and taste its effects. The victory of Jesus is real but not currently as visible as it one day will be. And so, in confidence but also in trembling and with tears, we pray for the final, public, irreversible experience of celebrating the defeat of the regime of our Enemy. Hill, Wesley." The Lord's Prayer: A Guide to Praying to Our Father (Christian Essentials) (p. 56). Lexham Press.
"For we do not have a high priest who is unable to empathise with our weaknesses, but we have one who has been tempted in every way, just as we are—yet he did not sin. Let us then approach God's throne of grace with confidence, so that we may receive mercy and find grace to help us in our time of need."(Hebrews 4:15–16 NIV11)
What are the lessons from this verse?
How confident in God's goodness do you feel at the moment?
Which spiritual disciplines bolster your confidence in God?
When you think of God's goodness to you, personally, what does that mean?
We will conclude today's podcast with the song I wrote using the words of Psalm 27 verse 4.
Next week we will proceed to the next verse of the Psalm. In the meantime, please add your comments on this week's topic. We learn best when we learn in community.
Do you have a question about teaching the Bible? Is it theological, technical, practical? Send me your questions or suggestions. Here's the email: malcolm@malcolmcox.org.
If you'd like a copy of my free eBook on spiritual disciplines, "How God grows His people", sign up at my website: http://www.malcolmcox.org.
Please pass the link on, subscribe, leave a review.
"Worship the LORD with gladness; come before him with joyful songs." (Psalms 100:2 NIV11)
God bless, Malcolm