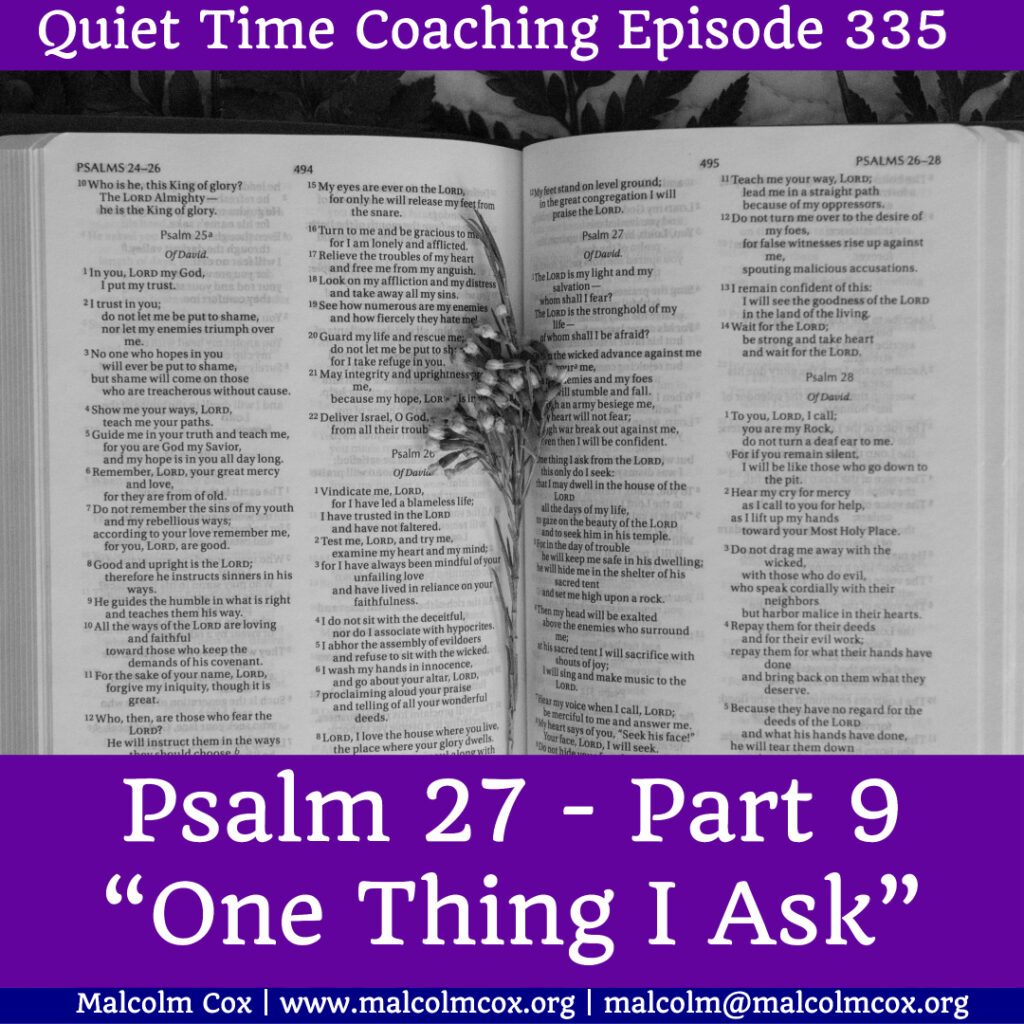 Today we continue with a series based on Psalm 27. If you haven't already done so, I recommend listening to the first episode which covers some background thoughts on the context of the Psalm.
Now, on to today's verse.
"My heart says of you, "Seek his face!" Your face, LORD, I will seek." (Psalm 27:8)
My heart
It is his heart that is seeking God, not just his mouth. He is not relying on his use of words. Words can be cheap, but when they are matched by the heart we pray with an authenticity that moves God's heart.
Seek his face
The implication is that David is reminding God that He has invited David (and all humankind) to seek Him, therefore David is only doing what God wants him to do. In that spirit he is expecting a reply to his prayers. What does he want?
Your face
"To "see the face" is to gain acceptance to one's presence (Gen 32:20; Esther 1:14; Acts 20:25). The face of Moses, because he had been in the presence (before the face) of God, shone (Ex 34:29; 2 Cor 3:7). The devout live as if in the presence of God, obeying his command "Seek my face" (Ps 27:8). The believer's current understanding of God is as "in a mirror dimly, but then face to face" (1 Cor 13:12 RSV; cf. 2 Cor 10:1; 1 Thess 2:17; 3:10; 2 Jn 12; 3 Jn 14)." IVP Biblical Imagery
What are the lessons from this verse?
Do your words and desires match?
Are you convinced God wants you close to him?
What helps you to trust God's acceptance of you?
We will conclude today's podcast with the song I wro te using the words of Psalm 27 verse 4.
Next week we will proceed to the eighth verse of the Psalm. In the meantime, please add your comments on this week's topic. We learn best when we learn in community.
Do you have a question about teaching the Bible? Is it theological, technical, practical? Send me your questions or suggestions. Here's the email: malcolm@malcolmcox.org.
If you'd like a copy of my free eBook on spiritual disciplines, "How God grows His people", sign up at my website: http://www.malcolmcox.org.
Please pass the link on, subscribe, leave a review.
"Worship the LORD with gladness; come before him with joyful songs." (Psalms 100:2 NIV11)
God bless, Malcolm