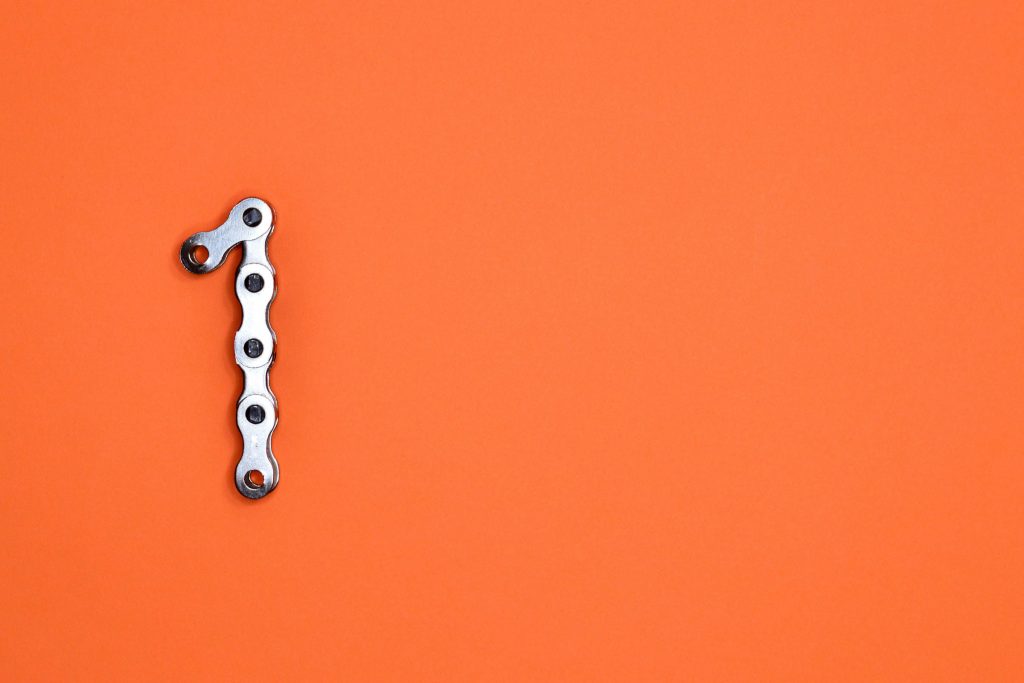 Which thing is the one thing?

We have started a new series in Watford called, "One Thing" based on five people in the Scriptures: David; the blind man, Martha, the ruler and Paul.

We began with David and Psalm 27. In this week's newsletter I'm sharing with you additional sermon notes to the sermon I delivered on 24th July.

Verses 1-4

1. "The LORD is my light and my salvation— whom shall I fear? The LORD is the stronghold of my life— of whom shall I be afraid? 2. When the wicked advance against me to devour me, it is my enemies and my foes who will stumble and fall. 3. Though an army besiege me, my heart will not fear; though war break out against me, even then I will be confident. 4. One thing I ask from the LORD, this only do I seek: that I may dwell in the house of the LORD all the days of my life, to gaze on the beauty of the LORD and to seek him in his temple."

If you want to understand this Psalm you will want to read Psalms 26 and 28. They contain similar themes. Perhaps they all refer to David's exile caused by the attempt of his son Absalom to kill him (1 Samuel 15-18).

As Calvin put it,

"…although David was banished from his country, despoiled of his wife, bereft of his kinsfolk; and…dispossessed of his substance, yet he was not so desirous for the recovery of these, as he was grieved and afflicted for his banishment from God's sanctuary, and the loss of his sacred privileges.'

Under Pressure

Are you under pressure at the moment? Do you feel besieged? The Hebrew word (chanah) means to camp around. Sometimes our troubles arrive suddenly. Perhaps that's better than a gradual build-up. At least then we don't have time for anxiety to grow over time. At other times the pressure builds, builds and builds some more. We feel surrounded by problems, anxieties, stressful situations, opposition, challenges and even persecution. If this is you, David understands.

What feelings is he wrestling with? Fear more than anything. He asks the questions, 'whom shall I fear…of whom shall I be afraid?' His answer? 'my heart will not fear…even then I will be confident.' He predicts confidence in the future even though he is experiencing fear in the present. His enemies have gathered, but they have not yet advanced, not yet started the war. That day is coming.

Smart David

David is doing something very smart here – well, spiritual actually. He is looking at his situation, recognising it is likely to get worse, and going to God for perspective and strength. When under attack David does two things: i. He turns to God in faith, and, ii. He turns to God in prayer. These two actions are adequate to quiet his soul.

Sometimes we can hold it together while attack is threatened, but give in to fear once the assault has begun. At that point we are tempted to complain to God that we have prayed and trusted him that the fight will not happen, but happen it does. Will we then continue to trust God? Victory does not always look certain during the battle, Exodus 17.11, but if we remain faithful we will 'rout' the enemy (Hebrews 11.34).

Devouring Devil Defeated

The word 'devour' means to eat. It is a reminder of the frail nature of our physical existence. We can be swallowed at any moment – rather like the homes recently destroyed by fire. The word can also mean 'slander'. Our enemy the devil attempts both of these activities:

""Now have come the salvation and the power and the kingdom of our God, and the authority of his Messiah. For the accuser of our brothers and sisters, who accuses them before our God day and night, has been hurled down." (Revelation 12:10 NIV11)

We are accused, but vindicated by God.

"Be alert and of sober mind. Your enemy the devil prowls around like a roaring lion looking for someone to devour. Resist him, standing firm in the faith, because you know that the family of believers throughout the world is undergoing the same kind of sufferings." (1 Peter 5:8–9 NIV11)

We are food for the devil, but the Lord rescues us. No wonder David rejoices. We can rejoice with him. It is David's gratitude and confidence in God which leads him to 'ask…seek…dwell…gaze…seek' (v4) – in other words to experience God in as great a depth as possible.

We have explored what it means for us today to seek God, 'gaze' on him in his 'temple' and otherwise delight in his beautiful presence. What does it mean to be preoccupied with God, enjoying his company and savouring his security?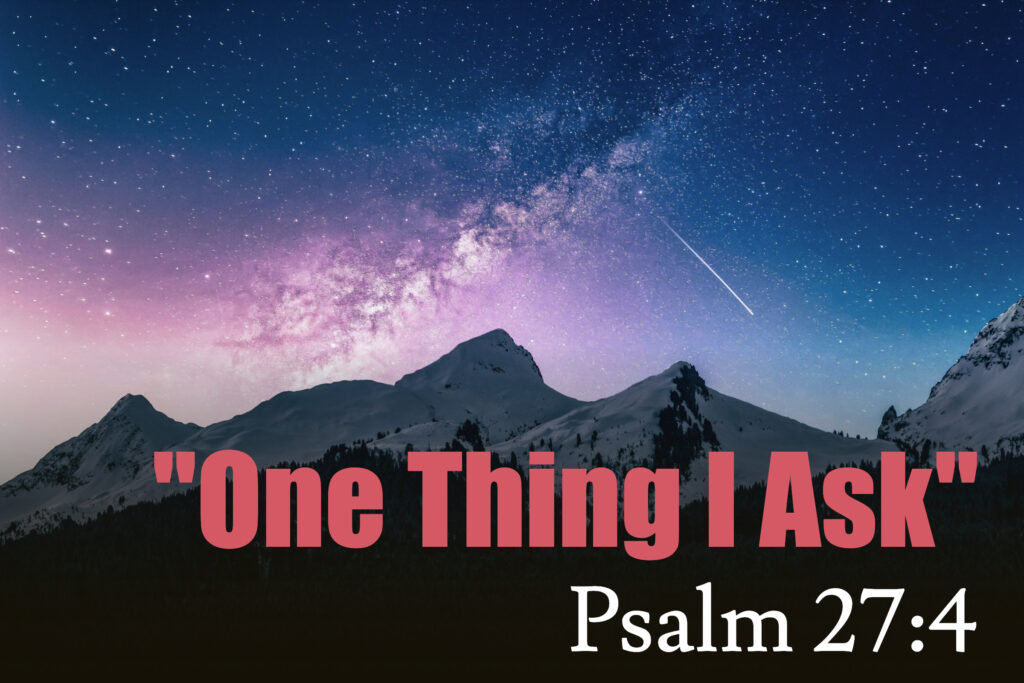 vv4-6

4. "One thing I ask from the LORD, this only do I seek: that I may dwell in the house of the LORD all the days of my life, to gaze on the beauty of the LORD and to seek him in his temple. 5. For in the day of trouble he will keep me safe in his dwelling; he will hide me in the shelter of his sacred tent and set me high upon a rock. 6. Then my head will be exalted above the enemies who surround me; at his sacred tent I will sacrifice with shouts of joy; I will sing and make music to the LORD." (Psalm 27:4–6 NIV11)

'one thing I ask'

Hearing David say 'one thing I ask', we would expect him to request something connected with reclaiming his status, wife, livelihood or citizenship. But no. His priority is clear. He will not be deflected from the source of true peace, joy and security. As F. B. Meyer put it,

"The men of one idea are irresistible. The arrowy stream will force its way through the toughest soil. See that all the prayers, incidents, and circumstances of life subserve one intense purpose. String all the beads on one thread. When the eye is single, the whole body is full of light."

'ask…seek'

David is partnering with God. In asking he is expressing a desire that God do something. In seeking he is expressing his willingness to act. Developing a meaningful relationship with God is always a partnership. His desire to be close to God is very active – 'ask', 'seek' X2, 'dwell', 'gaze'.

'dwell'

Dwell is a word used of a married couple who have set up house together.

"Figuratively, David prays that he, too, may dwell in God's house/temple. He surely does not ask for a change in God's law whereby he, a non-priest, could enter (indeed, dwell in) the temple. So it is a state of blessedness for which he prays, that he might always be in God's favour." TWOT, 493

How can we 'dwell' with God constantly? We seek an underlying almost subconscious state. It's a little like when a married couple or good friends know what each other is thinking. That experience is the reward of spending many hours together and sharing hearts. Our awareness of God is not meant to be 'coagulated' into small spaces of each day or week. It is meant to be a constantly running stream.

the beauty of the LORD

The 'beauty' of the LORD is not simply physical, but there does seem to be some link between the beauty of the temple and the beauty of God's nature. The word can also be translated 'favour', or 'pleasantness', Ps 90.17, Zech 11.7-14.

A good quiet time could be to meditate on what is 'beautiful' about the LORD. Would that include His holiness, mercy, long-suffering nature, loving-kindness, integrity, justice, completeness, perfection, wisdom, …..? It is interesting that in Ps 50.1-6, His/Zion's beauty is expressed in terms of fire, speaking, tempest, judgment etc.

God's beauty is in His holiness (1 Chr. 16:29; 2 Chr. 20:21; Ps. 96:9).

'Beauty has transformative power. Have you ever noticed that whether it comes from music, a painting, or a face, beauty affects us? It can lighten our faces and cause us to sigh with delight. Just a little bit, it beautifies us. But the beauty of Christ is something more. It comes and completely transforms us, all the way down. No one else is like this. No one else has this sort of transformative power in their beauty. Christ's beauty is perfect and eternal, and it's ours to seek and to see.' Starke, John. The Possibility of Prayer.

his dwelling

The focus is on the location of God's presence because that is where He has promised to 'live', Ex 29.42-45. The temple was a tent in those days. It might not have looked impressive as a place of safety against an army, but it was, as far as David was concerned, a high rock. Christians have the same faith. We trust in a God who is invisible. Outwardly we are wasting away, but inwardly we are being renewed.

set me high upon a rock

"Here, in contrast to the open desert areas of Sinai and the Negev, a rock outcrop would provide crevasses to hide in (Ex 33:22; 1 Sam 24:2), shade from the sun (Is 32:2), a defensible position (Ps 27:5) and a potential source of water from springs. Seemingly based on this comes the idea that God is Israel's rock, a changeless and permanent refuge and protector (2 Sam 2:2; 22:2–3, 32, 47) and numerous verses in the Psalms (e.g., Ps 19:14; 18:46; 62:1–2, 7)…The concept of God as rock is so apposite that Rock is actually used as a name of God (2 Sam 23:3; Hab 1:12). In this context Paul's statement that the spiritual rock that accompanied the Israelites in the exodus was Christ (1 Cor 10:4) is a bold statement of his divinity." IVP Biblical Imagery

John 1.14, 'eskenosen' – he pitched his tent – reveals Jesus as the climactic end of God's self-disclosure to His people first hinted at in the figure of the tent of the OT/OC.

I will sacrifice with shouts of joy

He is sacrificing to the right LORD, at the right place with the right spirit. His rejoicing is loud, uninhibited, prolonged. His sacrifice is a willing one, Romans 12.1-2.

For Reflection
What is the most beautiful aspect of God – for you?
How would you know you were 'dwelling' with God?
What is it about God that might cause you to shout and sing?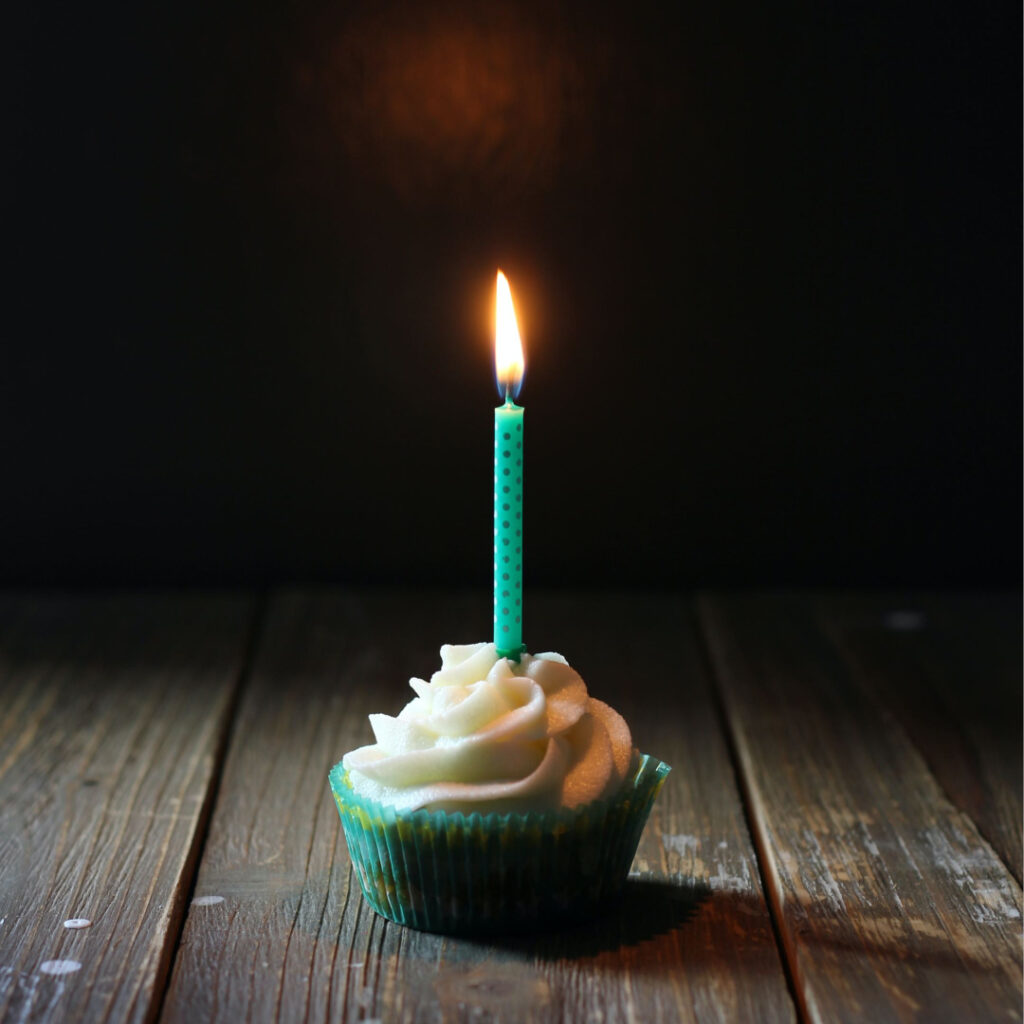 vv7-14
7. "Hear my voice when I call, LORD; be merciful to me and answer me. 8. My heart says of you, "Seek his face!" Your face, LORD, I will seek. 9. Do not hide your face from me, do not turn your servant away in anger; you have been my helper. Do not reject me or forsake me, God my Saviour. 10. Though my father and mother forsake me, the LORD will receive me. 11. Teach me your way, LORD; lead me in a straight path because of my oppressors. 12. Do not turn me over to the desire of my foes, for false witnesses rise up against me, spouting malicious accusations. 13. I remain confident of this: I will see the goodness of the LORD in the land of the living. 14. Wait for the LORD; be strong and take heart and wait for the LORD."(Ps 27:7–14 NIV11)

'Seek his face!'

The implication is that David is reminding God that He has invited David (all humankind) to seek Him, therefore David is only doing what God wants him to do. In that spirit he is expecting a reply to his prayers.

"To "see the face" is to gain acceptance to one's presence (Gen 32:20; Esther 1:14; Acts 20:25). The face of Moses, because he had been in the presence (before the face) of God, shone (Ex 34:29; 2 Cor 3:7). The devout live as if in the presence of God, obeying his command "Seek my face" (Ps 27:8). The believer's current understanding of God is as "in a mirror dimly, but then face to face" (1 Cor 13:12 RSV; cf. 2 Cor 10:1; 1 Thess 2:17; 3:10; 2 Jn 12; 3 Jn 14)." IVP Biblical Imagery

Helper…Saviour

God is 'helper' and 'Saviour' – His nature is clear to David. The implication here is that prayer can make a difference as to whether God turns to us or turns us away.

Father and mother …The LORD will receive

Even the strongest human love fails sometimes. God is different. He is tenacious in His faithfulness, far beyond human ability (Is 63.16, 49.15). We can count on Him to never give up on us, and always hear our prayers and attend to our needs. Jesus is 'forsaken' on the cross by his father, so that we can be accepted as his children.

Lead me in a straight path

The path is revealed by God, but it is still our choice whether to walk it. The contrast is between the way of sin/death and the way of obedience/life. These exhaust the options available to us. We make our own choices but we cannot choose our own consequences.

The path of life (Ps 16:11; Prov 2:19; 5:6; 10:17; 15:24) corresponds with the path of integrity (Ps 27:11), the path of uprightness (Prov 2:13), the path of justice (Prov 2:8; 17:23; Isa 26:8; 40:14), the path of righteousness (Prov 8:20). Conversely, one is to spurn the path of evil (Ps 119:101) for it is a false path (119:104, 128). To follow the path of truth and life is to follow God's own path (25:4, 10; 44:18 [H 19]; 119:115, where the word is a synonym for God's Torah; Isa 2:3)." TWOT 161

I remain confident of this

Literally this translates as 'I am still confident'. I am confident despite how things look, not because God has already sorted it all out.

"Out of the fifty-three references in Scripture to confidence, approximately half refer to the ability to have confidence in the Lord or one's standing before him…those who trust in the Lord see victory;…there is certainty and security in Christ. Prov 3:25–26, "Have no fear of sudden disaster or of the ruin that overtakes the wicked, for the LORD will be your confidence and will keep your foot from being snared". Those who trust in God will not be disappointed, but those whose confidence lies elsewhere will come to ruin (2 Chron 32:7–8; Ps 71:5; Jer 17:7–8; 2 Cor 3:4–5; Eph 3:12; Phil 3:3; Heb 3:14)…We can approach God with confidence, knowing that we will not be destroyed by his wrath because of our sin, but rather will be loved and heard because of our redemption (Heb 4:16; 10:19; 13:6; 1 Jn 3:21)." IVP Biblical Imagery.

Wait for the LORD

David's experience gives him the conviction to extend the appeal to others. David is dealing with his temptation to 'test' God, but is content to be patient and wait in faithful trust.

"Men…challenge [God]…to prove the truth of his words and the goodness and justice of his ways (Ex. 17:2; Nu. 14:22; Pss. 78:18, 41, 56; 95:9; 106:14; Mal. 3:15; Acts 5:9; 15:10)….to goad God betrays extreme irreverence, and God himself forbids it (Dt. 6:16; Mt. 4:7; 1 Cor. 10:9ff.). In all distresses God's people should wait on him in quiet patience, confident that in due time he will meet their need according to his promise (Pss. 27:7–14; 37:7; 40; 130:5ff.; La. 3:25ff.; Phil. 4:19)." IVP-NB Dic.

'take heart' is a Hebrew phrase used in the Pentateuch for hardening the heart in a negative way. We can 'harden' our heart in a positive way by trusting God.

For Reflection
What does it mean for you to seek God's 'face'?
What reassures you about God's acceptance of you and his enduring love for you?
How could you demonstrate courageous trust in God this week?
I hope you enjoy these notes on Psalm 27. If you want more, please join me for the new 15-week Quiet Time Coaching series based on Psalm 27. We start next week with an introduction and a song I wrote.
Please add your comments on this week's topic. We learn best when we learn in community. Do you have a question about teaching the Bible? Is it theological, technical, practical? Send me your questions or suggestions. Here's the email: [malcolm@malcolmcox.org](mailto:malcolm@malcolmcox.org). If you'd like a copy of my free eBook on spiritual disciplines, "How God grows His people", sign up at my website: http://[www.malcolmcox.org](http://www.malcolmcox.org/). Please pass the link on, subscribe, leave a review. "Worship the LORD with gladness; come before him with joyful songs." (Psalms 100:2 NIV11) God bless, Malcolm