Newsletter Episode 80: 30 January 2021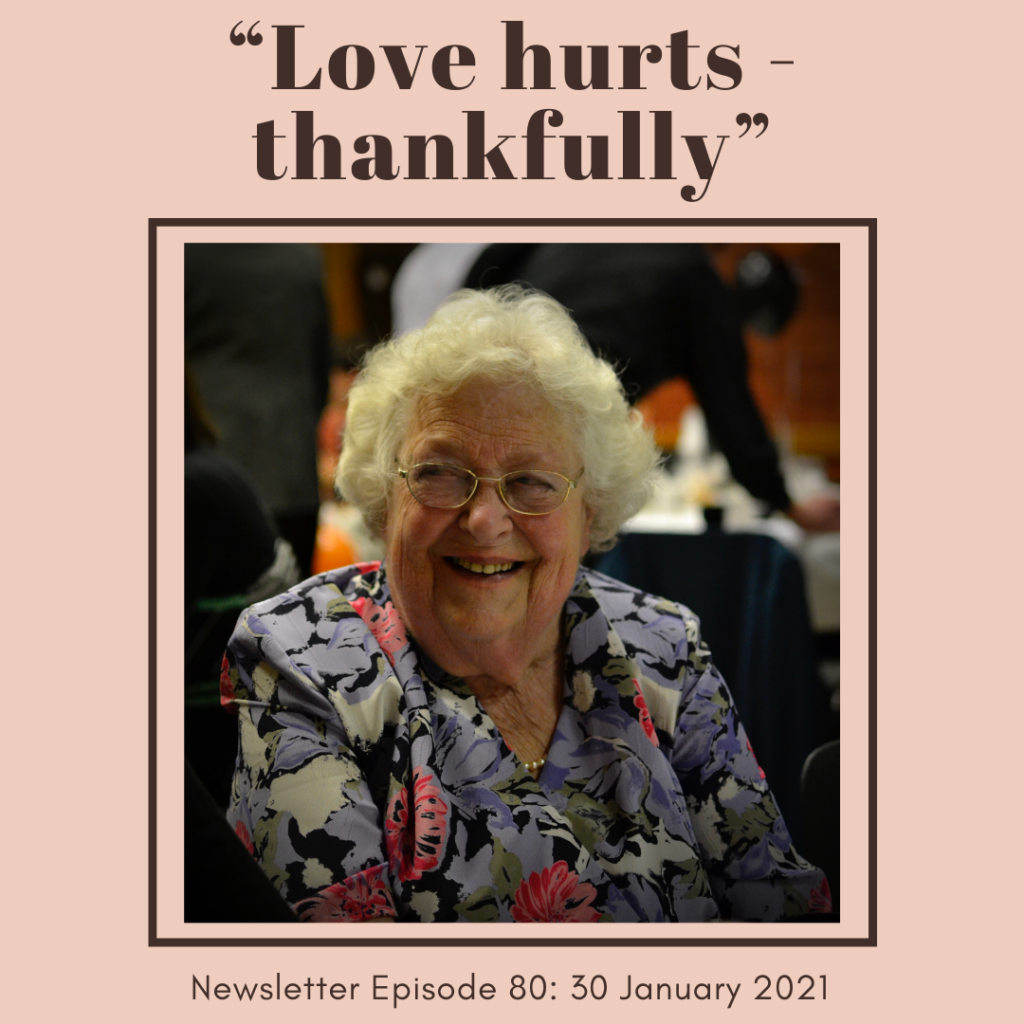 "Love hurts – thankfully"
Some of you will know that my mother is seriously ill. She spent several days in intensive care this week and was moved to an ENT ward last night.

There may be some options for surgery and further treatment, but the outcomes are uncertain. We do not know at this point whether she will be able to come home or not.

I have been spending a good deal of time supporting my father and the rest of the family. Hence, very little has gone up on my website in the last seven days. You will find the daily devotional podcasts – the preparation of which have helped me as much as I hope they might have helped anyone else!
I am hoping to post more videos and podcasts in the coming week, but we shall have to see how things develop. In the meantime, many thanks for your prayers.

Of course, many of you and other friends have been asking how I'm doing. My feelings have morphed, changed gone up-and-down and perhaps even inside out during the week! Overall, I know the Lord is close, and I sense that, but I also feel quite flat a lot of the time. It's possible my mother might make a full recovery, or it could be that she may never come home again. Some of you will know how this feels. 

My daily prayer walks have been a vital spiritual lifeline. I'm grateful for God's presence, comfort, strength and mercy. Whilst I hate the feeling of helplessness and anxiety on behalf of my mother, I'm also aware that such strong feelings only exist because of love. 

Love hurts, and I should be thankful. If there were no love, I would not feel so strongly for my mother. Her love for me is unquestioned. Therefore, as I think about her, I am reminded of how lucky I am to have a mother who has loved me so unconditionally for so many decades. 

"As he approached Jerusalem and saw the city, he wept over it" (Luke 19:41 NIV11)

Why did Jesus weep? At least in part because he loved the people of the city. Tears and love belong together. It may be uncomfortable, but it is good.
---
The week ahead
If you'd like to pray for me I'd be very grateful. Here are some of my plans:
The next Tuesday teaching tip class in the series, "The heart of communication", "Notes or no notes?"
The next "What we are reading episode"
The next few daily quiet time coaching episodes on Abraham
The Sunday sermon for the Watford church in the Abraham series: "Adventures in faith with Abraham". This week – Genesis 17. Circumcision and joy.
My mother's recovery and possible operation next Friday.
---
Until the next time,
God bless, Malcolm