Quiet Time Coaching Episode 292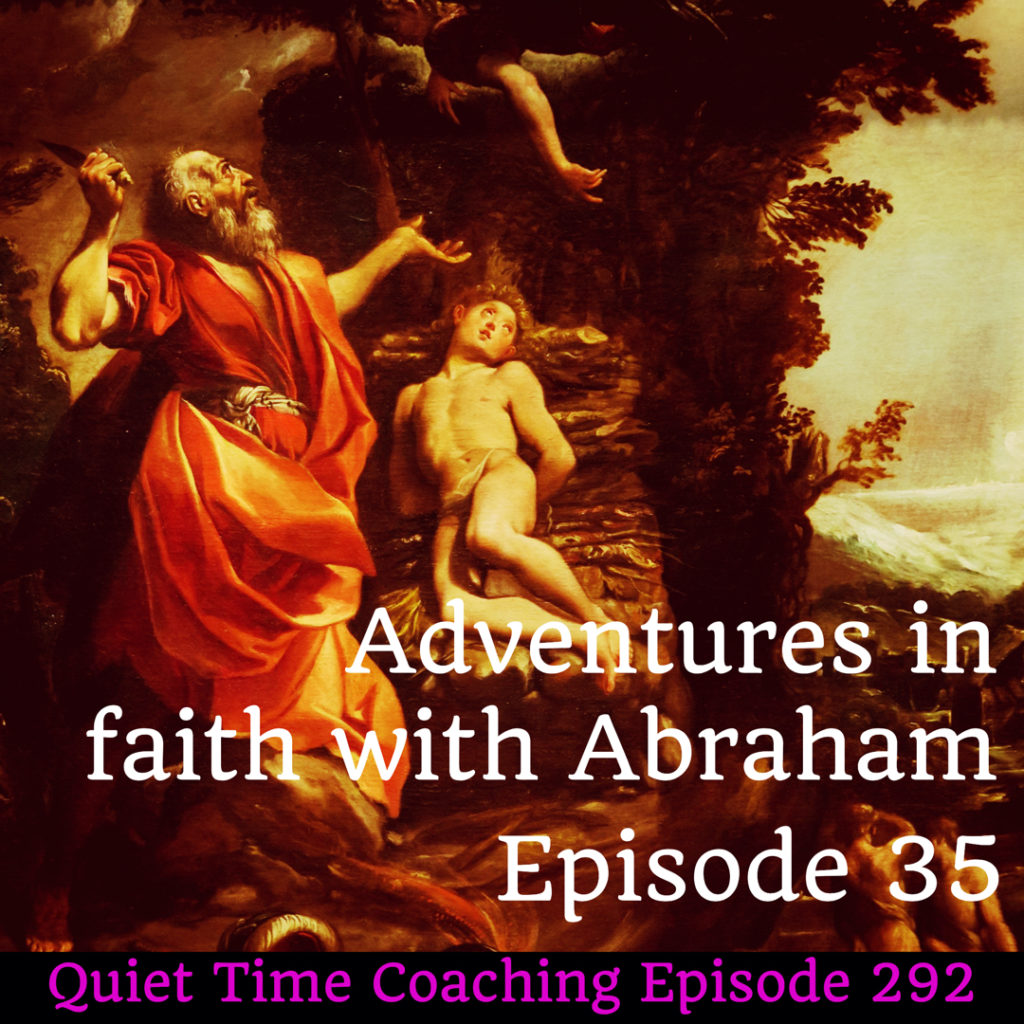 Would you like to learn more about faith? You've come to the right person. No, not me, Abraham. This is a daily devotional podcast supporting a teaching series for the Watford church of Christ and the Thames Valley churches of Christ called "Adventures in faith with Abraham". It is also part of my quiet time coaching series.
What is it about Abraham which is so admirable? Many things. But perhaps above all else his adventurous faith, "By faith Abraham, when called to go to a place he would later receive as his inheritance, obeyed and went, even though he did not know where he was going." (Hebrews 11:8 NIV11)
Join me as we step out on a faith adventure with Abraham.
Episode 35
Today we pause before going on to chapter 19. We will take a moment or two to consider what we learn about Abraham from this chapter. How does he see himself?
His humility is in clear view.
"Abraham looked up and saw three men standing nearby. When he saw them, he hurried from the entrance of his tent to meet them and bowed low to the ground." Gen 18:2
Abraham is eager to honour others above himself. His generosity is an expression of his humility. Later he refers to himself in this way:
"..though I am nothing but dust and ashes" Gen 18:27
He is not unaware of his significance. He knows he is chosen. Yet there is no arrogance in his addressing God. No presumption. Instead an appropriate humility.
In addition we see his boldness.
"The men turned away and went toward Sodom, but Abraham remained standing before the LORD. Then Abraham approached him and said…" Gen 18:22-23
Abraham does not wait for God to invite his thoughts, but takes them directly to him. Indeed he addresses God courageously:
"Far be it from you to do such a thing…" v25
Our hero presumes to call God to conform to his character. And again,
"Now that I have been so bold as to speak to the Lord" (Genesis 18:27 NIV11)
Yes, he has been bold! He continues to push the envelope until he feels he has gone far enough.
Devotional thought for today
Blending humility and boldness is not something we see too often in society. Many of us find it a challenge to come to God with the kind of courage and humility we see in Abraham. That's why we need to study people like Abraham. His relationship with God, without the advantage of the indwelling Spirit, is an inspiration.
Take a moment to consider how you habitually address God. Are you stronger in humility than boldness? Or is it the other way round? What would help you to grow in your weaker area?
Prayer point for today
Ask God to help you address him with a confident courage, and a confident humility.
If you have any questions or feedback please contact me: malcolm@malcolmcox.org.
The apostle Paul said of Abraham, "He is the father of us all." (Romans 4:16 NIV11) Let's allow him to be the father of Faith to you and me in January and February 2021.
Many thanks for listening today. See you tomorrow as we continue our adventure of faith with Abraham.
Take care and God bless, Malcolm