Quiet Time Coaching Episode 293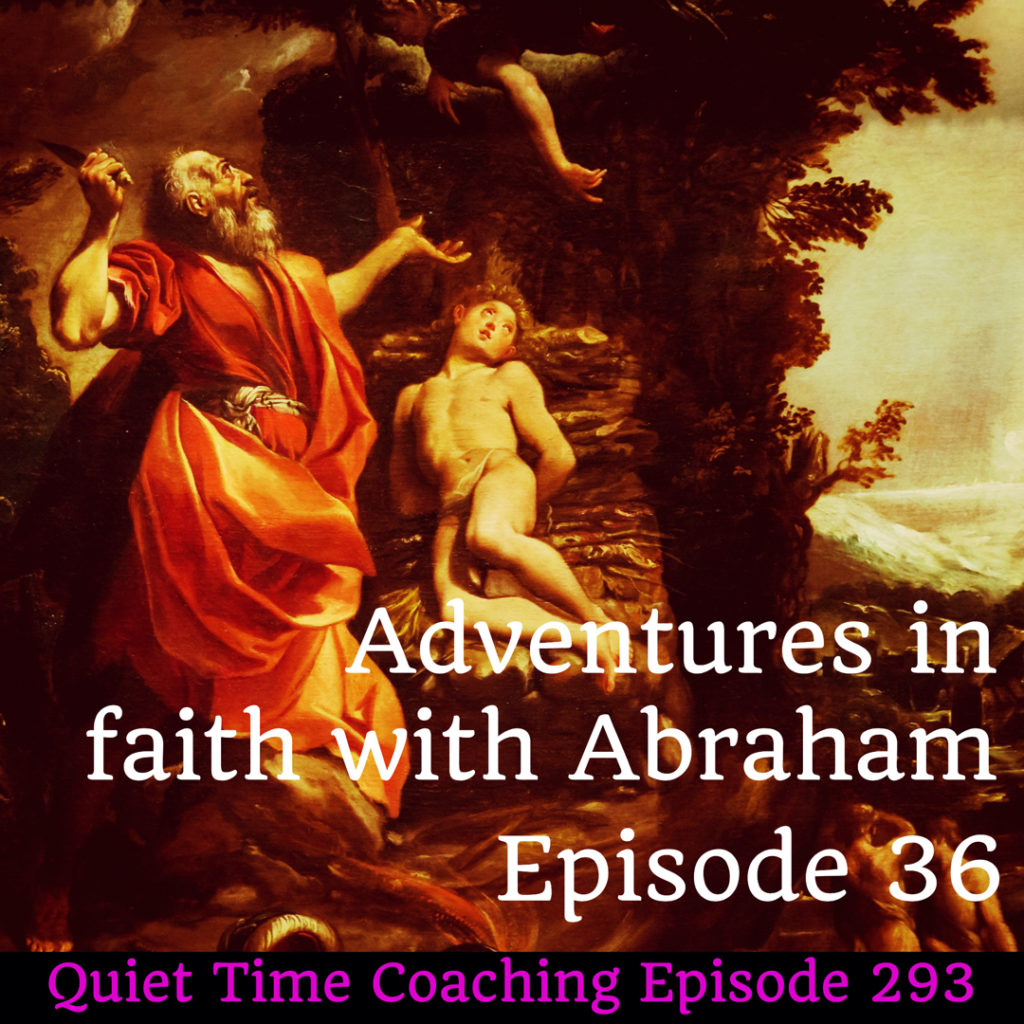 Would you like to learn more about faith? You've come to the right person. No, not me, Abraham. This is a daily devotional podcast supporting a teaching series for the Watford church of Christ and the Thames Valley churches of Christ called "Adventures in faith with Abraham". It is also part of my quiet time coaching series.
What is it about Abraham which is so admirable? Many things. But perhaps above all else his adventurous faith, "By faith Abraham, when called to go to a place he would later receive as his inheritance, obeyed and went, even though he did not know where he was going." (Hebrews 11:8 NIV11)
Join me as we step out on a faith adventure with Abraham.
Episode 36

Today we move on to chapter 19.
"The two angels arrived at Sodom in the evening, and Lot was sitting in the gateway of the city. When he saw them, he got up to meet them and bowed down with his face to the ground. "My lords," he said, "please turn aside to your servant's house. You can wash your feet and spend the night and then go on your way early in the morning." "No," they answered, "we will spend the night in the square." But he insisted so strongly that they did go with him and entered his house. He prepared a meal for them, baking bread without yeast, and they ate. Before they had gone to bed, all the men from every part of the city of Sodom—both young and old—surrounded the house. They called to Lot, "Where are the men who came to you tonight? Bring them out to us so that we can have sex with them." Lot went outside to meet them and shut the door behind him and said, "No, my friends. Don't do this wicked thing. Look, I have two daughters who have never slept with a man. Let me bring them out to you, and you can do what you like with them. But don't do anything to these men, for they have come under the protection of my roof." "Get out of our way," they replied. "This fellow came here as a foreigner, and now he wants to play the judge! We'll treat you worse than them." They kept bringing pressure on Lot and moved forward to break down the door. But the men inside reached out and pulled Lot back into the house and shut the door. Then they struck the men who were at the door of the house, young and old, with blindness so that they could not find the door." (Genesis 19:1–11 NIV11)
What are we seeing here? That pressure perverts priorities.
Lot is determined to offer hospitality. He 'insisted' – a Hebrew word that means something like, "he twisted their arms". In this he reminds us of Abraham. Eager and urgent to provide hospitality.
His instincts are correct. Yet, his priorities become perverted. Under pressure from the townsfolk he offers them his daughters to do with them as they please. Lot's angelic guests are having none of this. They pull their host inside and strike the men outside with blindness.
Lot moved away from Abram's side. He migrated from 'near Sodom' (Gen 13:12) to living 'in Sodom' (Gen 14:12). His heart drifted inexorably further away from God's heart, thus allowing his priorities to be perverted.
Devotional thought for today
Are you feeling the pressure at the moment? I'm sure you are. I certainly am. What can we do to maintain a spiritual perspective at pressure points?
"We do not want you to be uninformed, brothers and sisters, about the troubles we experienced in the province of Asia. We were under great pressure, far beyond our ability to endure, so that we despaired of life itself. Indeed, we felt we had received the sentence of death. But this happened that we might not rely on ourselves but on God, who raises the dead. He has delivered us from such a deadly peril, and he will deliver us again. On him we have set our hope that he will continue to deliver us, as you help us by your prayers." (2 Corinthians 1:8–11 NIV11)
God is aware of how we are feeling when the pressure gets too great. He is available for strength. His part is the strength supply. Ours is to set our hope on him.
Our spiritual disciplines of prayer, silence, solitude and the like are tools that may help us to:
"…set your hearts on things above, where Christ is, seated at the right hand of God. Set your minds on things above, not on earthly things." (Colossians 3:1–2 NIV11)
Why not take some time today to dwell on the the reason for setting our hearts and minds on things above? What is that reason? That we have "been raised with Christ".
Prayer point for today
Ask God to help you celebrate your new life in Christ and, in so doing, give you the strength under pressure you need
If you have any questions or feedback please contact me: malcolm@malcolmcox.org.
The apostle Paul said of Abraham, "He is the father of us all." (Romans 4:16 NIV11)
Let's allow him to be the father of Faith to you and me in January and February 2021.
Many thanks for listening today. See you tomorrow as we continue our adventure of faith with Abraham.
Take care and God bless,
Malcolm