Newsletter – Episode 64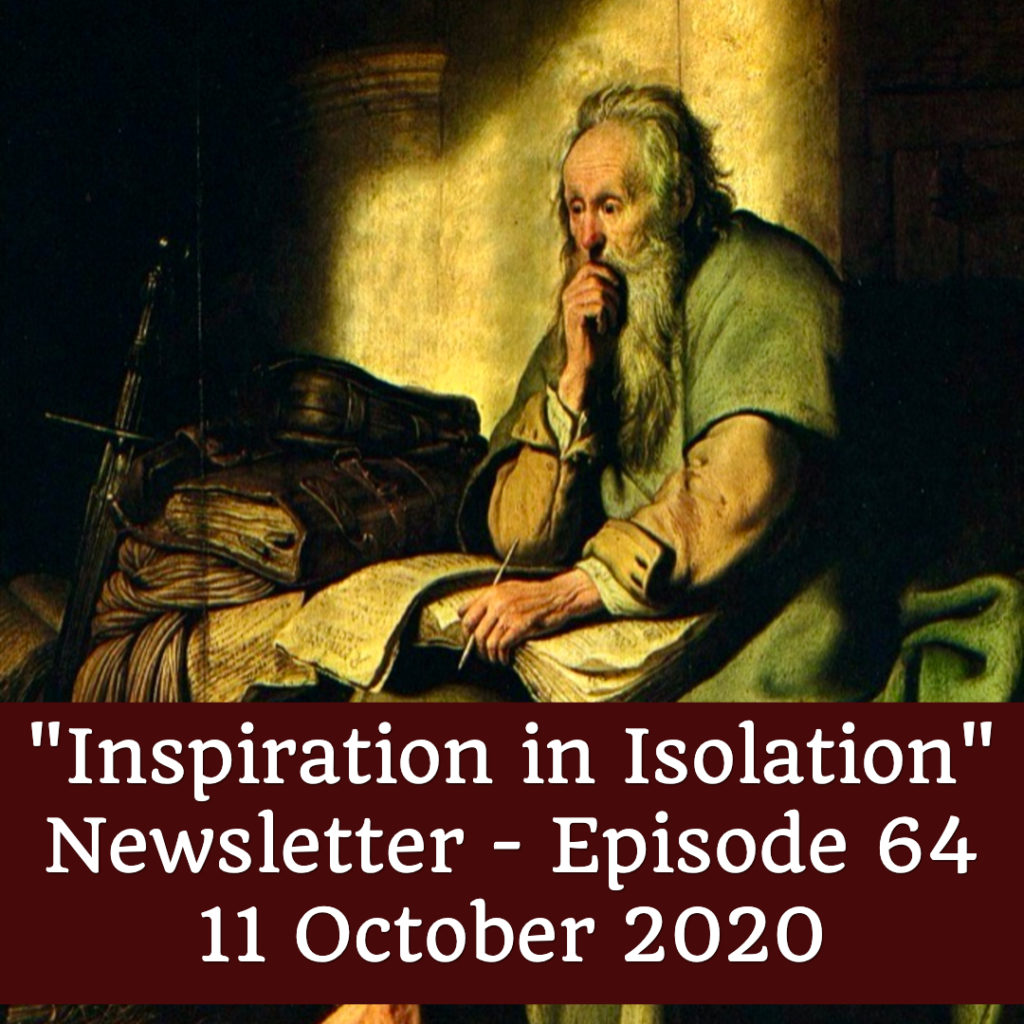 I have been thinking a lot this week about the difference our faith can make to a sense of isolation – or even desperation – at times like this. I spoke to someone this week who said that their mental health had been suffering because of isolation. They are not the only one.

Did you notice that it was "World Mental Health Day" this week? For too long the subject of mental health has been a taboo for people of the Christian faith. If there is a sense of shame regarding mental health for non-believers, it might be even stronger for believers. Aren't we meant to have the "mind of Christ"? And if we do, shouldn't that be enough?

What can be forgotten is that the consequences of what happened in Eden affect every part of human life. The emotional, mental, physical and the spiritual.

What can we do to help ourselves and one another? Are you feeling especially isolated right now, or know someone how is? You might find the resources of the website "mind and soul" helpful. Whatever your situation, be assured that God is right there in the midst of the situation with you.

"Even though I walk through the darkest valley,
I will fear no evil, for you are with me;
your rod and your staff, they comfort me." (Psalm 23:4 NIV11)
"Even when the way goes through Death Valley,
I'm not afraid when you walk at my side.
Your trusty shepherd's crook makes me feel secure." (Psalm 23:4 MESSAGE)

Take some time to pray, ask God for courage, and reach out – to him and a friend or two.

I hope you find some of the resources I have uploaded this week to be useful. In particular, although today's sermon is not about mental health, it is about the difference our faith makes when we remember we are in our situation with God.
---
There is No Longer Jew nor Greek: Dialogue on Christianity and Race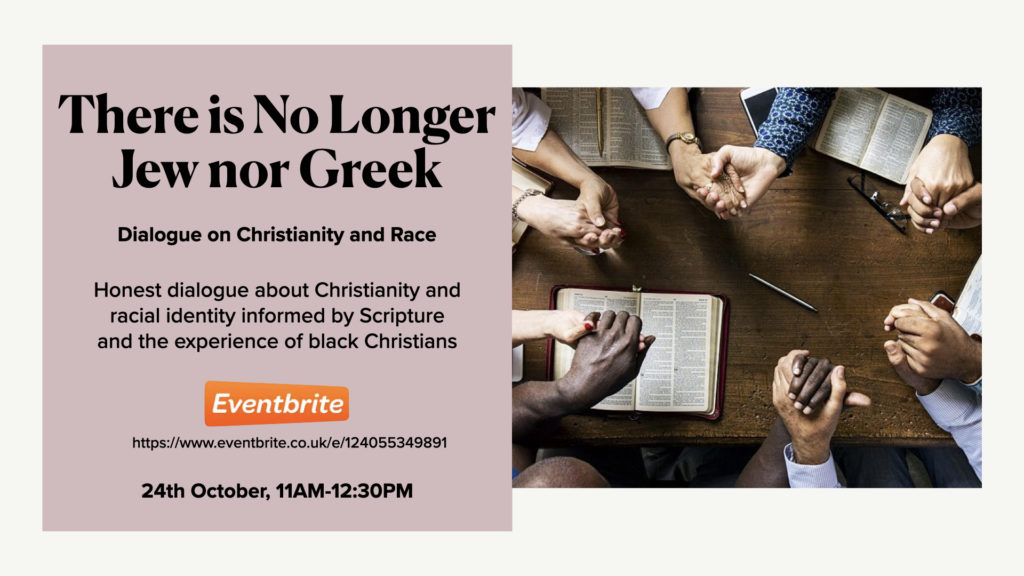 Together with some friends I am working on an event called, 'There is No Longer Jew or Greek: Navigating the Dialogue on Christianity and Race'. Andy and Sandra Ezeilo will be speaking as well as Mike Desouza, Elleen Okotie and Rachael Corson. Dr Andy Boakye will be teaching from the Scriptures.

Details can be found on eventbrite. The event will take place on zoom with an opportunity for breakout rooms and feedback from the discussions. The format will be similar to the "message in the mayhem" event. Sign up to register and receive updates as we approach the day in question.
The week ahead
If you'd like to pray for me I'd be very grateful. Here are some of my plans that you could include.
A sermon for the Watford Church on Sunday.
Hosting the second meeting of the Renovare book club on Monday evening.
Helping put together the next class for the Thames Valley teaching series on inspiration in lockdown – looking a Biblical characters who faced circumstances similar to our 'lockdown' and responded in faith.
A Tuesday teaching episode answering a question from a subscriber, Edwin Young, on how to avoid making historical context boring!
The third quiet time coaching episode from the new series based on Pete Greig's book, "How to pray". We will be looking at the significance of pausing.
The next "What we are reading episode" based on "The Journal of John Woolman, Quaker (and Other Selected Writings)"
Working on a teaching series for January and February 2021 on the character of Abraham and those connected with him in the Scriptures.
Travelling to Edinburgh on Sunday to spend a couple of days with my good friends Douglas and Vicki Jacoby.
Until the next time,
God bless, Malcolm