Two sermons on the same text for the Watford church of Christ and the Thames Valley churches of Christ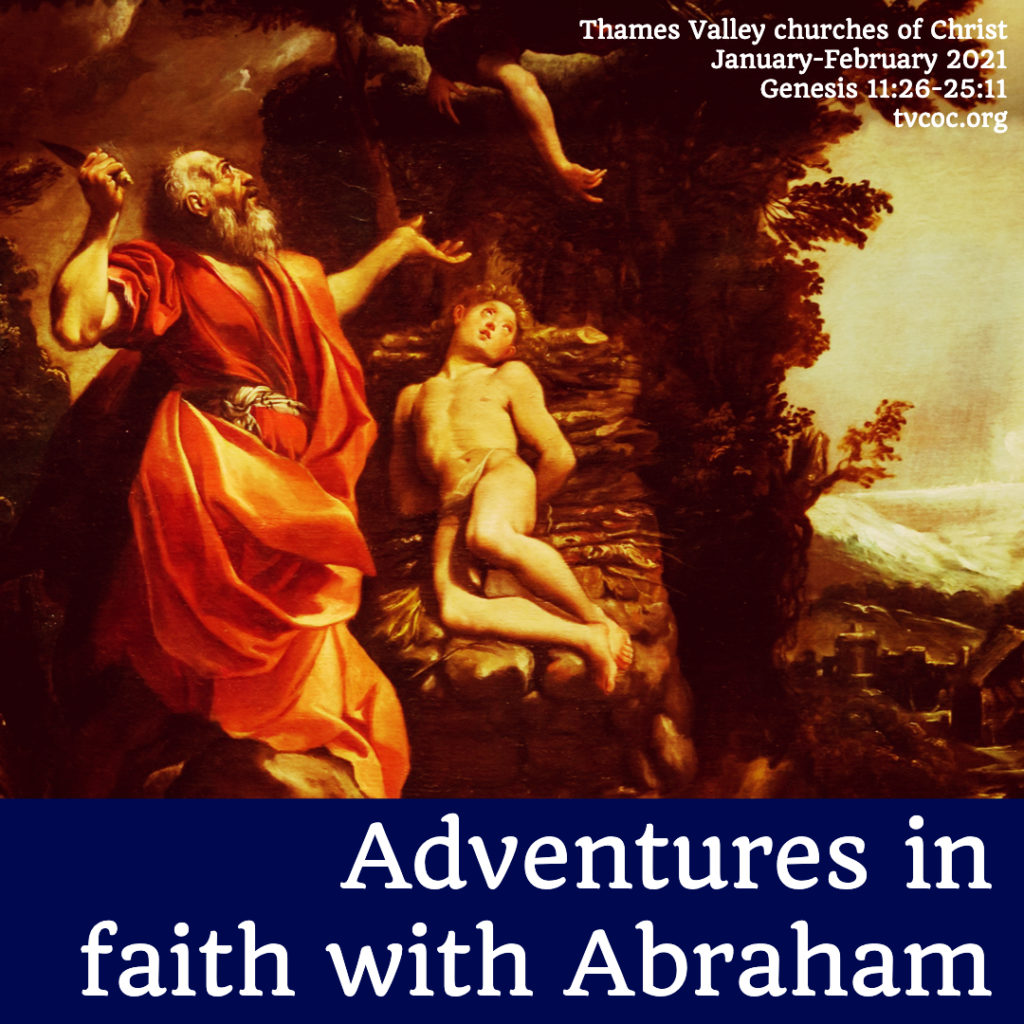 Introduction
The year behind: largely an unexpected adventure!
The year ahead: more of the same!
Choose – cooperate with God's faith adventure
– We can learn how to start in the right way by looking at how Abraham's faith adventure began
Listen to God – Genesis 12:1-4, 7
What is God trying to achieve?

Healing for creation

Eden; murder; flood wickedness; Babel pride – sound like our world today?
How?
Men and women of faith
Abram – reverse of Babel

Makes someone great – the one who honours him

Really listen – he loves you

Only has our best interests at heart
"Go forth ….And I will" (Genesis 12:1–2 NAS95)
"Go…so that I may make you…bless you…
Great nation
Bless you

80 X Genesis ; 310 elsewhere
'Bless' X5 – concentrated burst

Name great (only David)
Be a blessing: "you will be the embodiment of blessing"; "You will be a byword of blessing", I.e., "may you be as blessed as Abram".

"In the same way, let your light shine before others, that they may see your good deeds and glorify your Father in heaven." (Matthew 5:16 NIV11)
"Keep your behaviour excellent among the Gentiles, so that in the thing in which they slander you as evildoers, they may because of your good deeds, as they observe them, glorify God in the day of visitation." (1 Peter 2:12 NAS95)

Protection: "neither height nor depth, nor anything else in all creation, will be able to separate us from the love of God that is in Christ Jesus our Lord." (Romans 8:39 NIV11)
All peoples on earth: Matt 28:18-20
(To your offspring I will give this land" – v7)

Prioritise times of quiet with God – but to grow in them, not just have them

Personal connection – we have Father, Jesus and Spirit within us

"If anyone loves Me, he will keep My word; and My Father will love him, and We will come to him and make Our abode with him." (John 14:23 NAS95) "having also believed, you were sealed in Him with the Holy Spirit of promise, who is given as a pledge of our inheritance, with a view to the redemption of God's own possession, to the praise of His glory." (Ephesians 1:13–14 NAS95)
He worships – altars etc.vv7, 8, ….

Part of our character, not just something we do
Not trying to create a people of moral conformity,

But light in the darkness and water in the desert

In this – the pressure is off. It is not about talent, but faith.
– My greatest gift is not my abilities, but my faith.
Take God at his word – Genesis 12:4-9
Travels North-South through the land, stopping off on the way and worshipping.
God adds some detail to the promises, v7
Instinct to worship, honour God
What leaving behind?

He left all that made him emotionally and practically secure

Dad, brothers, extended family, livelihood, culture, food, language, ways of doing business, values

Traditional way of doing church?

What moving towards?

Greater use of our gifts?

In service to one another and the world…..

Watford mission
"To cooperate with the Spirit in spreading the good news across Herts, Beds & Bucks."
Using gifts requires faith
– Take a step to discover and use gifts – in service of God
Accept God's discipline – Genesis 12:10-20
Abraham self focused, his mind on potentially negative fate.

Leads to fears dominating his judgement.
Acts for self preservation.
Not imagining how God might preserve him, but how he might preserve himself
When we focus on our fears, God gets smaller than the problem.

Don't be surprised by your failings – they are not fatal

There are consequences – Imagine the state of their marriage after this
Yet God can use it

Sometimes God's discipline is severe

It needed plagues to restore Sarah to her destiny and deportation to get Abram back to Canaan.

Spiritual highs are sometimes accompanied by spiritual lows.
Key issue here:

This is a contest between God and the God-King.

We are in a spiritual battle.
– We are in a one sided war already won – if we are with God
Conclusion
Your life matters
Abraham feeling his way forward – just like all of us
Please add your comments on this week's topic. We learn best when we learn in community.
Do you have a question about teaching the Bible? Is it theological, technical, practical? Send me your questions or suggestions. Here's the email: [malcolm@malcolmcox.org](mailto:malcolm@malcolmcox.org).
If you'd like a copy of my free eBook on spiritual disciplines, "How God grows His people", sign up at my website: http://[www.malcolmcox.org](http://www.malcolmcox.org/).
Please pass the link on, subscribe, leave a review.
"Worship the LORD with gladness; come before him with joyful songs." (Psalms 100:2 NIV11)
God bless, Malcolm