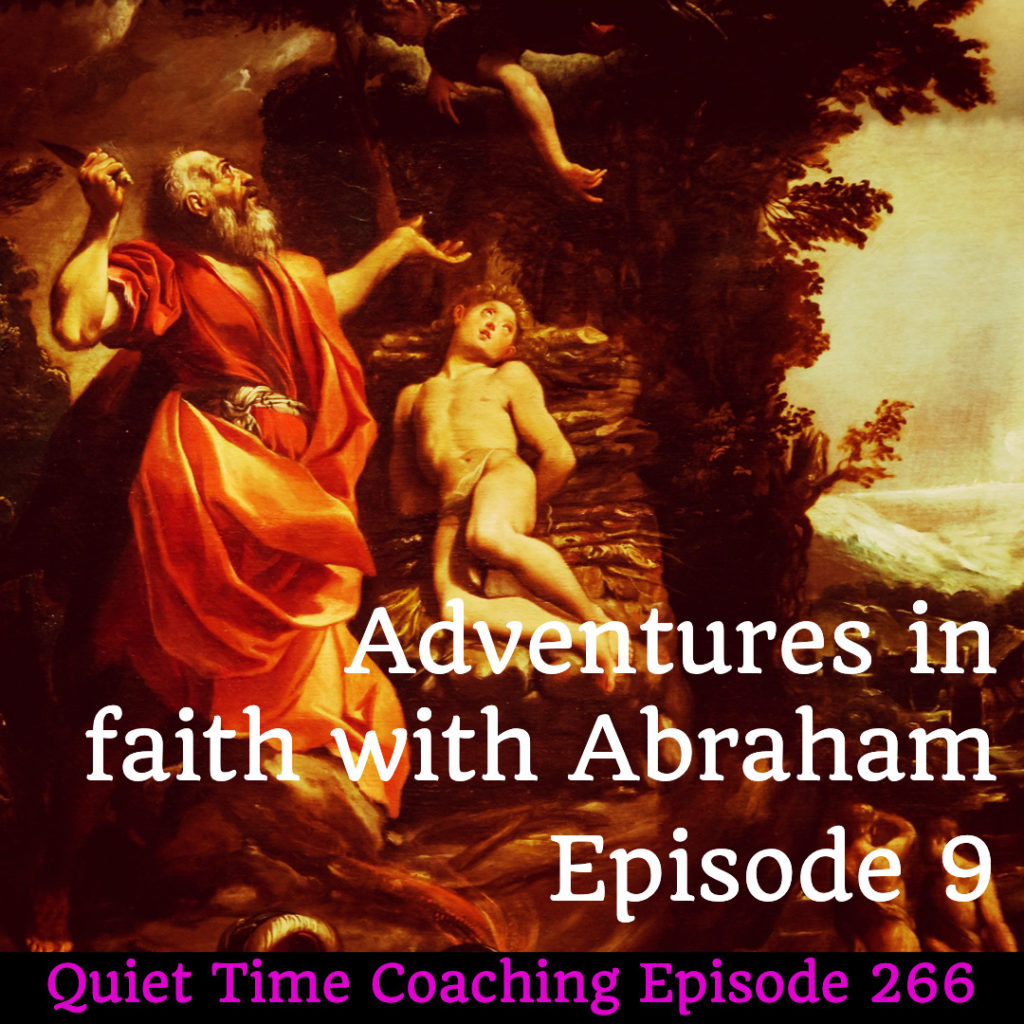 Would you like to learn more about faith? You've come to the right person. No, not me, Abraham. This is a daily devotional podcast supporting a teaching series for the Watford church of Christ and the Thames Valley churches of Christ called "Adventures in faith with Abraham". It is also part of my quiet time coaching series.
What is it about Abraham which is so admirable? Many things. But perhaps above all else his adventurous faith, "By faith Abraham, when called to go to a place he would later receive as his inheritance, obeyed and went, even though he did not know where he was going." (Hebrews 11:8 NIV11)
Join me as we step out on a faith adventure with Abraham.
Episode 9
Today we start chapter 13
"So Abram went up from Egypt to the Negev, he and his wife and all that belonged to him, and Lot with him. Now Abram was very rich in livestock, in silver and in gold. He went on his journeys from the Negev as far as Bethel, to the place where his tent had been at the beginning, between Bethel and Ai, to the place of the altar which he had made there formerly; and there Abram called on the name of the LORD." (Genesis 13:1–4 NAS95)
What are we seeing here? A reconciliation. We will look at that in more detail in a moment, but first, let's think about the chapter as a whole.
In chapter 13 Abram returns to the land of the promise where he began to call on the name of the Lord. There, he and Lot have a dispute resulting in their separation. The consequences of which we will see in later chapters. Finally we reach the highlight of the chapter, verses 14-17, where God gives more detail to his promise of the land and the descendants of Abram.
For today, let us make two notes.
Firstly, we note that Abraham returns from Egypt wealthier than when he arrived. Interestingly, the Hebrew word used for 'rich' is the same word used for 'severe' when referring to the famine in chapter 12 verse 10. The famine was rich, now Abram is rich. The bigger picture is the prefiguring of the day when Israel will come out of Egypt
"The Israelites had done as Moses told them; they had asked the Egyptians for jewellery of silver and gold, and for clothing, and the LORD had given the people favour in the sight of the Egyptians, so that they let them have what they asked. And so they plundered the Egyptians." (Exodus 12:35–36 NRSV)
Secondly, we see that he returns to a specific place with a specific purpose. He goes back to the 'beginning' to an altar made 'formerly'. After the debacle with Pharaoh, it looks to me that he is repairing his relationship with God. He returns to a previously built altar perhaps to check whether the promises still stand.
Devotional thought for today
It is the second point which speaks most loudly to me. One way to recapture the delight of spiritual devotion is to return to tried and tested practices. What has worked best for you in the past regarding prayer and Bible study? Is it time to revisit those? You might do well to go back to a place of spiritual victory and pray there. At one particularly dark period in my spiritual life I drove to South East London to the church building where I was baptised into Christ. I could not get inside, but I prayed outside remembering all that God had done to bring me to that point. I drove away spiritually inspired.
"— remember that at that time you were separate from Christ, excluded from citizenship in Israel and foreigners to the covenants of the promise, without hope and without God in the world." (Ephesians 2:12 NIV11)
Prayer point for today
Ask God to help you remember what he has done for you in the past and to refresh your gratitude in the present
If you have any questions or feedback please contact me: malcolm@malcolmcox.org.
The apostle Paul said of Abraham, "He is the father of us all." (Romans 4:16 NIV11) Let's allow him to be the father of Faith to you and me in January and February 2021.
Many thanks for listening today. See you tomorrow as we continue our adventure of faith with Abraham.
Take care and God bless, Malcolm