Sermon for the Watford and Dublin churches of Christ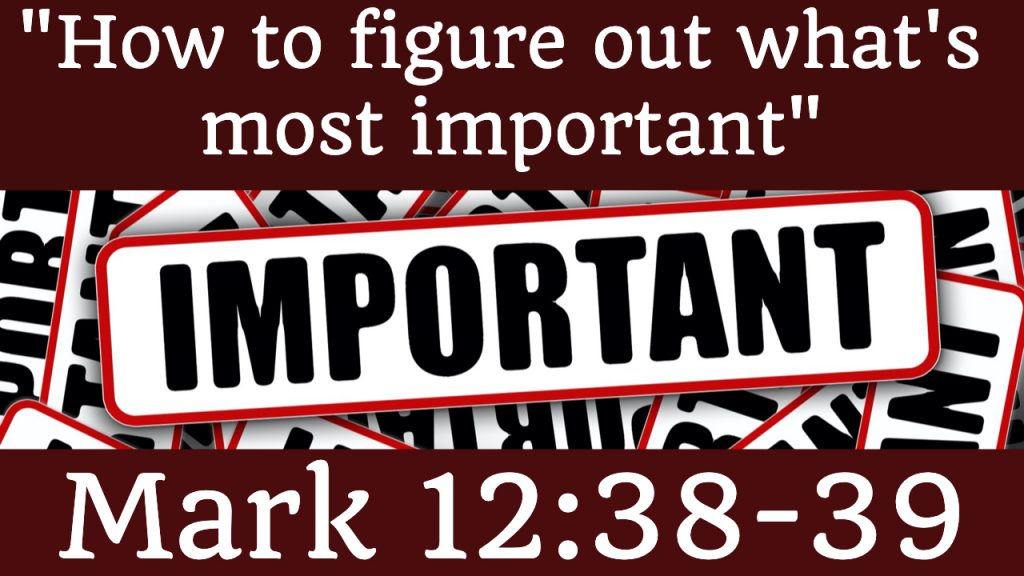 Introduction
Most important thing to do for virus, economy, social well being?
Lot of our malaise when feeling overwhelmed, flat, anxious or overstressed is due to confused priorities, or, what's really important?

"One of the teachers of the law came and heard them debating. Noticing that Jesus had given them a good answer, he asked him, "Of all the commandments, which is the most important?" "The most important one," answered Jesus, "is this: 'Hear, O Israel: The Lord our God, the Lord is one." Mk 12:28–29
So, we know loving God and neighbours is primary
But, how do we figure out what that means for our lives, personally?
Unhealthy ways to decide what's important
Imagine if you made decisions about our children our marriage or our friends on these bases.

I will do what you want because I am feeling guilty about mistakes I've made in the past.
I will do what you want because I'm afraid otherwise you might hate me or leave me.
I will do what you want not because it makes you happy with because it makes me feel better.

That would not be a healthy relationship with a human
It certainly is not a healthy relationship with God.
Questions for the groups: What was the important thing they knew or learned? Why was and is this important? How would the importance of this manifest itself in your life?
Five characters to show us the way
David
"One thing I ask from the LORD, this only do I seek: that I may dwell in the house of the LORD all the days of my life, to gaze on the beauty of the LORD and to seek him in his temple." Ps 27:4
It's easier to teach a Christian the bible than it is to teach them how to worship.
David – a man after God's own heart.
'Beauty' = favour, pleasantness
A good quiet time could be to meditate on what is 'beautiful' about the LORD. Would that include His holiness, mercy, long-suffering nature, loving-kindness, integrity, justice, completeness, perfection, wisdom, …..? Interesting that in Ps 50.1-6, His/Zion's beauty is expressed in terms of fire, speaking, tempest, judgment etc.
His desire to be close to God is very active – 'ask', 'seek' X2, 'dwell', 'gaze'
'dwell' used of a married couple who have set up house together
Rich young ruler
"Jesus looked at him and loved him. "One thing you lack," he said. "Go, sell everything you have and give to the poor, and you will have treasure in heaven. Then come, follow me."" Mk 10:21
Do you have any barriers to full surrender to Jesus?
He starts on his knees, but turns his back on Jesus
This man has no material needs and no law-needs. He knows he has other needs, but what are those needs. Jesus is about to tell him – and it is clearly not what he man expected.
Mary
""Martha, Martha," the Lord answered, "you are worried and upset about many things, but few things are needed—or indeed only one. Mary has chosen what is better, and it will not be taken away from her."" Lk 10:41–42
Sometimes good things are why we miss out on the best thing.
The better priorities, chosen consistently over time, yield a lasting legacy of godliness
The blind man
"He replied, "Whether he is a sinner or not, I don't know. One thing I do know. I was blind but now I see!"" Jn 9:25
Important to remember the transforming power of Jesus in our lives.
It's never doctrine that converts anyone, it's always the evidence of the power of Jesus in peoples' lives.
Perhaps especially true for our children
Have your testimony ready.
Paul
"Brothers and sisters, I do not consider myself yet to have taken hold of it. But one thing I do: Forgetting what is behind and straining toward what is ahead, I press on toward the goal to win the prize for which God has called me heavenward in Christ Jesus." Phil 3:13–14
Baggage from the past will obscure what is important for the present and the future.
Paul did not deny his baggage, but he did not let it get in the way of being ambitious for God.
We never fully 'arrive' on earth, but progress can be a delight
Conclusion
What have our characters taught us about what is important?
David: knowing that God is at the heart of prayer
Rich young ruler: knowing God is at the heart of surrender
Martha: knowing God is at the heart of service
Blind man: knowing God is at the heart of witness
Paul: knowing God is at the heart of ambition
Suggestion:
Use these characters as a way of assessing what's important going into 2021
As a filter to help assess where you are & want to be in 2021
Scriptures used in or related to today's lesson: Ps 27:4; Matthew 23:23; Mark 10:21; 12:28-29, 33, 39; Luke 10:41-42; 16:15; John 9:25; 1 Corinthians 15:3; Philippians 3:13-14
Please add your comments on this week's topic. We learn best when we learn in community.
If you'd like a copy of my free eBook on spiritual disciplines, "How God grows His people", sign up at my website: http://www.malcolmcox.org.
God bless, Malcolm