A sermon for the Watford and Cambridge churches of Christ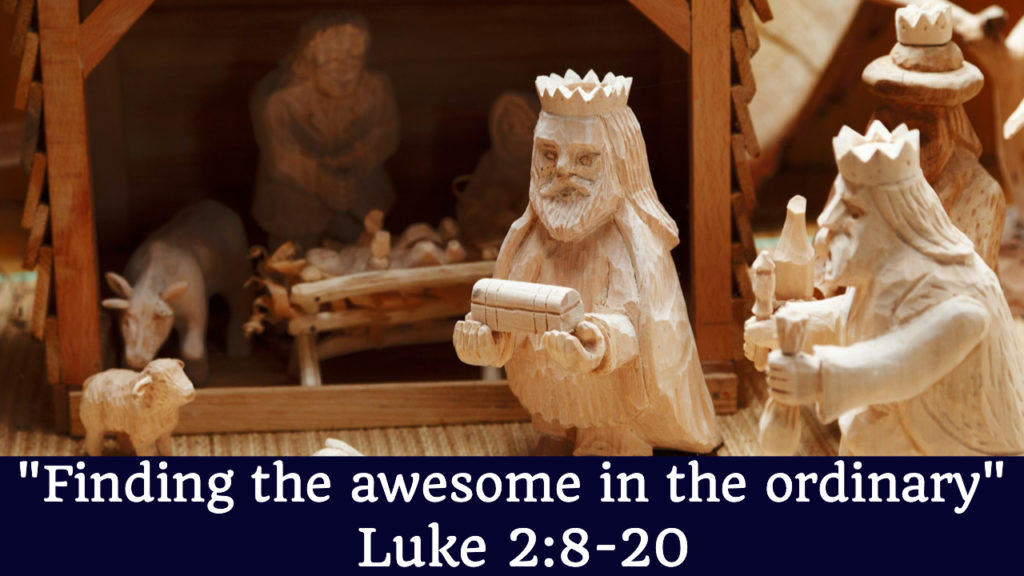 (The Miracle in the Manger)
"And there were shepherds living out in the fields nearby, keeping watch over their flocks at night. An angel of the Lord appeared to them, and the glory of the Lord shone around them, and they were terrified. But the angel said to them,
"Do not be afraid. I bring you good news that will cause great joy for all the people. Today in the town of David a Savior has been born to you; he is the Messiah, the Lord.This will be a sign to you: You will find a baby wrapped in cloths and lying in a manger."
Suddenly a great company of the heavenly host appeared with the angel, praising God and saying, "Glory to God in the highest heaven, and on earth peace to those on whom his favour rests."
When the angels had left them and gone into heaven, the shepherds said to one another, "Let's go to Bethlehem and see this thing that has happened, which the Lord has told us about."
So they hurried off and found Mary and Joseph, and the baby, who was lying in the manger. When they had seen him, they spread the word concerning what had been told them about this child, and all who heard it were amazed at what the shepherds said to them. But Mary treasured up all these things and pondered them in her heart.
The shepherds returned, glorifying and praising God for all the things they had heard and seen, which were just as they had been told." (Luke 2:8–20 NIV11)
---
Introduction: vv1-8
QUESTION: Something nice you stumbled across in an unlikely place?
Most searched-for terms on Google this year: https://www.bbc.com/news/newsbeat-55245304Beavers, burpees and bread: 2020's most-searched
QUESTION: Manger X 3 – why?
Not the point, but the pointer
Whoever heard of a king in a manger?! An animal's feeding trough.
Imagine the shepherds… "Did the angel say 'manger' (v12)?" "They couldn't mean 'manger', could they?""
Augustus was the adopted son of Julius Caesar. He became sole ruler of the Roman world after a bloody civil war in which he overpowered all rival claimants. The last to be destroyed was the famous Mark Antony, who committed suicide not long after his defeat at the battle of Actium in 31 BC. Augustus turned the great Roman republic into an empire, with himself at the head; he proclaimed that he had brought justice and peace to the whole world; and, declaring his dead adoptive father to be divine, styled himself as 'son of god'. Poets wrote songs about the new era that had begun; historians told the long story of Rome's rise to greatness, reaching its climax (obviously) with Augustus himself. Augustus, people said, was the 'saviour' of the world. He was its king, its 'lord'. Increasingly, in the eastern part of his empire, people worshipped him, too, as a god."

Wright, N. T. Luke for Everyone. 4. Accordance electronic edition, version 2.2. Louisville: Westminster John Knox Press, 2011.
Different from Augustus

The awesome was in an awkward place at an awkward time
Two responses to finding the awesome in the awkward
---
1. Fear Turns Into Joy, vv9-14, 20
QUESTION: Biggest or loudest concert you've ever attended? [Plenary]
Fear and joy.

Are they thinking about what happened in Exodus 19?
The angels correct the shepherds' fear and tell them that a better response is joy.
Is this the difference between the Old and New Covenants?

Joy prompts worship.
Growing as a Christian is helped by enlarging the ways in which our awe is inspired
Spiritual disciplines make a huge difference
What places/experiences enlarge your joy?
How has your 'devotional' year been? Time to assess?
Suggestion: use the 'examen' explained in my QTC podcast going out on 24 Jan. If you want it earlier I'll send you a copy.
---
2. Confusion Turns Into Talking, vv15-19
v17 – spread the word
What made them so talkative?
Sometimes it's hard to talk about Jesus
Sometimes it's easy
How can we make it good news for all people? Make it good news for one person.
Social justice issues are personal issues
Who might God be sending you to this Christmas? Family, neighbour, stranger?
---
Discussion Section
Three options:
Pick one question for your group to discuss
Attempt to answer both questions
Give each person the choice as to which question they want to answer
Question 1 : Share about something in your Christian life which at first provoked fear in you, but led to joy. What have you been afraid of which turned out to be a blessing
Question 2 : Share about a time when talking about Jesus came naturally to you
---
Conclusion: v20
The God of glory in a manger
The God of glory on a cross
The God of glory in us…..
Please add your comments on this week's topic. We learn best when we learn in community.
Do you have a question about teaching the Bible? Is it theological, technical, practical?
Send me your questions or suggestions. Here's the email: [malcolm@malcolmcox.org](mailto:malcolm@malcolmcox.org).
If you'd like a copy of my free eBook on spiritual disciplines, "How God grows His people", sign up at my website: http://[www.malcolmcox.org](http://www.malcolmcox.org/).
Please pass the link on, subscribe, leave a review.
"Worship the LORD with gladness; come before him with joyful songs." (Psalms 100:2 NIV11)
God bless, Malcolm