Teaching Tips 227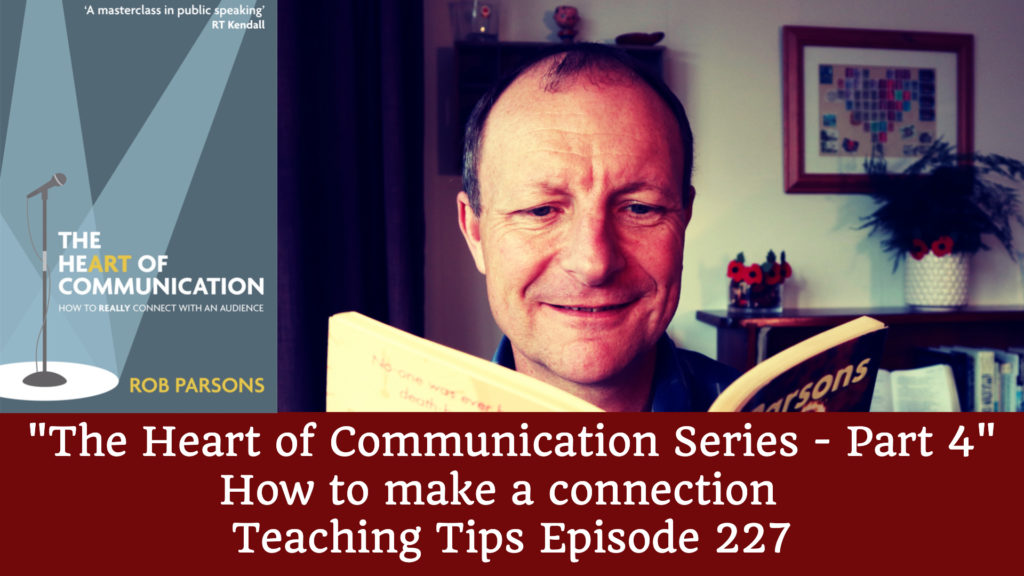 Tuesday Teaching Tip 227
---
Introduction
"How to Really Connect with an Audience"
They may forget what you said – but they will never forget how you made them feel. Carl W. Buechner Parsons, Rob. The Heart of Communication: How to really connect with an audience . John Murray Press. Kindle Edition.
Rob quotes John Maxwell who said, "Everyone communicate, few connects."
---
Know your audience
"…if you really want to connect with the audience there is something you must do before you open your mouth to speak, and preferably before you even start preparing: you have to know them."
It might seem rather obvious, but if we don't know our audience, we are going to find it especially difficult to connect.
If you speak to the same people most of the time, you may have the illusion you know them. But that's not necessarily the case. And even if you do know them, as we prepare lessons, we must bring them to mind rather than simply tell them what the passage says, or the topic expresses.
If you are a Visiting Speaker, connect with the organiser of the event, or some of the people who will be there in advance. As Rob says:
"Try to get an understanding of the diversity of people to whom you will be speaking, and ask what it is the organisers are hoping to get from your visit – get some colour."
Arrive early, mingle with the people. If you are speaking online, log in early. I generally arrive 30 minutes early to physical or online meetings. Chat with whoever is there. If no one has arrived, I pray or look over my notes.
---
Don't waste the start
Don't ramble. Pay respect to your audience in telling them something significant in your first phrase. A surprising statement, an intriguing question – these will help your audience to look forward to what you have to say.
You may want to prepare that first sentence or two.
On occasion, introducing yourself with more detail can be appropriate. Have a look at teaching tip 225 regarding the topic of ethos for more on that issue.
"Introductions need to be effective, but not too long. Renowned nineteenth-century preacher C.H. Spurgeon summed it up well: 'It is always a pity to build a great porch to a little house.'"
---
Get people on the bus
Don't assume everybody in your audience is at the same place in life. The married and the unmarried, the older and younger, the newer and more mature Christian. All are different and have different needs.
At least part of your introductory remarks should be aimed at getting everybody on board. This does not happen because we say people need to pay attention, but because we demonstrate that we have an awareness of the diversity of the audience.
If you speak the same group every week, you will not need as much emphasis on this point. However, it's still worth covering every now and again.
---
Make them feel welcome
Do not scold your audience. Be unreservedly positive towards them. If someone comes in late, don't put it out. Yes, I have done this, to my regret.
On a memorable occasion a few years ago Some young children were running around at the back of the church hall shouting. It was distracting not only me as the speaker, but the congregation. Sometimes you have to press on regardless (the show must go on!), But this was not one of those times. I wasn't sure exactly what to do, because I didn't want the parents nor the children to feel excluded, judged or unwelcome. I did not know what was going on with that child. Perhaps they were ill. Perhaps the parent was ill. What I did, and people responded afterwards with a question that I approached it this way, was to say something like, "It sounds like some of our children need comforting. I wonder if that could be arranged?" I remember the collective "Hmmm" That came back from the congregation. It was not a response of anger or irritation, but one of approval.
Avoid accusations towards your audience and pointing fingers. Use an open hand when making gestures. Avoid the "you" word as much as you can, and instead use, "we…us".
---
Conclusion
What are your thoughts on this question of connection? Are there times to point the finger? Are there times to be accusatory? Am I right about my emphasis?
Questions: "What, in your experience, makes the biggest difference in connecting with your audience?"
---
Please add your comments on this week's topic. We learn best when we learn in community.
Do you have a question about teaching the Bible? Is it theological, technical, practical? Send me your questions or suggestions. Here's the email: malcolm@malcolmcox.org.
If you'd like a copy of my free eBook on spiritual disciplines, "How God grows His people", sign up at my website: http://www.malcolmcox.org.
Please pass the link on, subscribe, leave a review.
"Worship the LORD with gladness; come before him with joyful songs." (Psalms 100:2 NIV11)
God bless, Malcolm
PS: You might also be interested in my book: "An elephant's swimming pool", a devotional look at the Gospel of John