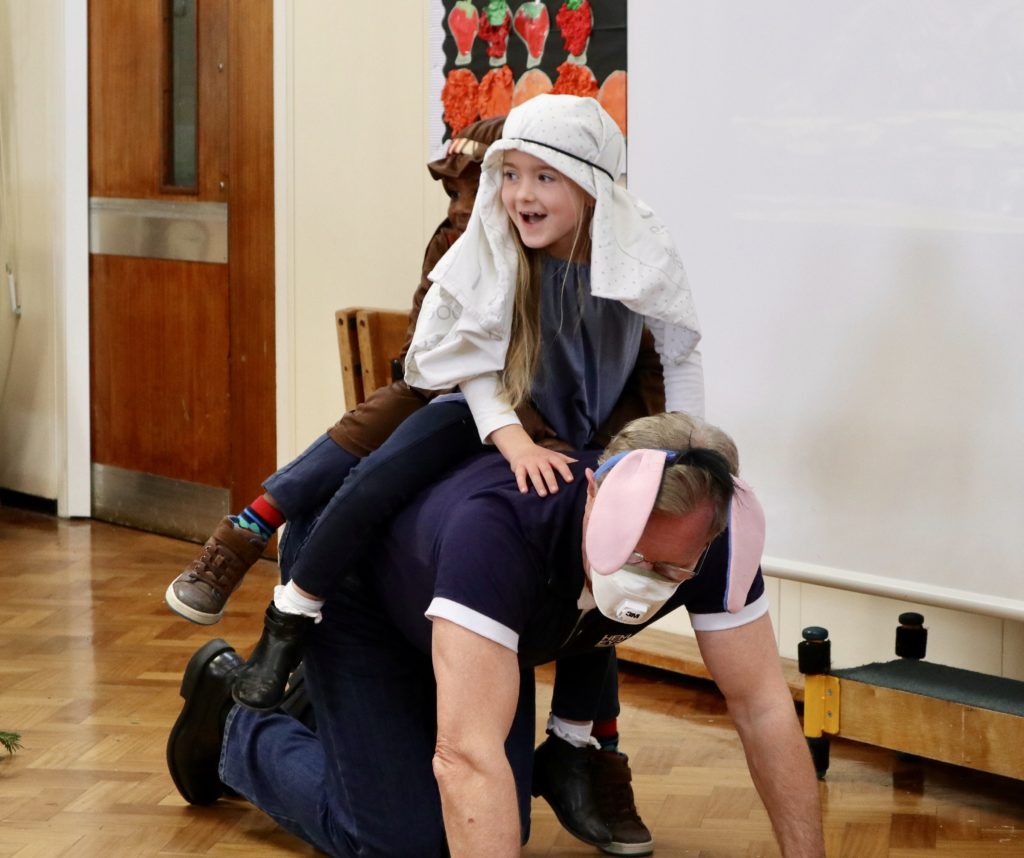 Locations: Watford and Bracknell
Special Occasion: Watford 'Pop-Up' Nativity Service, and the Bracknell Carol Service
The children had a whale of a time taking part in the Nativity in Watford and the song in Bracknell. Special thanks to Michelle who rehearsed the children for the latter, and to Joe and his team who got the children ready for their performance in Watford. It was noticeable that the young people came to church with greater enthusiasm than usual. And that they were more engaged in the services than normal. Another good reminder to me that we must do all we can to help the children to see this as 'their' church, and not their parents' church.
Question to you: What are you doing, as a leader of worship, to convince the children that they belong in your congregation? Indeed, that it is theirs? 
The nativity in Watford was recorded. I'll add the link when it's been uploaded. Likewise the service in Bracknell.
Speakers
There was no sermon in Watford nor Bracknell because of the service formats.  However, both services contained communion talks. I contribute the outline of mine in Watford below.
---
Question to the children: What was Jesus laid in?

MANGER: An animal-feeding trough (Heb. ebus) or stall (Gk. phaétneä) in a stable.

Troughs were free-standing stone boxes placed against stable walls or boxes made by hollowing out rocks protruding into the stable area.

At Megiddo archaeologists found limestone troughs, measuring 91 cm. (3 ft.) long, 46 cm. (1.5 ft.) wide, and 61 cm. (2 ft.) deep, quite ample for an infant. – PICTURE ON SCREEN

Manger – French word for eating

Place animals out of

Dirty and disgusting – PICTURE OF MODERN ANIMAL FEEDING TROUGH ON SCREEN

Jesus not too proud to be associated with animals and dirt

Jesus so humble

He was laid where animals ate

Now we 'feed' on him

"Just as the living Father sent me and I live because of the Father, so the one who feeds on me will live because of me. This is the bread that came down from heaven. Your ancestors ate manna and died, but whoever feeds on this bread will live forever."" (John 6:57–58)

Communion meal reminds us of this. Let's pray and eat…
---
Music Worship
The carols went off well in both services. We lost our guitarist in Watford due to illness (get well soon, Charl). But we adapted and survived! The Bracknell carol service was our best in the three years I've been involved. Why might that be? Here's what I've come up with.
Patience pays off.

 We sang "Ding Dong". It's hard for a congregation to pull that off. The first time we did it three years ago it was greeted with almost disbelief. i.e. "We can't sing that!" Three years later we sound pretty good, and even those for whom it's too much give it their best shot with joyful abandon. Three years of patience has brought it's reward.

Expanded talent pool

. Three years ago it was the narrow band of usual suspects involved. This year Don played guitar, Rachel played flute, Fabian played keyboard, some teenagers sang, Marianne and others performed a spoken word piece, the Wakefields performed a duet – all people who were not involved three years ago. Surface the talent you have. Find ways to use it.

Variety is the spice of carol services.

Reading and carols were pretty much all we had three years ago. This year: carols, readings, spoken word, teenagers singing, children's' performance, a duet, an original song, one song accompanied by guitar, some by guitar and bass, some by keyboard, and some a cappella. It's worth the effort to create as much variety as you can.

Sing a new song

. I wrote a song for the occasion. I don't consider myself a good song writer. And I find it very hard to do. But I have been known to complain about the lack of new songs, so I'm a hypocrite if I don't give it a go! The recording will go on line soon, and you can tell me what you think (holds breath…). Could you write a song? At least try. Please!
Other Thoughts
Last week I said we'd do the following:
Watford: It's our "pop-up" Nativity service. I'm going to do a communion with a difference. Done!
Bracknell: It's the carol service. The best thing I can do is to be calm! That's my prayer.  Done!
Sunday we'll do the following:
Watford: It's our carol service. My main aim is to be at peace, just like last week in Bracknell!
Bracknell: No services until the New Year. This week I'll outline the music plans for the January services for Bracknell and Lower Earley.
Please comment on what you're doing with your services. What are you trying that's working? What is God teaching you?
Share reflections with us so we can grow and please God.
You can leave a comment below.
God bless,
Malcolm