Tuesday Teaching Tip, Episode 218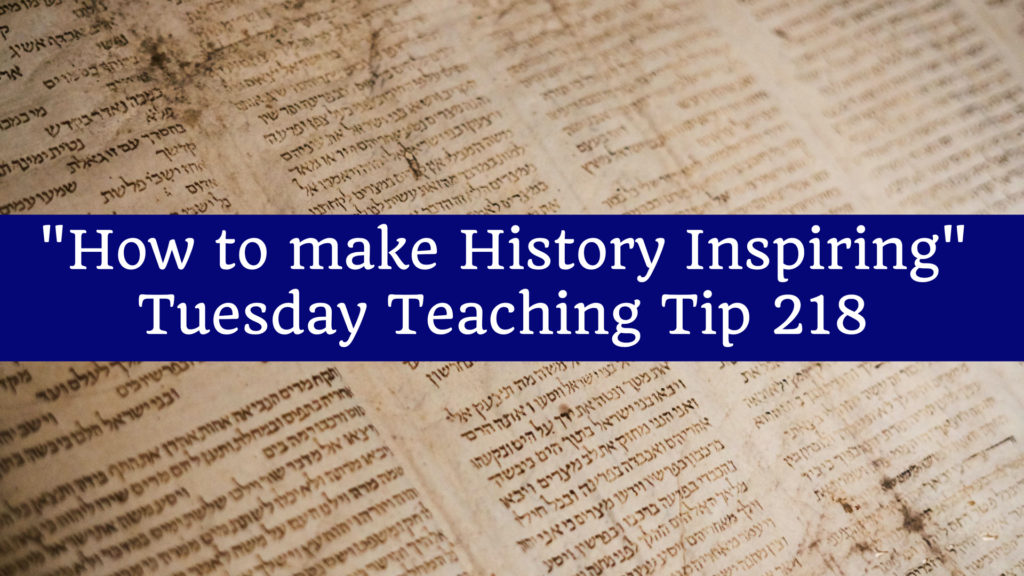 Intro
– Edwin Young sent me a question. Here it is:
– "My worry is that my hermeneutical point that I derive from the text will be received as a history or Bible lesson as opposed to a life-changing message. Would you recommend one of your videos for my concern?"
—
1. Allow the history to inspire
– The history and the background might be what helps people find their way to the life-changing message.
– Jesus gave history lessons: "The Pharisees said to him, "Look, why are they doing what is unlawful on the Sabbath?" He answered, "Have you never read what David did when he and his companions were hungry and in need? In the days of Abiathar the high priest, he entered the house of God and ate the consecrated bread, which is lawful only for priests to eat. And he also gave some to his companions." Then he said to them, "The Sabbath was made for man, not man for the [Sabbath. So](http://sabbath.so/) the Son of Man is Lord even of the Sabbath."" (Mark 2:24–28 NIV11)
– Stephen's lesson was full of history! Acts 7.
– Mentions God or synonyms 30 times.
– The key lies in using the history to point to your God, not your research.
—
2. Show how the history applies today
– "For I do not want you to be ignorant of the fact, brothers and sisters, that our ancestors were all under the cloud and that they all passed through the sea. They were all baptised into Moses in the cloud and in the sea. They all ate the same spiritual food and drank the same spiritual drink; for they drank from the spiritual rock that accompanied them, and that rock was Christ. Nevertheless, God was not pleased with most of them; their bodies were scattered in the wilderness. Now these things occurred as examples to keep us from setting our hearts on evil things as they did. Do not be idolaters, as some of them were; as it is written: "The people sat down to eat and drink and got up to indulge in revelry." We should not commit sexual immorality, as some of them did—and in one day twenty-three thousand of them died. We should not test Christ, as some of them did—and were killed by snakes. And do not grumble, as some of them did—and were killed by the destroying angel. These things happened to them as examples and were written down as warnings for us, on whom the culmination of the ages has [come. So](http://come.so/), if you think you are standing firm, be careful that you don't fall! No temptation has overtaken you except what is common to mankind. And God is faithful; he will not let you be tempted beyond what you can bear. But when you are tempted, he will also provide a way out so that you can endure it." (1 Corinthians 10:1–13 NIV11)
– Paul uses a selected portion of Israel's history to make a point his audience needed to hear addressed.
– There was much more he could have added, but he summarises much of the Exodus history and highlights certain points.
– He speaks of God, His people, their actions, the consequences and, then, specifically addresses overindulgence, immorality, testing and grumbling. Finally he encourages them to learn the lessons so that they can be confident in their faith, and their ability to handle challenges as they arise.
– Use the history of God's work amongst humankind as a way of strengthening the people to whom you are speaking.
—
Conclusion
– The problem is not history, but the way it is taught
– You have the opportunity to give history a good name.
Question: "What can you do in your next lesson to include history in a way that inspires?"
– Next week we begin a new 5-part series of presentation tips
—
Please add your comments on this week's topic. We learn best when we learn in community.
Do you have a question about teaching the Bible? Is it theological, technical, practical? Send me your questions or suggestions. Here's the email: [malcolm@malcolmcox.org](mailto:malcolm@malcolmcox.org).
If you'd like a copy of my free eBook on spiritual disciplines, "How God grows His people", sign up at my website: http://[www.malcolmcox.org](http://www.malcolmcox.org/).
Please pass the link on, subscribe, leave a review.
"Worship the LORD with gladness; come before him with joyful songs." (Psalms 100:2 NIV11)
God bless, Malcolm
PS: You might also be interested in my book: ["An elephant's swimming pool"](https://dqzrr9k4bjpzk.cloudfront.net/images/9167082/379662794.jpg), a devotional look at the Gospel of John
Music: Purpose by Jonny Easton
https://youtube.com/channel/UCHJVYelCXpsV8P4EVWBgj0A
Creative Commons Attribution license
Free Download / Stream: http://bit.ly/al-purpose
Music promoted by Audio Library https://youtu.be/TT2PftKt1P4