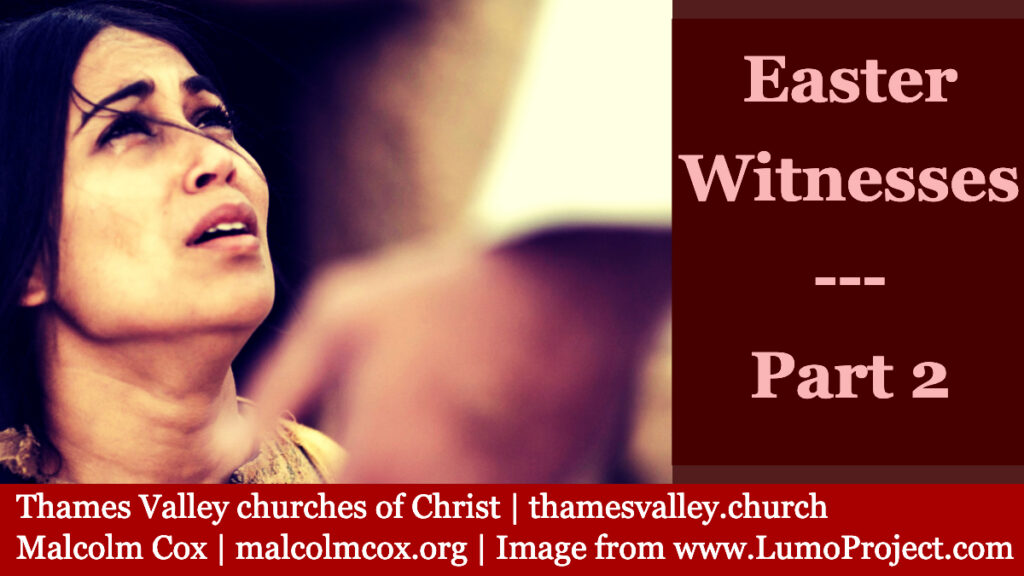 A teaching class for the Thames Valley churches of Christ
Introduction
This is the second of two classes reflecting on the significance of the witnesses to the crucifixion, burial and resurrection of Jesus Christ. This week's class will focus on the witnesses to the resurrection.
Who was at the tomb?
The Text
"Now Mary stood outside the tomb crying. As she wept, she bent over to look into the tomb and saw two angels in white, seated where Jesus' body had been, one at the head and the other at the foot.
They asked her, "Woman, why are you crying?" "They have taken my Lord away," she said, "and I don't know where they have put him." At this, she turned around and saw Jesus standing there, but she did not realise that it was Jesus.
He asked her, "Woman, why are you crying? Who is it you are looking for?" Thinking he was the gardener, she said, "Sir, if you have carried him away, tell me where you have put him, and I will get him."
Jesus said to her, "Mary." She turned toward him and cried out in Aramaic, "Rabboni!" (which means "Teacher").
Jesus said, "Do not hold on to me, for I have not yet ascended to the Father. Go instead to my brothers and tell them, 'I am ascending to my Father and your Father, to my God and your God.' "
Mary Magdalene went to the disciples with the news: "I have seen the Lord!" And she told them that he had said these things to her."
(John 20:11–18 NIV11)
What did Mary experience?
The gentleness of Jesus
He noticed her emotional state: Crying, not seeing straight
He refrained from accusation: Questions, no negative comment, commission later.
He connected personally: "He calls his own sheep by name and leads them out." (John 10:3 NIV11). He knows your name.
See, 'He knows my name': https://youtu.be/ore7feFfD40
(I expand on this point in my latest quiet time coaching episode which you can find here: https://www.malcolmcox.org/quiet-time-coaching-episode-409-resurrection-reflection-the-gentleness-of-jesus-malcolm-cox/).
What does this tell us about faith? And love for Christ?
Just as at the cross and thee burial we are seeing discipleship in action as displayed by the marginalised in society. Mary is determined to be close to Jesus, even if it he is dead. Now that's commitment! She wants to hold him, even if it didn't make sense. She is willing and eager to obey Jesus by taking the message to the Apostles, even though it would not make sense to them. She is brave even though afraid. She had the courage to witness to Jesus even when it did not make sense. She knew her testimony would most likely be dismissed. What was she thinking as she made her way to find the apostles? Compelled by truth, excitement, and love she went to find them even though she did not know exactly what, how or why the events of the resurrection had happened. She laid herself open to ridicule.
What does this mean for us today?
We do not always know how to articulate the message, or explain it. Most will reject the message, but we are still compelled because it is true, and that truth has changed us. We have met the risen Christ and he as forever transformed us.
You can act in loving obedience despite the presence of fear
You don't have to be a super-disciple to witness to the resurrection
Conclusion
Perhaps the overall point here is not to lose sight of Jesus when talking about the resurrection. Mary Magdalene was eager to take the message back to Peter and John. But what made her so excited was not some theological point, but that the one who loved her and the one she loved was alive. She had seen him, heard from him, and at least tried to touch him.
Please add your comments on this week's topic. We learn best when we learn in community.
Do you have a question about teaching the Bible? Is it theological, technical, practical? Send me your questions or suggestions. Here's the email: [malcolm@mccx](mailto:malcolm@malcolmcox.org).
If you'd like a copy of my free eBook on spiritual disciplines, "How God grows His people", sign up at my website: http://[www.malcolmcox.org](http://www.malcolmcox.org/ ).
Please pass the link on, subscribe, leave a review.
"Worship the LORD with gladness; come before him with joyful songs." (Psalms 100:2 NIV11)
God bless, Malcolm