Quiet Time Coaching Episode 297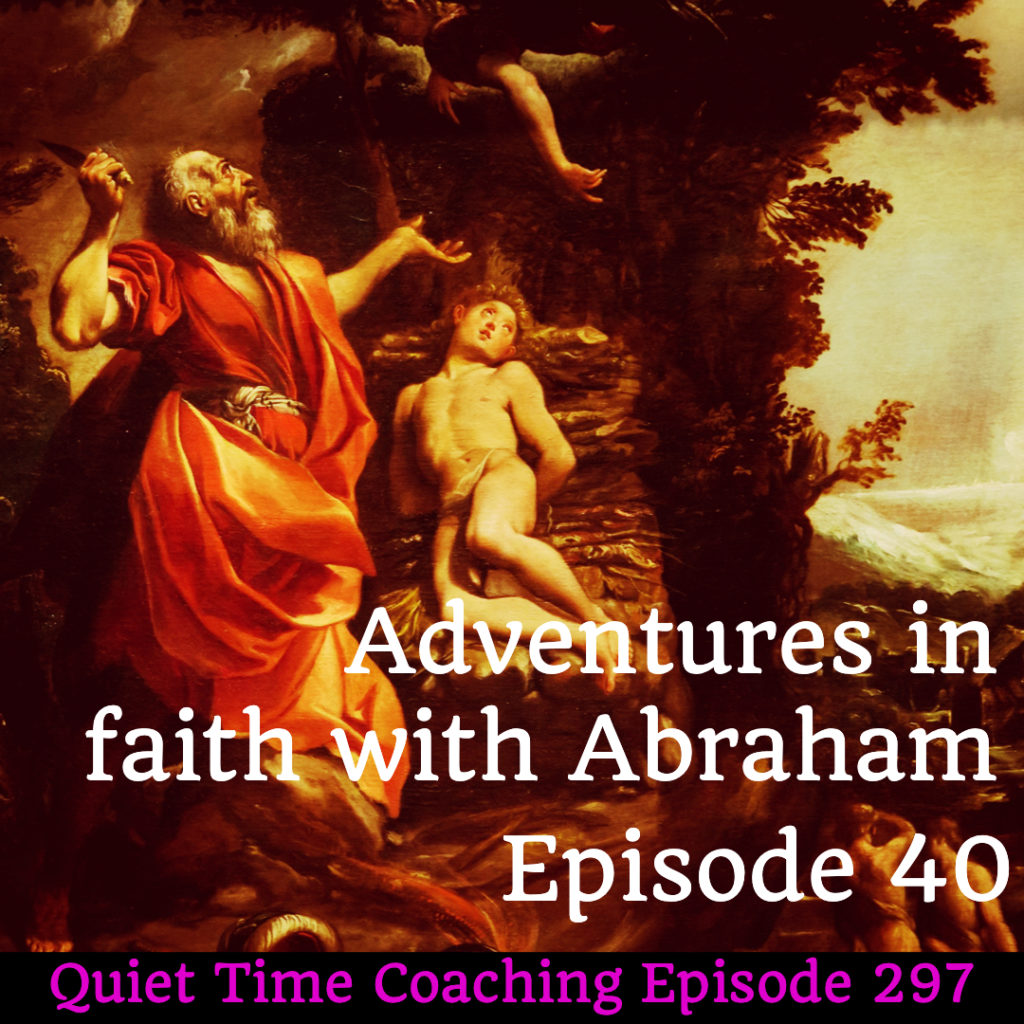 Would you like to learn more about faith? You've come to the right person. No, not me, Abraham. This is a daily devotional podcast supporting a teaching series for the Watford church of Christ and the Thames Valley churches of Christ called "Adventures in faith with Abraham". It is also part of my quiet time coaching series.
What is it about Abraham which is so admirable? Many things. But perhaps above all else his adventurous faith, "By faith Abraham, when called to go to a place he would later receive as his inheritance, obeyed and went, even though he did not know where he was going." (Hebrews 11:8 NIV11)
Join me as we step out on a faith adventure with Abraham.
---
Episode 40
---
Today we start chapter 20.
"Now Abraham moved on from there into the region of the Negev and lived between Kadesh and Shur. For a while he stayed in Gerar, and there Abraham said of his wife Sarah, "She is my sister." Then Abimelek king of Gerar sent for Sarah and took her."
(Genesis 20:1–2 NIV11)
What are we seeing here? A sin pattern.
We don't know why Abraham moved into the Negev. Perhaps it was the shock of the situation regarding Sodom, Gomorrah and Lot. It could be that word of what Lot's daughters had done reached him. Bad news regarding family might be the most disturbing news of all.
It is notable that although he goes to the Negev he doesn't carry on as far as Egypt this time. Perhaps he has learned at least one lesson – Egypt is not a safe refuge (Genesis 12:9-10).
Abraham stays in Gerar on the South Eastern border of Canaan. There he repeats a half-truth – the most dangerous truth of all. Yes, Sarah is his 'sister' in one sense (Genesis 20:12), but, Abraham is fully aware that her status as his wife outweighs any other designation. Neither lies nor half-lies fool God. They fool Abimelek – temporarily.
---
Devotional thought for today
We will unpack the detail of what happens in Gerar in the following podcasts. Today let's consider an unfortunate reality. You and I repeat sins. Some rarely. Some frequently.
I remember a talk I heard many years ago. It might have been Mike Tolliver. He opined that we never ultimately overcome all sins. Not in this life:
"If we claim to be without sin, we deceive ourselves and the truth is not in us."
(1 John 1:8 NIV11)
Yet, Mike said, it should be possible to eliminate some sins completely. If we believe in the power of the Spirit, and the ever-increasing Christ-likeness God is growing in us, then is it not possible to overcome some sins?
"And we all, who with unveiled faces contemplate the Lord's glory, are being transformed into his image with ever-increasing glory, which comes from the Lord, who is the Spirit."
(2 Corinthians 3:18 NIV11)
What do you think? Do you have a vision to conquer a sin?
---
Prayer point for today
Ask God to help you develop the faith to defeat a repeated sin in your life
---
If you have any questions or feedback please contact me: malcolm@malcolmcox.org.
The apostle Paul said of Abraham, "He is the father of us all." (Romans 4:16 NIV11) Let's allow him to be the father of Faith to you and me in January and February 2021.
Many thanks for listening today. See you tomorrow as we continue our adventure of faith with Abraham.
Take care and God bless, Malcolm