Quiet Time Coaching Episode 295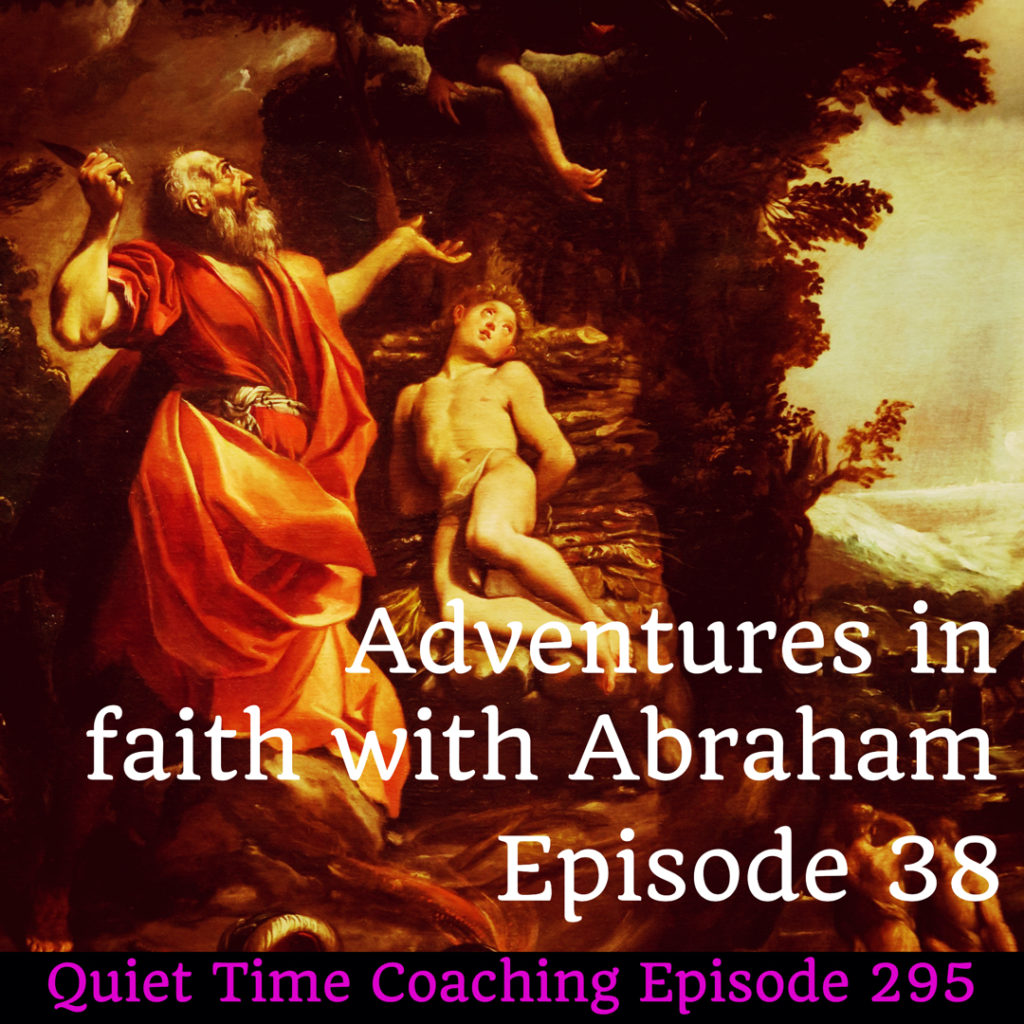 Would you like to learn more about faith? You've come to the right person. No, not me, Abraham. This is a daily devotional podcast supporting a teaching series for the Watford church of Christ and the Thames Valley churches of Christ called "Adventures in faith with Abraham". It is also part of my quiet time coaching series.
What is it about Abraham which is so admirable? Many things. But perhaps above all else his adventurous faith, "By faith Abraham, when called to go to a place he would later receive as his inheritance, obeyed and went, even though he did not know where he was going." (Hebrews 11:8 NIV11)
Join me as we step out on a faith adventure with Abraham.
Episode 38
Today we continue in chapter 19.
"By the time Lot reached Zoar, the sun had risen over the land. Then the LORD rained down burning sulfur on Sodom and Gomorrah—from the LORD out of the heavens. Thus he overthrew those cities and the entire plain, destroying all those living in the cities—and also the vegetation in the land. But Lot's wife looked back, and she became a pillar of salt. Early the next morning Abraham got up and returned to the place where he had stood before the LORD. He looked down toward Sodom and Gomorrah, toward all the land of the plain, and he saw dense smoke rising from the land, like smoke from a furnace. So when God destroyed the cities of the plain, he remembered Abraham, and he brought Lot out of the catastrophe that overthrew the cities where Lot had lived." (Genesis 19:23–29 NIV11)
What are we seeing here? God pays attention to sincere prayers.
There is no getting away from the fact that this scene is tragic. We don't have time to go into the reasons for God's drastic action. That will have to wait for a teaching opportunity. But, given that God is just, the situation in Sodom must have been so dreadful that had we been there we would have understood God's actions.
Perhaps to key phrase in this section is, "he remembered Abraham". What does this mean? Had the LORD forgotten him? Unlikely. It seems that, although Abraham's intercessory prayers did not save Sodom, they influenced the Lord in rescuing Lot and his family.
Devotional thought for today
As Abraham surveys the wreckage of Sodom we do not know whether he is aware that Lot has been rescued. For all he knows his prayers were inadequate and a waste of time. Yet God, in his friendship with Abraham, and in honouring his covenant with him, has attended to his prayers and rescued his nephew.
Sometimes we pray and don't see our prayers answered. Or at least we don't see them answered before our eyes. Who knows what effect they are having in places we cannot see? No intercessory prayer is wasted. It has its affect on somebody somewhere. We may never be aware of the full impact of her prayers until we are in the next life. God always "remembers" you and your prayers.
Prayer point for today
Ask God to grant you the confidence that he always 'remembers' you and your prayers
If you have any questions or feedback please contact me: malcolm@malcolmcox.org.
The apostle Paul said of Abraham, "He is the father of us all." (Romans 4:16 NIV11) Let's allow him to be the father of Faith to you and me in January and February 2021.
Many thanks for listening today. See you tomorrow as we continue our adventure of faith with Abraham.
Take care and God bless, Malcolm