Quiet Time Coaching Episode 279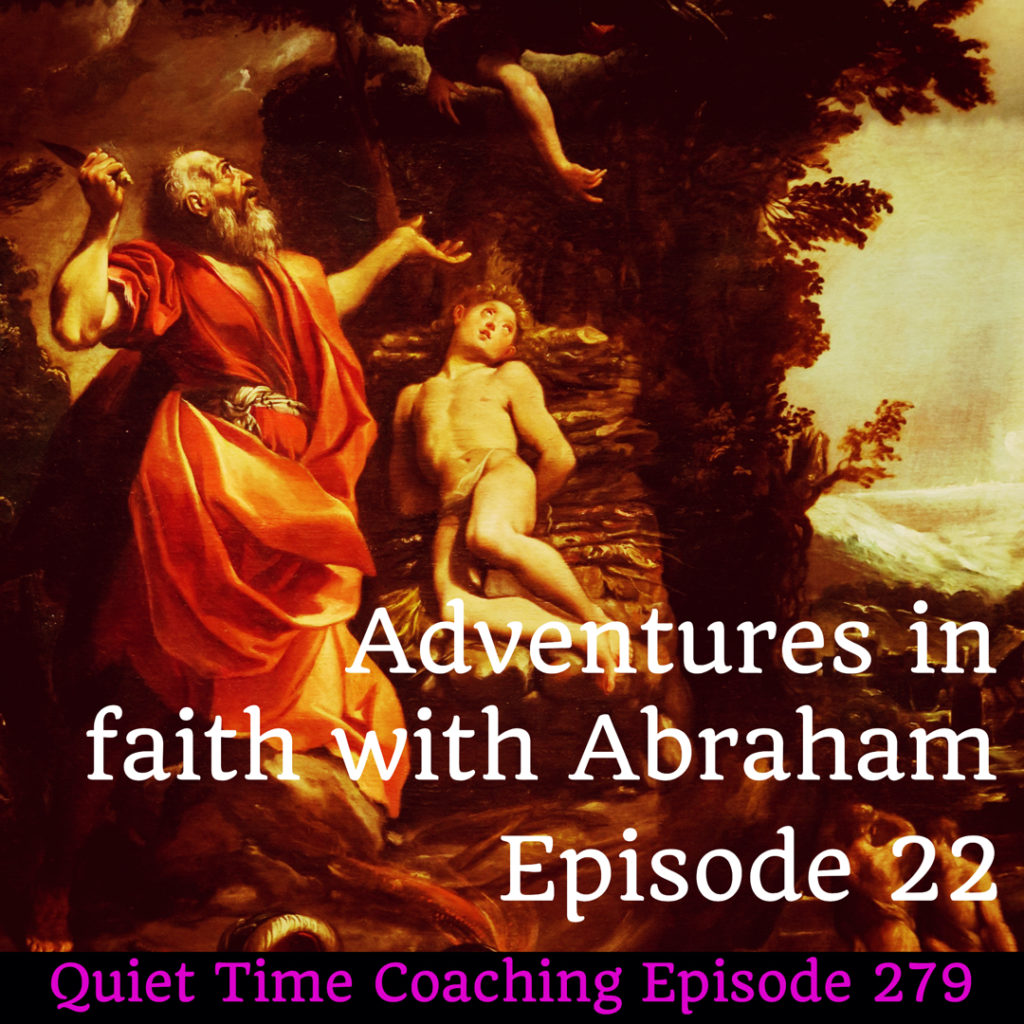 Would you like to learn more about faith? You've come to the right person. No, not me, Abraham. This is a daily devotional podcast supporting a teaching series for the Watford church of Christ and the Thames Valley churches of Christ called "Adventures in faith with Abraham". It is also part of my quiet time coaching series.
What is it about Abraham which is so admirable? Many things. But perhaps above all else his adventurous faith, "By faith Abraham, when called to go to a place he would later receive as his inheritance, obeyed and went, even though he did not know where he was going." (Hebrews 11:8 NIV11)
Join me as we step out on a faith adventure with Abraham.
---
Episode 22
---
Today we pause for a moment before going onto the next chapter
In chapter 15 Abram is significant, but God is the focus. He is the one taking initiative, giving a vision, answering questions, dealing with doubts, giving instructions, causing Abraham to fall into a deep sleep, making the covenant and walking between the carcasses.
God is the shield, the reward, the one to bless Abraham and his descendants.
What of Abram? Commentators have pointed out that he fulfils three functions which are very significant in the history of Israel. He is priest, prophet and king.
The Word Biblical Commentary puts it like this:
"In these scenes Abram is portrayed not merely as the archetypal Israelite who has faith in God, but as a conquering king who has been promised victory over his foes and a great territory. As often noted, there are many resemblances in the form and content between the covenant with Abram and that with David (2 Samuel 7). However, the paradigmatic character of the father of the nation is also seen in the way he is viewed as a prophet enjoying a vision (v 1) of God and insight into the future (vv 13–16). Finally Abram appears as a sort of priest: the description of the bird-rite suggests it, and the mention of his sacrifices and altar-building points in the same direction. Within the OT these same features reappear in the figure of Moses, and the NT sees our Lord as prophet, priest, and king. In exercising faith, the people of the new covenant both imitate Christ and also walk in the footsteps of our forefather Abram."
---
Devotional thought for today
Christians today have similar identities and functions.
"[He] has made us to be a kingdom and priests to serve his God and Father—to him be glory and power for ever and ever! Amen." (Revelation 1:6 NIV11)
Who are we?
"But you are A CHOSEN RACE, A royal PRIESTHOOD, A HOLY NATION, A PEOPLE FOR God's OWN POSSESSION, so that you may proclaim the excellencies of Him who has called you out of darkness into His marvelous light; for you once were NOT A PEOPLE, but now you are THE PEOPLE OF GOD; you had NOT RECEIVED MERCY, but now you have RECEIVED MERCY." (1 Peter 2:9–10 NAS95)
We are a priesthood serving our heavenly father. We are royal because we are related to the king by blood. We are profits in that we are declaring and proclaiming the will of God to the world.
How is it possible that we – weak, sinful, flesh-bound – are able to inhabit such an identity and exhibit such activities? It is because we have "received mercy".
---
Prayer point for today
Ask God to fill you with gratitude for his mercy, and ask him to help you to fulfil your functions as priest, prophet and royalty
---
If you have any questions or feedback please contact me: malcolm@malcolmcox.org.
The apostle Paul said of Abraham, "He is the father of us all." (Romans 4:16 NIV11) Let's allow him to be the father of Faith to you and me in January and February 2021.
Many thanks for listening today. See you tomorrow as we continue our adventure of faith with Abraham.
Take care and God bless, Malcolm