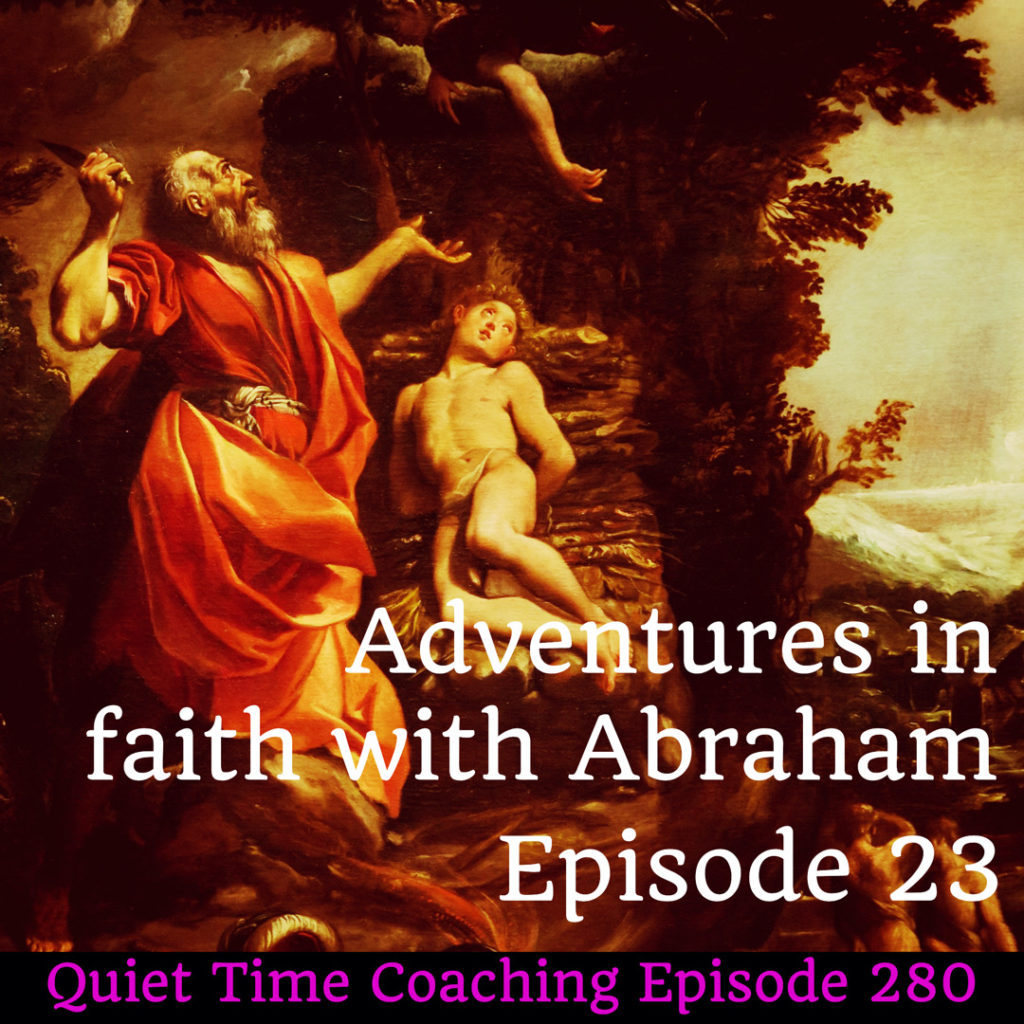 Would you like to learn more about faith? You've come to the right person. No, not me, Abraham. This is a daily devotional podcast supporting a teaching series for the Watford church of Christ and the Thames Valley churches of Christ called "Adventures in faith with Abraham". It is also part of my quiet time coaching series.
What is it about Abraham which is so admirable? Many things. But perhaps above all else his adventurous faith, "By faith Abraham, when called to go to a place he would later receive as his inheritance, obeyed and went, even though he did not know where he was going." (Hebrews 11:8 NIV11)
Join me as we step out on a faith adventure with Abraham.
---
Episode 23
---
Today we start chapter 16
""Now Sarai, Abram's wife had borne him no children, and she had an Egyptian maid whose name was Hagar. So Sarai said to Abram, "Now behold, the LORD has prevented me from bearing children. Please go in to my maid; perhaps I will obtain children through her." And Abram listened to the voice of Sarai. After Abram had lived ten years in the land of Canaan, Abram's wife Sarai took Hagar the Egyptian, her maid, and gave her to her husband Abram as his wife. He went in to Hagar, and she conceived; and when she saw that she had conceived, her mistress was despised in her sight." (Genesis 16:1–4 NAS95)
What are we seeing here? The consequences of impatience. How does this play out? First of all, let's set the scene.
Abram is more in the background in chapter 16. The women take centre stage. The implication is that Abram is willing to wait, whilst Sarai is not. However, Abram agrees with his wife's plan. A plan which reminds us of Adam and Eve in Genesis 3. The same Hebrew word for 'listened', 'shamar', is used in Genesis 3:17 and here. Things did not turn out well then, and they do not turn out well now.
Surrogate motherhood for rich women was not unusual in the culture of the day. However, the outcome makes it clear that God's people should not take their cues from the norms of society.
---
Devotional thought for today
We will tackle the theme of impatience in another podcast, but, for today, let's talk about cultural assimilation.
However distasteful we might think of it today, Sarai's solution would have made perfect sense to her friends and extended family. Surrogate motherhood and polygamy were, if not the norm, certainly not unusual.
Paul wrote about the temptation to fit in:
"Therefore I urge you, brethren, by the mercies of God, to present your bodies a living and holy sacrifice, acceptable to God, which is your spiritual service of worship. And do not be conformed to this world, but be transformed by the renewing of your mind, so that you may prove what the will of God is, that which is good and acceptable and perfect." (Romans 12:1–2 NAS95)
Is there any place in your life where you're tempted to compromise? Is there any current challenge where you are tempted to cut corners to get what you feel you deserve or need?
Sarah uses Hagar to get what she wants. Hagar gets more than a pregnancy. She also gets an attitude. This will not end well.
---
Prayer point for today
Ask God to give you sufficient insight to notice when you're been conformed to the world, and sufficient courage to resist its gravitational pull
---
If you have any questions or feedback please contact me: malcolm@malcolmcox.org.
The apostle Paul said of Abraham, "He is the father of us all." (Romans 4:16 NIV11) Let's allow him to be the father of Faith to you and me in January and February 2021.
Many thanks for listening today. See you tomorrow as we continue our adventure of faith with Abraham.
Take care and God bless, Malcolm