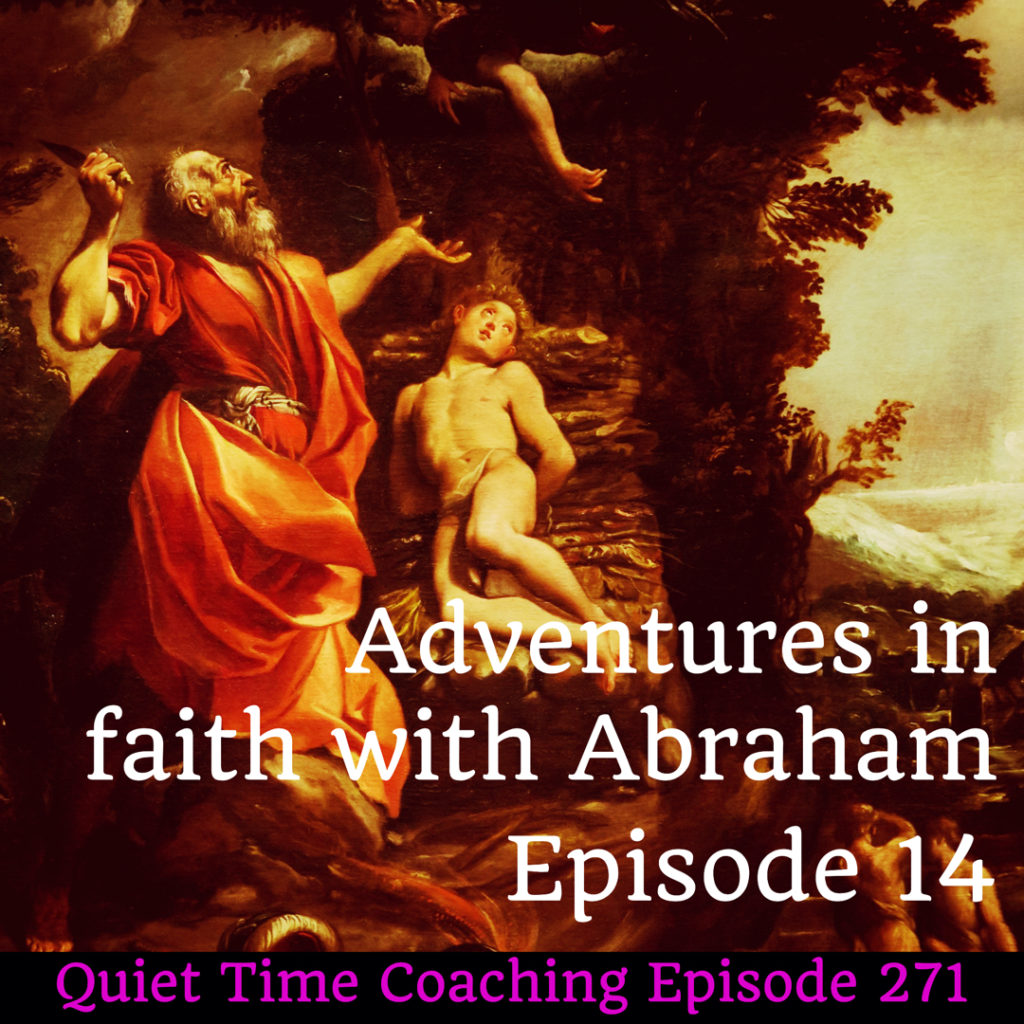 Would you like to learn more about faith? You've come to the right person. No, not me, Abraham. This is a daily devotional podcast supporting a teaching series for the Watford church of Christ and the Thames Valley churches of Christ called "Adventures in faith with Abraham". It is also part of my quiet time coaching series.
What is it about Abraham which is so admirable? Many things. But perhaps above all else his adventurous faith, "By faith Abraham, when called to go to a place he would later receive as his inheritance, obeyed and went, even though he did not know where he was going." (Hebrews 11:8 NIV11)
Join me as we step out on a faith adventure with Abraham.
Episode 14
Today we move on to chapter 14
"And it came about in the days of Amraphel king of Shinar, Arioch king of Ellasar, Chedorlaomer king of Elam, and Tidal king of Goiim, that they made war with Bera king of Sodom, and with Birsha king of Gomorrah, Shinab king of Admah, and Shemeber king of Zeboiim, and the king of Bela (that is, Zoar). All these came as allies to the valley of Siddim (that is, the Salt Sea). Twelve years they had served Chedorlaomer, but the thirteenth year they rebelled. In the fourteenth year Chedorlaomer and the kings that were with him, came and defeated the Rephaim in Ashteroth-karnaim and the Zuzim in Ham and the Emim in Shaveh-kiriathaim, and the Horites in their Mount Seir, as far as El-paran, which is by the wilderness. Then they turned back and came to En-mishpat (that is, Kadesh), and conquered all the country of the Amalekites, and also the Amorites, who lived in Hazazon-tamar." (Genesis 14:1–7 NAS95)
What are we seeing here? People of faith are not immune to the challenges of living in a turbulent world.
The first seven verses of this chapter remind us that nations wars against nations, rebellions occur, battles are fought, and conquerors oppress the conquered.
Abram lived in challenging times. He has already faced a severe famine, now he finds himself caught up in military conflict. How did he feel – recently resettled in the land, having resolved his conflict with his nephew with integrity, and receiving the reassurances from God of inheriting the land not just now but forever and being blessed with, "descendants as the dust of the Earth"?
All of these wonderful promises, and then war breaks out all around him! He could be forgiven for wondering whether God has got it in for him!
Devotional thought for today
Our final and complete rest is in the next life. We are promised that we can have peace of heart now, but not peace in life.
"Peace I leave with you; my peace I give you. I do not give to you as the world gives. Do not let your hearts be troubled and do not be afraid." (John 14:27 NIV11)
Do you not waste time, effort or breath in asking God for a peaceful life. Instead, offer him your anxieties and ask him for a peace–filled Spirit.
Prayer point for today
Ask God to help you trust him around the issues in life which disturb your peace, and fill you instead with his Spirit of peace.
If you have any questions or feedback please contact me: malcolm@malcolmcox.org.
The apostle Paul said of Abraham, "He is the father of us all." (Romans 4:16 NIV11) Let's allow him to be the father of Faith to you and me in January and February 2021.
Many thanks for listening today. See you tomorrow as we continue our adventure of faith with Abraham.
Take care and God bless, Malcolm