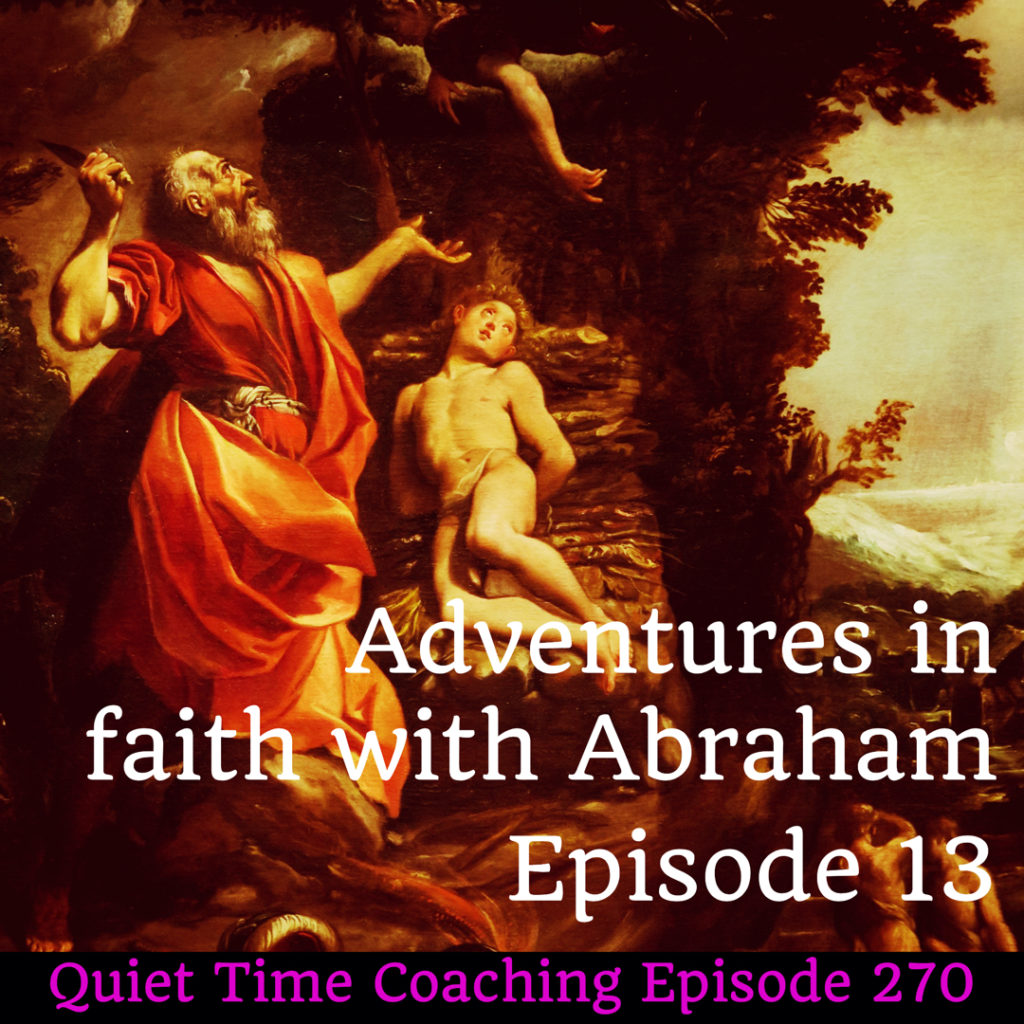 Would you like to learn more about faith? You've come to the right person. No, not me, Abraham. This is a daily devotional podcast supporting a teaching series for the Watford church of Christ and the Thames Valley churches of Christ called "Adventures in faith with Abraham". It is also part of my quiet time coaching series.
What is it about Abraham which is so admirable? Many things. But perhaps above all else his adventurous faith, "By faith Abraham, when called to go to a place he would later receive as his inheritance, obeyed and went, even though he did not know where he was going." (Hebrews 11:8 NIV11)
Join me as we step out on a faith adventure with Abraham.
Episode 13
Today we pause before going on to the next chapter
"Then Abram moved his tent and came and dwelt by the oaks of Mamre, which are in Hebron, and there he built an altar to the LORD." (Genesis 13:18 NAS95)
What are we seeing here? Everyone is heading in one direction or another. Some are healthier than others.
Abraham goes South and walks through the land as God had told him to. Lot went east.
"Lot is stepping out toward the territory that his descendants, the Moabites and Ammonites, would eventually occupy in Transjordan. Though offered a share of Canaan, he is here depicted turning his back on it. "Eastward" describes his direction of travel, but it may echo Adam, Eve, and Cain, who went east after sinning (Gen 3:24; 4:16), and the men of Babel who journeyed "in the east" before commencing their ill-fated tower (Gen 11:2)." Wenham, Gordon J. Genesis 1–15. WBC 1.
Abraham is following the direction of the LORD. Lot is following the direction of his heart.
Devotional thought for today
Discipleship is not a random journey. Following Jesus has an aim. That aim is to become more like him.
"I want to know Christ—yes, to know the power of his resurrection and participation in his sufferings, becoming like him in his death, and so, somehow, attaining to the resurrection from the dead." (Philippians 3:10–11 NIV11)
Fortunately, we have a guide and a companion on this journey – the Spirit of Christ.
"And we all, who with unveiled faces contemplate the Lord's glory, are being transformed into his image with ever-increasing glory, which comes from the Lord, who is the Spirit." (2 Corinthians 3:18 NIV11)
Our journey of faith is transforming us more and more into the likeness of Jesus.
Prayer point for today
Ask God to help you cooperate with the Spirit of Christ in you to transform you into greater Christ-likeness.
If you have any questions or feedback please contact me: malcolm@malcolmcox.org.
The apostle Paul said of Abraham, "He is the father of us all." (Romans 4:16 NIV11) Let's allow him to be the father of Faith to you and me in January and February 2021.
Many thanks for listening today. See you tomorrow as we continue our adventure of faith with Abraham.
Take care and God bless, Malcolm