A sermon for the Watford church of Christ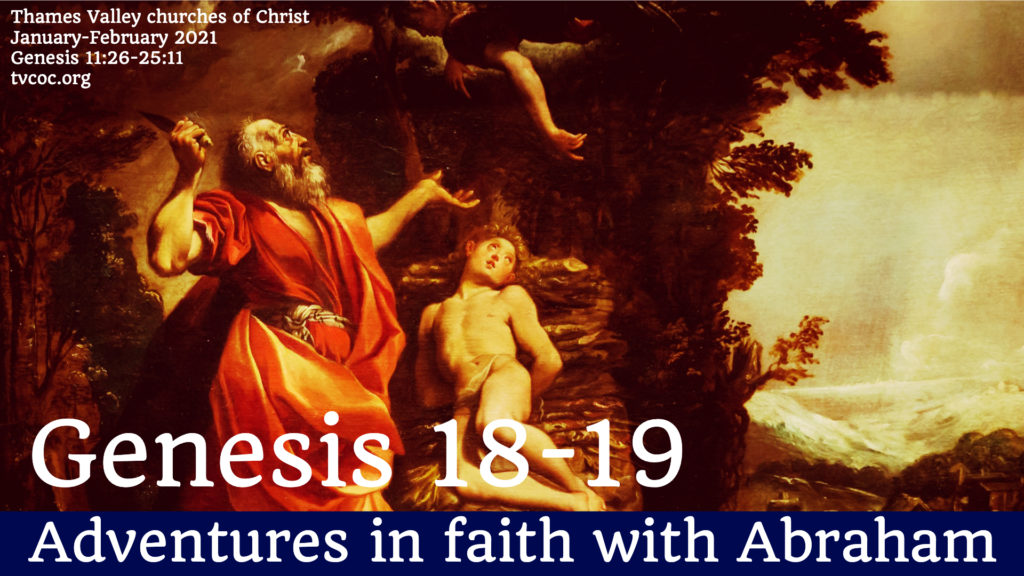 Intro – setting the scene
Last time – what happens when we walk with God
Chapter 17 – circumcision covenant; Sarah the mother; next year; upgraded promises
Change comes at God's timing; He has good in mind for us; we have a part to play; need closer walk with God as life goes on
I could talk about…..
1. Generosity in action, Genesis 18:1-8
Calf – royal generosity – feast
Heb 13:2 – 'strangers
2. Divine Tolerance, Genesis 18:9-15
The impossible is laughable
Matt 9:23-25 – Jesus laughed at because believes impossible
3. Pressure perverts priorities, Genesis 19:1-11
Lot with Abraham; near Sodom; In Sodom – adopted
4. The dangers of doubting God, Genesis 19:12-22
Having a doubt is not a problem. Expressing that doubt is not blasphemous. What is tragic is when doubt is used to to argue ourselves out of obedience.
Jesus helps you – Jn 20:27
5. The consequences of being dominated by greed and fear, Genesis 19:30-38
Greed
Fear – attempt control without God
I will talk about…
The benefits of walking in the presence of God
We understand the heart of God

1. He is the only legitimate judge
Therefore we are at peace
2. He cares about everyone
Therefore we pray even for those we don't like
Canaanites – not Israelites
Therefore we ask boldly – like Canaanites woman
Abraham a man of humility and boldness
Conclusion
God does more than Abraham asks – rescues Lot, Gen 19:27-29
Abe foreshadowing the heart of Jesus

Told us to pray for our enemies, Matt 5:44
Prayed for his, Luke 23:34
Please add your comments on this week's topic. We learn best when we learn in community.
Do you have a question about teaching the Bible? Is it theological, technical, practical? Send me your questions or suggestions. Here's the email: [malcolm@malcolmcox.org](mailto:malcolm@malcolmcox.org).
If you'd like a copy of my free eBook on spiritual disciplines, "How God grows His people", sign up at my website: http://[www.malcolmcox.org](http://www.malcolmcox.org/).
Please pass the link on, subscribe, leave a review.
"Worship the LORD with gladness; come before him with joyful songs." (Psalms 100:2 NIV11)
God bless, Malcolm