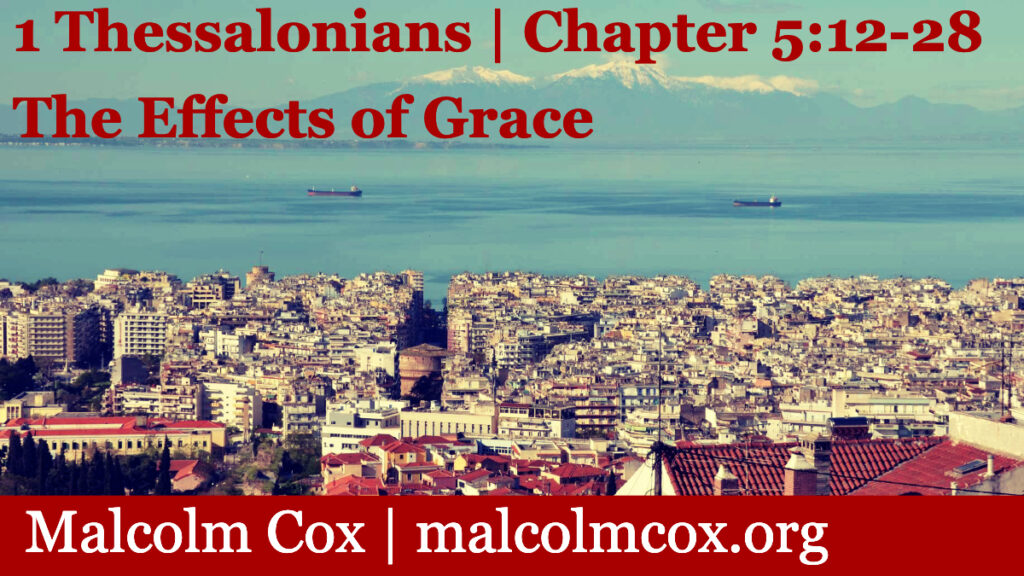 A teaching class for the Thames Valley and Watford churches of Christ
Extra Notes
Some final instructions and encouragements
All are an expression of grace, or the results of receiving the grace of God.
'admonish' – ''It denotes the word of admonition which is designed to correct while not provoking or embittering' (J. Behm, TDNT, iv, p. 1021). It seems to carry a suggestion of blame for wrongdoing (cf. 'warn those who are idle', v. 14) and is aimed at correcting the wrong. Best sees it as addressed to the will rather than the mind.' Tyndale "while its tone is brotherly, it is big-brotherly." 166. Leon Morris NITCOTNT See 1 Cor. 4:14.
    * 'highest'
        * 'hyperekperissou is a very forceful word (see on 3:10), called by Findlay a 'triple Pauline intensive' meaning 'beyond-exceeding-abundantly'' Tyndale
    * 'love'
        * agape - not affection, but much more. Not only respect your leaders, but love them. They are primarily there not to perform a function for your benefit, but to share in Christian love with you.

   * help the weak
        * spiritually weak, Rom 14; 1 Cor 8. "The thought is that it is good for weak souls to know that there are others who are with them, who will cleave to them in the difficult moment, who are not forsake them." 169 Leon Morris
        * help - 'The verb antechesthe (help) is used of holding on to something, cleaving to a person (cf. Luke 16:13). The weak need to feel that they are not alone and strong Christians should 'hold on to them' and give them the support they require.' Tyndale
    * Patient - 1 Cor 13:4. "It is more important for him that he be able to render them some service than that his ego should be satisfied." 169 Leon Morris

    * 'pays back'
        * Rom. 12:17; 1 Pet. 3:9
        * No retaliation whether to external threats (causing suffering) or internal injustice (harshness of leaders). Jesus is our inspiration in this - 1 Pet. 2:23.

* v16
    * Rejoicing is needed especially when there is conflict in church relationships. Indeed, strange, though it may seem, it is possible to rejoice matter what is going on. Additionally, if we work through these issues of relationship disharmony, we will find the effort and repentance rewarded with great joy. This joy is so important because it is so different to that of the world. That in the world is dependent on circumstances, that in the kingdom is dependent on our Lord. "They thought more of their Lord than of their difficulties; more of their spiritual riches in Christ than of their poverty on Earth; more of their glorious future when the Lord should come again than of their unhappy past."

    * See Phil 4.4.  Source of joy is God, not circumstances, Matt 5:12. Lk 10.20.
    * Strange as it may seem, affliction and deep joy go together ([[2 Cor. 6:10]]; [[2 Cor. 12:10]]). Paul rejoiced in tribulations ([[Rom. 5:3]]; [[Col. 1:24]]; cf. [[Acts 5:41]]; [[Acts 16:25]]).
    * A mark of the early church. A joy that cannot be stolen, [[John 16:22]]. Supernaturally provided, [[Galatians 5:22-23]], [[Romans 14:17]].

* v17
    * See [[Luke 18:1]]; [[Romans 12:12]]; [[Ephesians 6:18]]. A spirit of prayer more than a perpetual speaking. At times words will break out - as they do in Paul's epistles.
    * It is our habit to look away from our circumstances, difficult as they are, to deliberately contemplate the presence of God.
    * "Though it is quite impossible for us always to be uttering the words of prayer it is possible and necessary that we should always be living in the spirit of prayer." Leon Morris NICOTNT 173

        * We cannot control our circumstances, but we do not have to be controlled by them.
    * 'this is God's will' - rejoice, pray, give thanks. A mantra for the Christian life?

    * Do not grieve the Spirit, Ephesians 4:30. Live in the way I have taught you, as pleases God, and you will not be quenching the Spirit.

    * 'contempt' - strong word
    * 'reject' - see Romans 12:9. Strong word. Same as 1 Thess. 4:3
    * 'of peace':
        * cf. Rom. 15:33; Romans 16:20; 2 Cor. 13:11; Phil. 4:9; 2 Thess. 3:16.
    * 'sanctify'
        * God sanctifies us - the power; Ephesians 5:26 - Spirit; Romans 15:16 - Son (and Word, John 17:17).
Conclusion
Which leader can you express love to ?
What will help you to " Rejoice always, pray continually, give thanks in all circumstances"? Pick one a week?
Will you use one of Paul's prayers as a template?
What has stood out to you most from the book of Thessalonians?
Please add your comments on this week's topic. We learn best when we learn in community.
Do you have a question about teaching the Bible? Is it theological, technical, practical? Send me your questions or suggestions. Here's the email: malcolm@malcolmcox.org.
If you'd like a copy of my free eBook on spiritual disciplines, "How God grows His people", sign up at my website: http://www.malcolmcox.org.
Please pass the link on, subscribe, leave a review.
"Worship the LORD with gladness; come before him with joyful songs." (Psalms 100:2 NIV11)
God bless, Malcolm