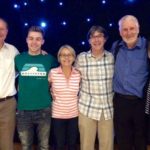 I've been on a Beatles-fest. It's due to the new film: "Eight days a week: the touring years." Amazon Music has provided my fix, and I'm grateful. Gosh, those songs are truly wonderful!
Their track, "With a little help from my friends" came to mind last night at a service of the Thames Valley church. The cause was a sighting of old friends Charlie & Jeanette Hynes and their son, Cillian. God brought us together for one evening – along with John & Rose Partington.  The Partingtons and I go back to '86 and the Hynes to '91. I think that qualifies us as 'old' friends.
However, just because someone is an old friend does not mean they are a 'good' friend. What makes a good friend – old or new?   I think I know. Here are three characteristics of the friendship these two couples have offered Penny & I over many years.
1. Unconditionality
My friends have orbited to my 'dark side' and seen the side I hide from the world. Our special friends know my most unattractive traits and still love me. That's a Christ-like quality. What normal human could love Peter after what he did to Jesus –  "He began to call down curses, and he swore to them, "I don't know this man you're talking about."" (Mark 14:71 NIV11). Only Jesus. But his followers can love this way too, and I've been privileged to enjoy such love from my friends.
2. Generosity
Both these couples are marked by an unusual level of generosity – and not one born out of great wealth. We've been showered with help both practical and emotional. Holidays at their expense, generous surprise gifts, long evenings listening to my woes, babysitting our children, and most recently laying a concrete base – all day in the blazing sun!  They live out the proverb,  "A generous person will prosper; whoever refreshes others will be refreshed." (Proverbs 11:25 NIV11)
3. Spirituality
These people have prayed for me and my family consistently over decades – and still do. We like to hear each other teach and preach the Bible. We share different perspectives and styles, but we value the diversity. Many is the time I've sought them out for advice and spiritual guidance. They have have helped me in my walk with God, my role as a parent and strengthened our marriage. All with a humility that does not say, "We know what you should do", but a heart that says, "We're in this with you." They have been a living example of what Jonathan did for David, "And Saul's son Jonathan went to David at Horesh and helped him find strength in God." (1 Samuel 23:16 NIV11)
Last night marked the first time we'd seen each other for a few months. But time and distance are immaterial when love is unconditional, generous and spiritual. The hugs were strong and genuine. In fact, it was a little painful seeing them because it reminded me how much I miss them. But such pain is positive because it is founded on the reality of love.
I wish such friends for all who read this. If you don't have them, pray and pick someone to whom you could be unconditional, generous and spiritual and watch what God does.
God bless,
Malcolm