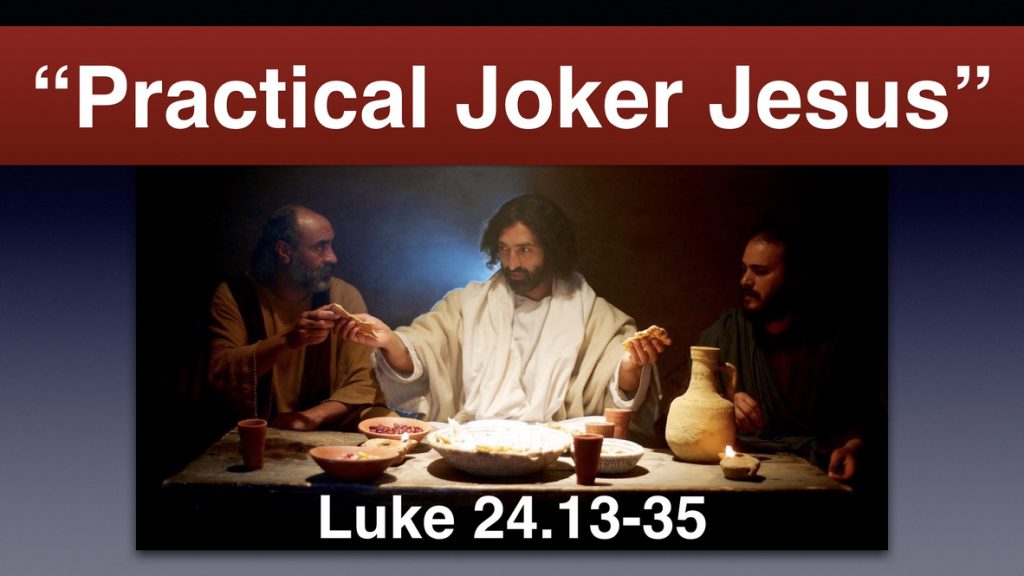 Jesus the practical joker
Was Jesus a practical joker? Is that too irreverent a question for you? I posed this idea on Sunday for the Watford Church of Christ. We were taking a look at Luke 24:13-35.  The recording of that sermon will go up later on today (Sunday) and a link will be added to next week's newsletter.
There's a tremendous amount of humour on the road to Emmaus. Perhaps not for the two people who Jesus came across. But certainly for the reader. I reckon Jesus had a twinkle in his eye when he asked the question, "What things?" when replying to their incredulity that he might not know what happened in Jerusalem.
Whether or not we can truly characterise Jesus as a practical joker, this passage illustrates one very important aspect of the way Jesus treats the fearful, the doubter and the confused. He is patient.
Those two people on the road to Emmaus were walking with "their faces downcast" (Luke 24:17). Haven't we all felt like that? If this text teaches us anything, it's that, with Jesus present, there is always hope. Whatever your past week has contained, good and bad, easy and difficult, comprehensible or incomprehensible, you can move forward with hope if you allow Jesus to speak to you and to be the host of your life.
Cleopus and his companion began their journey discouraged but ended it filled with zeal. My hope would be, no matter what your last week has contained, or even today, and no matter any level of discouragement, that you might find, by the power of the Spirit that the strength is available from God for you to move forward in hope. 
May my articles, podcasts and videos help you along your 'Emmaeus' road this week.
Prayer request
Please pray for me as I prepare the materials for the Watford teaching day. 
Thank you for reading this far, and encouraging me in my endeavours to support our times of quiet with God, our corporate worship experiences, and the effectiveness of our preaching and teaching. I hope my uploads will help you to have beatitude-infused conversations this week.
If you know anyone who might enjoy these materials, please send them a link to my website and encourage them to sign up for this newsletter.
God bless, Malcolm
Please add your comments on this week's topic. We learn best when we learn in community.
Do you have a question about teaching the Bible? Is it theological, technical, practical? Send me your questions or suggestions. Here's the email: malcolm@malcolmcox.org.
If you'd like a copy of my free eBook on spiritual disciplines, "How God grows His people", sign up at my website: http://www.malcolmcox.org.
Please pass the link on, subscribe, leave a review.
"Worship the LORD with gladness; come before him with joyful songs." (Psalms 100:2 NIV11)
God bless, Malcolm
PS: You might also be interested in my book: "An elephant's swimming pool", a devotional look at the Gospel of John