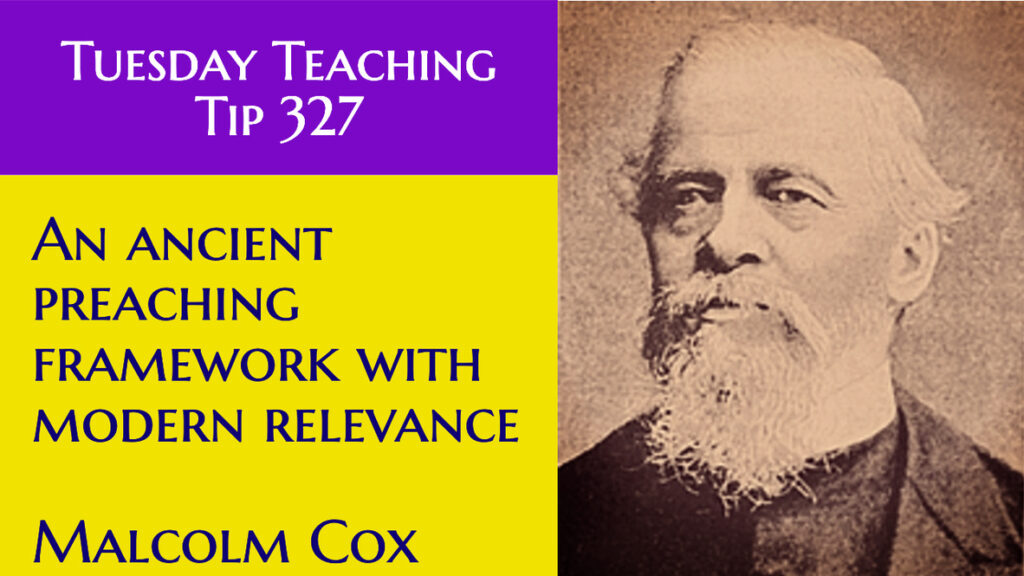 Do you have a framework to help you with the practical side of your preaching and teaching? In today's short tip, I offer you one from of old. It comes from a book given to me by my friend Harry Hardy, written by a church of Christ minister over 100 years ago. Do you think it is still relevant?
The book is Christian ministry by Joseph Rotherham and contains the following framework taken from Dr. Stalker's "The preacher and his models".
"Begin low;
Proceed slow;
Rise higher;
Take fire;
When most impressed
Be self-possessed;
To spirit add form;
Sit down in a storm."
Note: No framework is meant to be a formula or employed rigidly. If you do make use of this framework, be sure to be flexible. What frameworks do you have in mind already? Please share them here so that we can learn from one another.
Please add your comments on this week's topic. We learn best when we learn in community.
Do you have a question about teaching the Bible? Is it theological, technical, practical? Send me your questions or suggestions. Here's the email: malcolm@malcolmcox.org.
If you'd like a copy of my free eBook on spiritual disciplines, "How God grows His people", sign up at my website: http://www.malcolmcox.org.
Please pass the link on, subscribe, leave a review.
"Worship the LORD with gladness; come before him with joyful songs." (Psalms 100:2 NIV11)
God bless, Malcolm