"Blessed are the pure in heart" | Malcolm Cox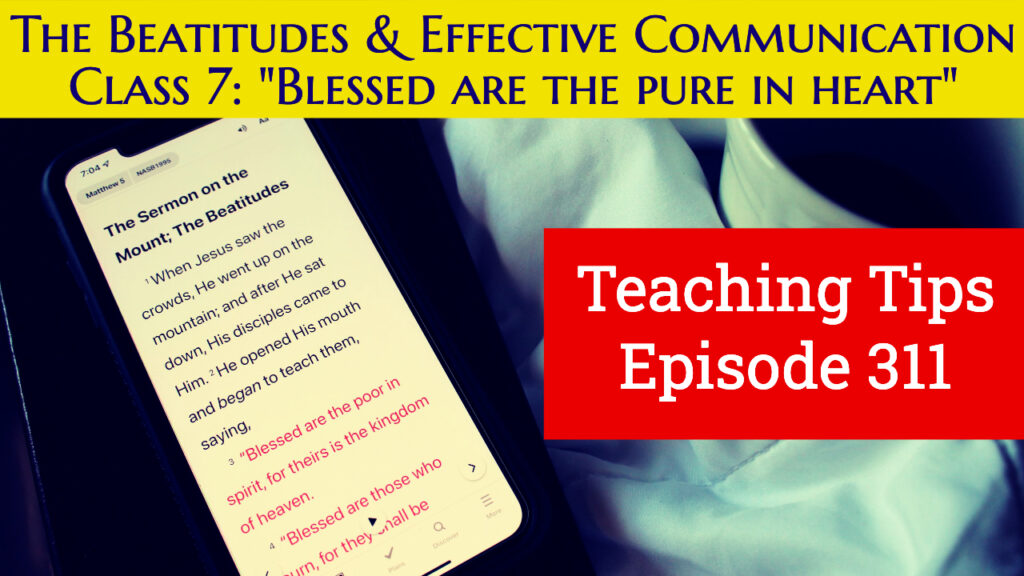 Introduction
What would it be like to preach and teach through the filter of the beatitudes? What would the impact be on us as speakers and our congregations as listeners? Today, we will look at the sixth beatitude:
"Blessed are the pure in heart, for they will see God." (Matthew 5:8 NIV11)
Mercy is connected to purity. Showing mercy needs a pure heart because it must be done altruistically. Although the merciful will be shown mercy, the reward is not something that a merciful person thinks about.
The Meaning in the context of the Gospel

Jesus was upset with the Pharisees for not having a pure heart (Lk 11:39, Matt 23:25-28).
Why bother with keeping a pure heart? Because we will be like our Lord, who is pure of heart, in the next life (1 John 3:2-3). A Christian strives to be as much like his or her Lord because he is our model and hope.
What can this mean? Perhaps it refers to keeping a spiritually narrow focus in life (Psalm 86:11). Rather than a moral purity perhaps it refers more to a relational purity. The sort of thing we see in marriage and in covenants. Old Testament covenants focussed on Israel having only one God. Marriage is a relationship characterised by a commitment to one another exclusive of all other people. I have one wife and I have one God. I have a 'purity' of heart in this. There must be no 'mixing' of my commitment to these relationships or else the relationships themselves will be compromised. 'Pure' silver is that which is not mixed with alloys. 'Purity of heart' means that I will not allow myself to be distracted and polluted by the world (James 1:27). A person who is divided in his loyalties is not pure of heart (Rom 7:22-23).

The Meaning for a preacher/teacher

A preacher or teacher fully invested in purity of heart will actively seek a pure heart. David wanted a pure heart – Ps 51:10. Only God can give us a pure heart (Phil 2:13). But we should not remain passive (James 4:8, Col 3:5ff, Rom 8:13).
In preparation

Pray for purity of heart.
Pray to live your text with sincerity. The JB Phillips translation has this verse as, "Happy are the utterly sincere, for they will see God!"
Pray that your public life and private life match up.

In presentation

Remember your loyalty is to God, not your agenda, or trying to make all you hearers happy. Speak to please God.
Aim to present God to your listeners. The pure in heart speaker will enable people to see God more clearly.
Conclusion
Benefits for us and our hearers:
We speak with sincerity, which builds trust and also makes the message clearer.
We reveal the heart of Christ to our hearers
We inspire and motivate our hearers to Christ-likeness
Next week we will get into the seventh Beatitude, but for today I'd like to know what you think. How can we preach and teach in a way that is informed by the sixth beatitude?
What kinds of questions does this bring to your mind regarding preaching and teaching? Why not pray over the beatitudes, asking God to reveal how they can flavour your speaking? If God reveals anything to you, please drop me a line.
Please add your comments on this week's topic. We learn best when we learn in community.
Do you have a question about teaching the Bible? Is it theological, technical, or practical? Send me your questions or suggestions. Here's the email: malcolm@malcolmcox.org.
If you'd like a copy of my free eBook on spiritual disciplines, "How God grows His people", sign up at my website: http://www.malcolmcox.org.
Please pass the link on, subscribe, and leave a review.
"Worship the LORD with gladness; come before him with joyful songs." (Psalms 100:2 NIV11)
God bless, Malcolm
---