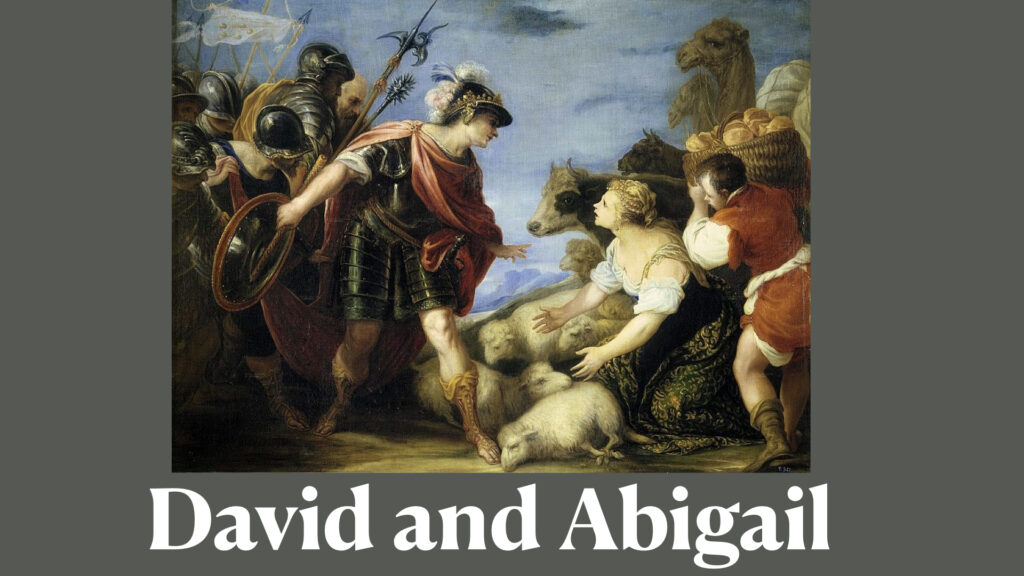 A sermon for the Watford church of Christ
Dates: 11thC BC – 'a festive time'
Geography: Maon and Perez – Wilderness
David's situation in context
Samuel dead – his key supporter – King-in-waiting – like Charles
Chased by Saul – Wife given away. – Could have killed him (has another opportunity later) – Remaining priest
Opening scenes
David's men and Nabal, vv4-13
Nabal's servant and Abigail, vv14-19
Abigail's Actions, vv20-31
Abigail
Her courage: An armed militia – in a ravine
Humility (vulnerable)
Straight-talking explanation: Nabal is a fool, I have a plan
Generous
Savvy: Up on politics; sling ref; appeals to his conscience; appeals to his godliness
God-focus; Prophetic; trust God
2. David
QUESTION: What do you see in his character?
Recognises God at work
Decisive – Instant change in his perspective
Humble – it is a woman! Accepts her instruction/teaching and offer.
Affirming — Praises her – credit where due; blesses her;
Closing scenes
Abigail and Nabal, vv36-38
Abigail and David, vv39-42
David and his wives, vv43-44
Conclusion
Summarise
Vulnerability is no barrier to effectiveness

Women vulnerable; courage needed — not permission; she used her intelligence and resources, not flirting;
Jesus: "he made himself nothing by taking the very nature of a servant, being made in human likeness." (Philippians 2:7 NIV11)
He is our inspiration when we are vulnerable

"Submit to one another out of reverence for Christ." (Ephesians 5:21 NIV11)

Pressure reveals character: Nabal gets uglier, Abigail more beautiful and David more spiritual – eventually.

"We do not want you to be uninformed, brothers and sisters, about the troubles we experienced in the province of Asia. We were under great pressure, far beyond our ability to endure, so that we despaired of life itself. Indeed, we felt we had received the sentence of death. But this happened that we might not rely on ourselves but on God, who raises the dead. He has delivered us from such a deadly peril, and he will deliver us again. On him we have set our hope that he will continue to deliver us, as you help us by your prayers. Then many will give thanks on our behalf for the gracious favour granted us in answer to the prayers of many." (2 Corinthians 1:8–11 NIV11)

We need challenging to see things from God's perspective
What do we learn about God?
vv 22, 26, 28, 31, 32, 34, 38, 39

"When David heard that Nabal was dead, he said, "Praise be to the LORD, who has upheld my cause against Nabal for treating me with contempt. He has kept his servant from doing wrong and has brought Nabal's wrongdoing down on his own head."" (1 Samuel 25:39 NIV11)
Upheld – God actively working for David
Kept from doing wrong – protection
Brought on own head – God sorts things out

Is the writer drawing our attention to the fact that David was not godly-minded until Abigail came on to the scene and talked sense into him?

"David said to Abigail, "Praise be to the LORD, the God of Israel, who has sent you today to meet me." (1 Samuel 25:32 NIV11)
Abigail taught him a more excellent way – Priscilla?
Apply
We do well to welcome anyone (man or woman) who challenges us to see things from God's perspective, to behave more like God, to trust him.

Be grateful for the mediators

We do well to avoid stereotypes about what men and women can do. A warrior can be humble, a subjugated woman can act courageously, save people, and a change history.
Mediation

"For there is one God and one mediator between God and mankind, the man Christ Jesus, who gave himself as a ransom for all people." (1 Timothy 2:5–6 NIV11)
Please add your comments on this week's topic. We learn best when we learn in community.
Do you have a question about teaching the Bible? Is it theological, technical, practical? Send me your questions or suggestions. Here's the email: malcolm@malcolmcox.org.
If you'd like a copy of my free eBook on spiritual disciplines, "How God grows His people", sign up at my website: http://www.malcolmcox.org.
Please pass the link on, subscribe, leave a review.
"Worship the LORD with gladness; come before him with joyful songs." (Psalms 100:2 NIV11)
God bless, Malcolm