Class 2: "Blessed are the poor in spirit, for theirs in the kingdom of heaven" | Malcolm Cox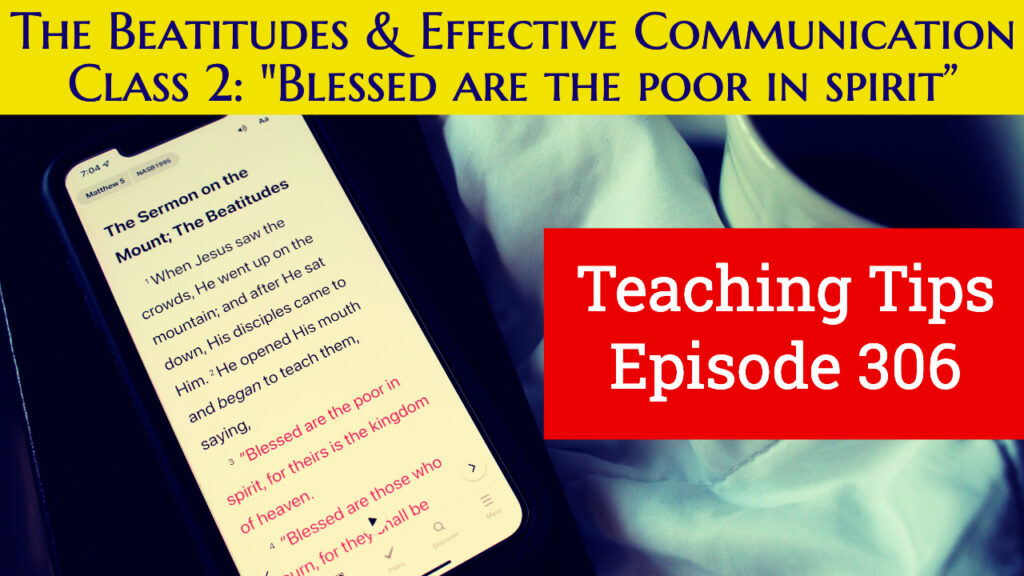 Introduction
What would it be like to preach and teach through the filter of the beatitudes? What would the impact be on us as speakers and our congregations as listeners? Today, we will look at the first of the beatitudes:
"Blessed are the poor in spirit, for theirs is the kingdom of heaven. (Matthew 5:3 NIV11)
The Meaning in the context of the Gospel
The kingdom is a key theme in Matthew. "In Matthew it is John the Baptist who first announces the coming of the kingdom of heaven', but Jesus takes the theme up in his preaching, in the sermon on the mount, in parables and elsewhere. The kingdom is the treasure beyond price, the pearl surpassing all others (13:44-46). It is what prophets and righteous men have been longing for: the day of salvation, the time when God's promises are fulfilled (13:16, 17). It is a time when moral compromises will no longer be appropriate (Matt. 5). It is thus in a real sense 'eschatological', when 'this age' will come to an end and God will rule perfectly. For Matthew this time has come with Jesus: he is fulfilling the promises and is casting out Satan (11:4, 5; 12:28). And yet in another sense the time has not yet come, and Jesus teaches his disciples to pray 'Your kingdom come', and speaks of the future coming of the son of man to gather the elect and to judge the nations (6:10; 24:30). Matthew holds the present and future of the kingdom together in parables, such as that of the wheat and the tares, which are to be left growing together till harvest' (13:30). The present is a time when the kingdom is growing, but there is ambiguity: the perfection lies ahead, beyond Jesus' epoch-changing death when finally the son of man will return (13:37-43)." (Taken from 'Exploring the New Testament', Wenham and Walton, 219-220)
---
2. The Meaning for a preacher/teacher
A. Poor in spirit in approaching the text
– Empty before filled. A devotional approach to the text is needed before, or alongside, a study and preparation approach. Self-examination, self-reflection, self-emptying are needed in our devotional times so that we approach God with humility and then we find grace in our time of need: "Let us then approach God's throne of grace with confidence, so that we may receive mercy and find grace to help us in our time of need." (Hebrews 4:16 NIV11) Come to a text with an open mind and heart. What you already know could get in the way of what you do not yet know, and what God wants to reveal to you
B. Poor in spirit in living the text
– Let the text have its affect on you in the days running up to the event. Live the text. Pray about implementing what you are learning in your own life. This is why we need time to prepare, not last-minute lesson prep. Only then can we walk with the text, letting it affect us. Then we bring a living word, not a dead word. When the Word has had its effect on us we are demonstrating to our hearers that we need this word, not just that the congregation needs this word.
– "For the word of God is alive and active. Sharper than any double-edged sword, it penetrates even to dividing soul and spirit, joints and marrow; it judges the thoughts and attitudes of the heart." (Hebrews 4:12 NIV11)
C. Poor in spirit in approaching the way we preach or teach the text
– Speak without superiority. Acknowledge publicly in your teaching that you have not arrived, that you do not know it all, you are still learning, you have knowledge gaps. Seek to learn as much as teach. Your group will teach you if you allow them to. Ask questions, use small groups, solicit feedback. Make it about Jesus, not you. Jesus emptied himself so as to serve us: "emptied Himself, taking the form of a bond-servant," (Philippians 2:7 NAS95)
---
Next week we will get into the second Beatitude, but for today I'd like to know what you think. How can we preach and teach in a way that is informed by the first beatitude?
What kinds of questions does this bring to your mind regarding preaching and teaching? Why not pray over the beatitudes, asking God to reveal how they can flavour your speaking? If God reveals anything to you, please drop me a line.
Please add your comments on this week's topic. We learn best when we learn in community.
Do you have a question about teaching the Bible? Is it theological, technical, or practical? Send me your questions or suggestions. Here's the email: malcolm@malcolmcox.org.
If you'd like a copy of my free eBook on spiritual disciplines, "How God grows His people", sign up at my website: http://www.malcolmcox.org.
Please pass the link on, subscribe, and leave a review.
God bless, Malcolm
---
Why not sign up for AIM: https://www.aimukandireland.com. Send me an email expressing interest if you cannot find what you need on the site.