A sermon for the Watford Church of Christ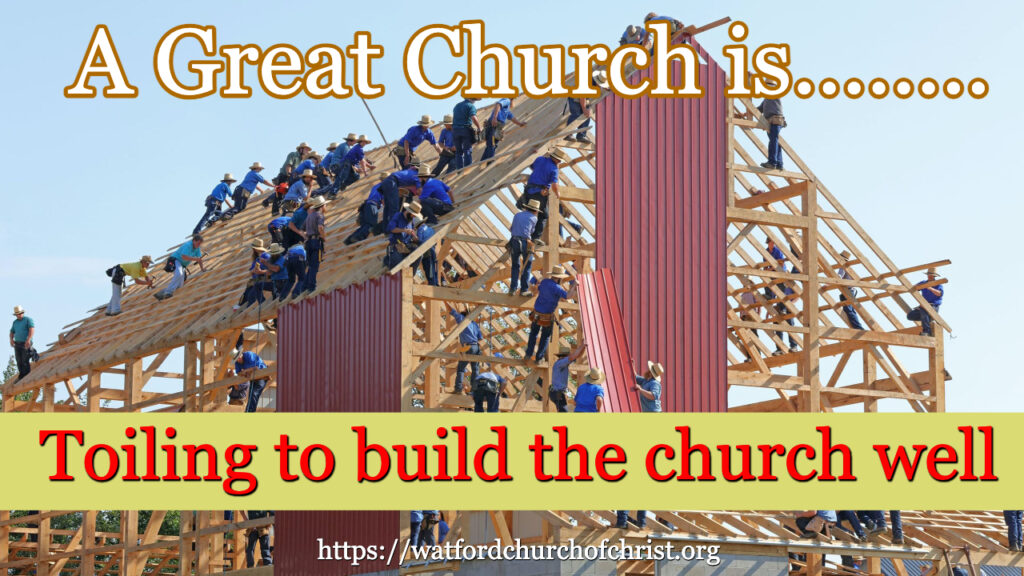 "Toiling to build the church well": 1 Cor 15:58; Eph 3:20-21
Toiling in Vain
A. Meaningless
"when I surveyed all that my hands had done and what I had toiled to achieve, everything was meaningless, a chasing after the wind; nothing was gained under the sun."(Ecclesiastes 2:11 NIV11)
"I hated all the things I had toiled for under the sun, because I must leave them to the one who comes after me." Eccl 2:18
1Cor. 9:26 Therefore I do not run like someone running aimlessly; I do not fight like a boxer beating the air.
B. Unspiritual
Unless the LORD builds the house, the builders labor in vain. Unless the LORD watches over the city, the guards stand watch in vain. In vain you rise early and stay up late, toiling for food to eat—for he grants sleep to those he loves. Ps 127:1-2
By the grace God has given me, I laid a foundation as a wise builder, and someone else is building on it. But each one should build with care. For no one can lay any foundation other than the one already laid, which is Jesus Christ. If anyone builds on this foundation using gold, silver, costly stones, wood, hay or straw, their work will be shown for what it is, because the Day will bring it to light. It will be revealed with fire, and the fire will test the quality of each person's work. If what has been built survives, the builder will receive a reward. If it is burned up, the builder will suffer loss but yet will be saved—even though only as one escaping through the flames. 1 Cor 3:10-15
Toiling in Thessalonica
1Th. 1:2-3 We always thank God for all of you and continually mention you in our prayers. We remember before our God and Father your work produced by faith, your labour prompted by love, and your endurance inspired by hope in our Lord Jesus Christ.
A. Work…labour…endurance
faith…love…hope
salvation is all of God, but faith is busy
endurance: 'fortitude of the stout-hearted soldier'
If we know what inspires us, the work will flow
B. Inspired by Paul
1:6; 2:7bff, 17
You became imitators of us and of the Lord, for you welcomed the message in the midst of severe suffering with the joy given by the Holy Spirit. And so you became a model to all the believers in Macedonia and Achaia. The Lord's message rang out from you not only in Macedonia and Achaia—your faith in God has become known everywhere. 1 Thess 1:6-8
Patient, long-term building
"we were like young children among you. Just as a nursing mother cares for her children, so we cared for you. Because we loved you so much, we were delighted to share with you not only the gospel of God but our lives as well. Surely you remember, brothers and sisters, our toil and hardship; we worked night and day in order not to be a burden to anyone while we preached the gospel of God to you. You are witnesses, and so is God, of how holy, righteous and blameless we were among you who believed. For you know that we dealt with each of you as a father deals with his own children, encouraging, comforting and urging you to live lives worthy of God, who calls you into his kingdom and glory. 1 Thess 2:7-12
But, brothers and sisters, when we were orphaned by being separated from you for a short time (in person, not in thought), out of our intense longing we made every effort to see you. For we wanted to come to you—certainly I, Paul, did, again and again—but Satan blocked our way. For what is our hope, our joy, or the crown in which we will glory in the presence of our Lord Jesus when he comes? Is it not you? Indeed, you are our glory and joy. 1 Thess 2:17-20
C. Relationships
Rom 16 etc.
Toiling together can be a joy
Studying with people together
Praying together
Learning together (AIM!)
All about investment below the surface – iceberg
Love one another
Love the neighbour (the lost one)
"Love one person a week"
Pray for one another
For in Christ Jesus neither circumcision nor uncircumcision has any value. The only thing that counts is faith expressing itself through love. Gal 5:6
Conclusion, 1 Cor 15:54-58
"Death has been swallowed up in victory." "Where, O death, is your victory? Where, O death, is your sting?" The sting of death is sin, and the power of sin is the law. But thanks be to God! He gives us the victory through our Lord Jesus Christ. Therefore, my dear brothers and sisters, stand firm. Let nothing move you. Always give yourselves fully to the work of the Lord, because you know that your labour in the Lord is not in vain.
Victory – through the labour of Christ on the cross
Please add your comments on this week's topic. We learn best when we learn in community.
Do you have a question about teaching the Bible? Is it theological, technical, practical? Send me your questions or suggestions. Here's the email: malcolm@malcolmcox.org.
If you'd like a copy of my free eBook on spiritual disciplines, "How God grows His people", sign up at my website: http://www.malcolmcox.org.
Please pass the link on, subscribe, leave a review.
"Worship the LORD with gladness; come before him with joyful songs." (Psalms 100:2 NIV11)
God bless, Malcolm