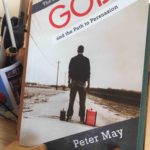 "The Search For God and the Path to Persuasion"
Peter May; md Publishing, 2016
Dr Peter May has written a reflective but practical book on rethinking how we persuade people to take the Gospel seriously. This topic matters because firstly, it is hard to engage people to take the Bible and its stories seriously in this increasingly sceptical era. Secondly, many of us do not know where to start, and find our faltering efforts rebuffed – thus diminishing our enthusiasm to try again. This book provides inspiration, motivation, material and methods to help us in our evangelism.
I recommend this book to anyone who wants to be more flexible and effective in their sharing of the Gospel. Every Christian's desire is to be "all things to all men" – and this is going to take both humility and skill.
Questions
Jesus used questions all the time (Jn 9.35; Matt 22.42; Lk 16.5.11; John 5.44; Luke 7.41-42; Mark 3.33-34; John 8.46; Mark 8.27,29 – to mention only a few of the many!  If Jesus didn't make assumptions as to people's desires, hopes, motivations or understanding, why should we?
Question styles include probing, provocative, closing, socratic, engaging, rhetorical and profound. Which are you better at? I'm guessing most of us are good at one or two – Jesus was adept at all. We can learn to vary our approach, and we need to if we are to reach all people.
Paul's preaching
Peter makes the invaluable observation that Paul's approach to sharing the Gospel was less 'lecture' and more 'discussion'. This becomes clearer when we realise the word translated 'reasoned' (Acts 17.2; 17; 18.19; 19.8,9,10) is the Greek word dialegomai meaning 'to converse, negotiate, discuss, dispute'.  In other words, these were two-way conversations. Dialogue, not  monologue.
Paul was persuasive (Acts 17.4; 18.4,13; 19.8,9,10,26; 26.28), which means he was not one to ram the message home and depart in a huff if no one responded. Add persuasion to dialogue, and you have a healthy cocktail of apologetic power.
Testimonies
The section on testimonies appears in the appendix, and I won't say a great deal here since I have written on this elsewhere. Suffice to say that the personal message of the effect of the Gospel is one of the greatest gifts we've been given. Let's become skilful at sharing this gift persuasively.
Conclusion
"Search for God" contains some material that could be considered questionable in its apologetic value (inscriptions discovered in Pompeii, as an example). Yet there are vital lessons here if we want to be effective in communicating the Gospel. As a GP Peter has spent a lifetime synthesising the questioning methods of the doctor's 10-minute consultation with the opportunities we all have to share the gospel with people. The chapters on Socrates, Paul's approaches to preaching and testimonies are worth the price of the book alone.
Malcolm Cox
Footnote: click the links for my video and audio blogs on this book