Remembrance Sunday 2020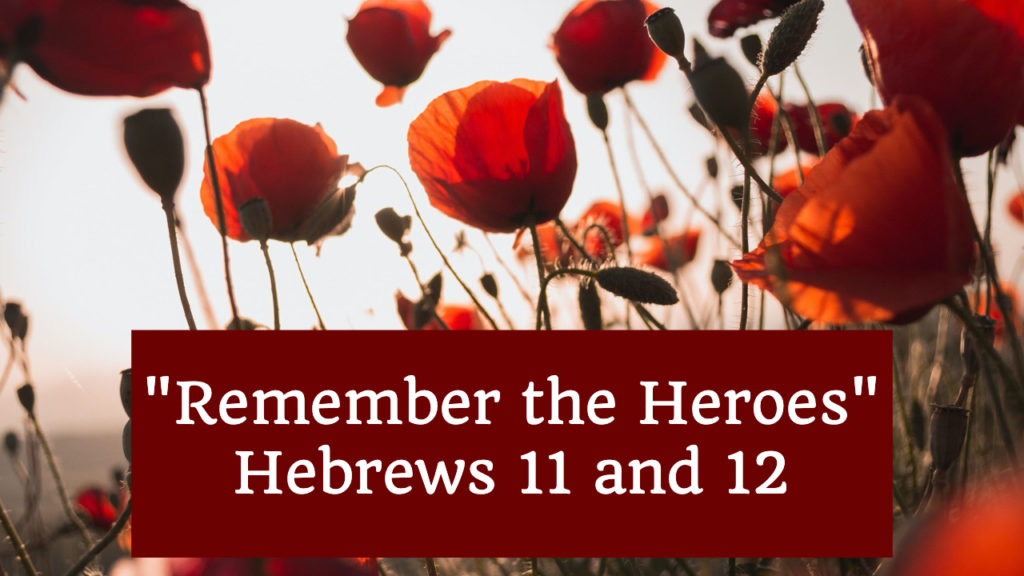 ---
Introduction
W

hat we remember matters

We are what we remember
We become more of what we choose to remember, what memories we dwell on

Takes us one direction or another

Must acknowledge the influence our memories have on us

I hope today to help us find a way to nurture our memories in a healthy way to find gratitude underpinning our past and hope inspiring our future
1. Remember What God Has Already Done
Introduction
QUESTION: Earliest meaningful memory? Often connected to strong emotion.
God knows we need to remember
Remembering built into Israel's history
Remembering built into church/Christian life

Lord's supper
Peter's letters

"Therefore I intend to keep on reminding you of these things, though you know them already and are established in the truth that has come to you. This is now, beloved, the second letter I am writing to you; in them I am trying to arouse your sincere intention by reminding you" (2 Peter 1:12; 3:1 NRSV) https://accordance.bible/link/read/NRSVS#2Pet._1:12

Remembering aided by thinking about the heroes of faith
QUESTION: who can you remember as mentioned in Heb 11?

Able, Enoch, Abraham, Moses, Noah, Isaac, Jacob, Joseph, Israel passing through Red sea, Israel marching round Jericho, Rahab…..
"And what more should I say? For time would fail me to tell of Gideon, Barak, Samson, Jephthah, of David and Samuel and the prophets— who through faith conquered kingdoms, administered justice, obtained promises, shut the mouths of lions, quenched raging fire, escaped the edge of the sword, won strength out of weakness, became mighty in war, put foreign armies to flight. Women received their dead by resurrection. Others were tortured, refusing to accept release, in order to obtain a better resurrection. Others suffered mocking and flogging, and even chains and imprisonment. They were stoned to death, they were sawn in two, they were killed by the sword; they went about in skins of sheep and goats, destitute, persecuted, tormented— of whom the world was not worthy. They wandered in deserts and mountains, and in caves and holes in the ground." (Hebrews 11:32–38 NRSV) https://accordance.bible/link/read/NRSVS#Heb._11:32
Lived in caves – lockdown!
They inspire us

What do you remember as to how God has been with you, helped you, his kindness etc.?
What helps us to remember what God has ALREADY done?
---
2. Remember Who Inspired the Heroes of Faith
Past heroes to us and Biblical heroes essential as an aid to gratitude and example to us
But need inspiration for today and tomorrow that is more than simply human
For this we needs Jesus
"Therefore, since we are surrounded by so great a cloud of witnesses, let us also lay aside every weight and the sin that clings so closely, and let us run with perseverance the race that is set before us, looking to Jesus the pioneer and perfecter of our faith, who for the sake of the joy that was set before him endured the cross, disregarding its shame, and has taken his seat at the right hand of the throne of God." (Hebrews 12:1–2 NRSV) https://accordance.bible/link/read/NRSVS#Heb._12:1
QUESTION: What helps us to REGULARLY remember Jesus?
"Therefore…."
Our turn to run the race – and you can do it
'looking to': aphorontes the runner realises distractions are before him, so he deliberatly looks away from these things to the thing that will keep him focussed.
Not a casual glance nor a simple noticing of Jesus, but a steady, deliberate fixing of the eyes to the end that the mind, heart and energy are all fully engaged on following Jesus.
What is it about Jesus that inspires you most to continue in the race?
This focus helps our ambition to be purified so as to remain spiritual
---
Conclusion
Remember your heroes of faith
Remember Biblical heroes of faith
Above all….
Remember Jesus
Communion
Please add your comments on this week's topic. We learn best when we learn in community.
Do you have a question about teaching the Bible? Is it theological, technical, practical? Send me your questions or suggestions. Here's the email: malcolm@malcolmcox.org.
If you'd like a copy of my free eBook on spiritual disciplines, "How God grows His people", sign up at my website: http://www.malcolmcox.org.
Please pass the link on, subscribe, leave a review.
"Worship the LORD with gladness; come before him with joyful songs." (Psalms 100:2 NIV11)
God bless, Malcolm