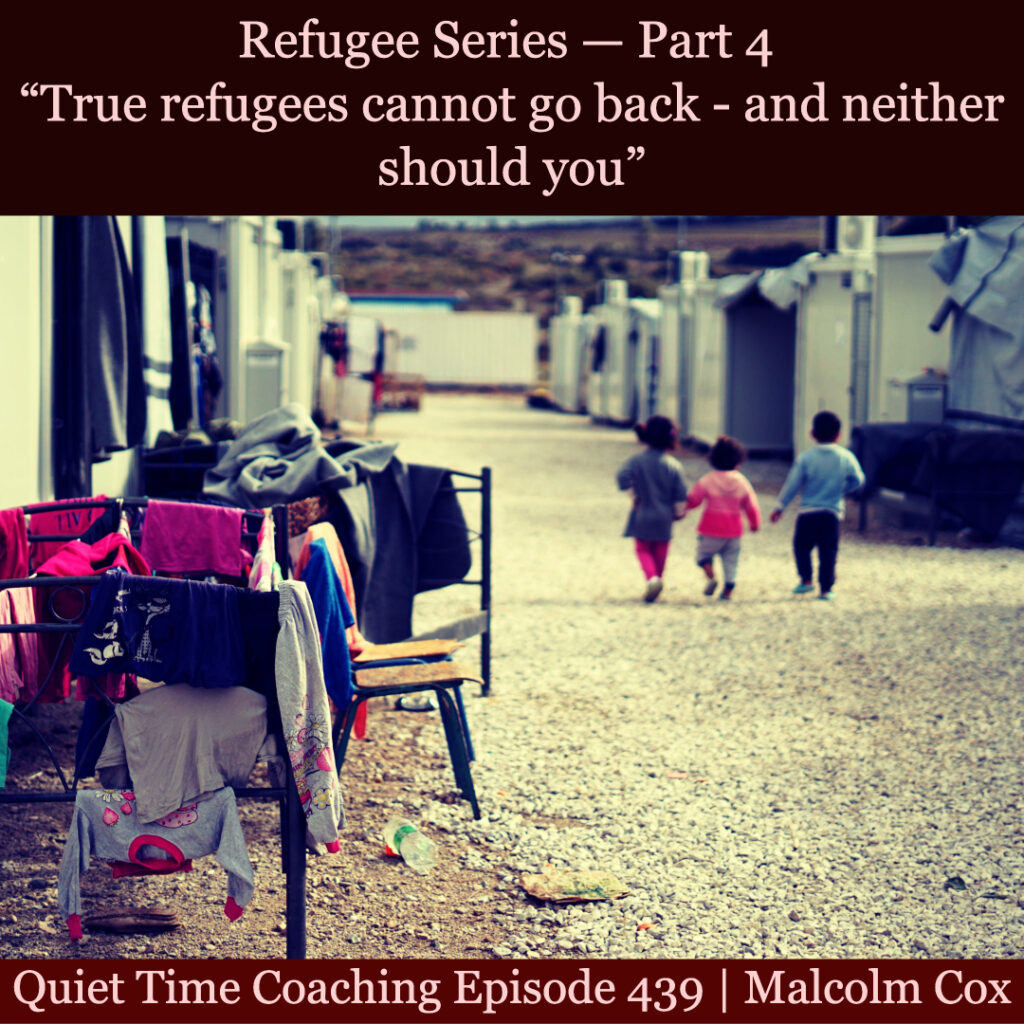 One of the characteristics of a refugee is that they are unable to return to the place from which they escaped. Or, at the very least, it is unsafe to do so. Many refugees are fleeing political, racial or religious persecution. To return might be suicide. The yearn to return is strong, however, no matter how dangerous. Israel struggled with this. Christian have a parallel experience.
Temptation to Return
The Israelites were quick to forget their slave status in Egypt. Fear messed with their thinking. Their pre-Moses memories faded in the face of frightening news.
"Why is the LORD bringing us into this land, to fall by the sword? Our wives and our little ones will become plunder; would it not be better for us to return to Egypt?" (Numbers 14:3 NAS95)
Leaders are no less prone to this temptation than anyone else. I expect you can think of Kings who violated this command,
"Moreover, he shall not multiply horses for himself, nor shall he cause the people to return to Egypt to multiply horses, since the LORD has said to you, 'You shall never again return that way.'" (Deuteronomy 17:16 NAS95)
Fear or Faith?
The question for the Israelites was whether it was better to risk the life of faith with God, or return to a 'safer' existence. Of course, life with God is never guaranteed to be 'safe' in worldly terms, but nothing in this world is truly 'safe'. We are ultimately safe with him because his love never fails, his strength is never inadequate, his power is never exhausted, and his kingdom will never fall.
"Therefore, since we are receiving a kingdom that cannot be shaken, let us be thankful, and so worship God acceptably with reverence and awe," (Hebrews 12:28 NIV11)
Envy and Perspective
It is true that sometimes the people we left behind in the world look like their lives are easier and more fun than ours.
"For I was envious of the arrogant As I saw the prosperity of the wicked." (Psalm 73:3 NAS95)
Leads to….
"Until I came into the sanctuary of God; Then I perceived their end." (Psalm 73:17 NAS95)
Read the rest of the Psalm as a devotional exercise. It will refresh your soul.
Decisively Dead
Jesus died to set us free from the sin-death we deserve. Meditating on that truth can inspire us to remain 'dead' to the sin-temptations we feel.
"We are those who have died to sin; how can we live in it any longer?" (Romans 6:2 NIV11)
Questions for reflection
Which sins of the past are still attractive?
In which areas of your Christian life are you tempted to play safe?
We have escaped 'Egypt', we are safe, therefore thank God.
---
Please add your comments on this week's topic. We learn best when we learn in community.
Do you have a question about teaching the Bible? Is it theological, technical, practical? Send me your questions or suggestions. Here's the email: malcolm@malcolmcox.org.
If you'd like a copy of my free eBook on spiritual disciplines, "How God grows His people", sign up at my website: http://www.malcolmcox.org.
Please pass the link on, subscribe, leave a review.
"Worship the LORD with gladness; come before him with joyful songs." (Psalms 100:2 NIV11)
God bless, Malcolm