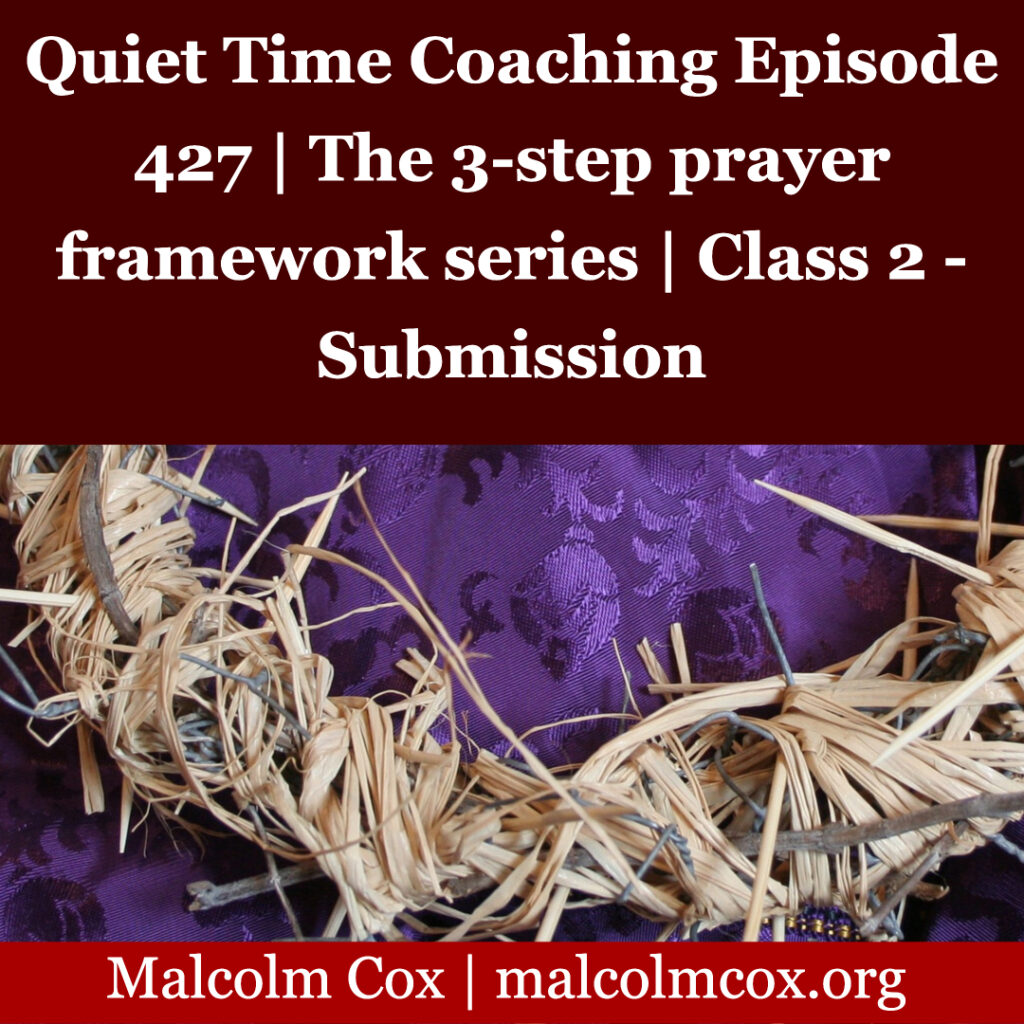 Would you like to freshen up your prayer life? I want to share something I have developed that has done just that. It's a three-step prayer framework I've been experimenting with for the last three weeks. Those three steps are 1. Security, 2. Submission, 3. Supplication. Last week we discussed security. This week we continue with submission. First, however, a point of clarification.
Point of clarification
Submission is, for some people, a troubling word. It carries connotations of oppression, abuse and control. Richard Foster in his book Celebration of Discipline states, "Revolutionary submission commands us to live in submission to human authority until it becomes destructive." Demands for submission to human authority can be destructive, but when God calls us to submit to his will, he invites us into a constructive life. If you fear full submission to God, you are a normal human. Don't worry. Just invest in what we talked about last week. Security in God's love is the antidote to anxiety over submitting to him. Trying to be submissive to God's will for our lives without security in his love is, frankly, terrifying!
Leadership or Servanthood? by Hwa Yung — "Jesus in life, ministry, and mission lived in the full consciousness of his filial relationship with his Father and in the unfailing security of the Father's love. This allowed him to go about life in a calm and cool manner, and gave him inner strength and fearlessness in the face of immense challenges and unrelenting opposition."
Submission: Surrendering Our Will to God's Plan
To make sense of submission to the will of our Heavenly Father, we take our cue from Jesus, who said, "I have come down from heaven not to do my will but to do the will of him who sent me." (John 6:38 NIV11). How did he feel about God's will?
He delighted in it, ""My food," said Jesus, "is to do the will of him who sent me and to finish his work." (John 4:34 NIV11),
Just because he delighted in it does not mean it was easy. Jesus' prayer in the Gethsemane is a poignant example of submission to God's will in challenging circumstances (Matthew 26:39). Despite the overwhelming weight of impending suffering, Jesus humbly surrendered to the Father's plan, saying, "not as I will, but as you will." His submission demonstrated the depth of His trust in God's wisdom and divine purpose. As the book of Hebrews tells us, "During the days of Jesus' life on earth, he offered up prayers and petitions with fervent cries and tears to the one who could save him from death, and he was heard because of his reverent submission." (Hebrews 5:7 NIV11) His submissive heart meant his prayers got heard.
Conclusion
It makes no sense to pray, 'your will be done' (Matthew 6.10) and live in opposition to God's will. Take the time to refresh your security in the Father, and you will find praying to live in submission to his will much more appealing than you might think.
Next time we will go on to look at the topic of supplication.
Please add your comments on this week's topic. We learn best when we learn in community.
Do you have a question about teaching the Bible? Is it theological, technical, practical? Send me your questions or suggestions. Here's the email: malcolm@malcolmcox.org.
If you'd like a copy of my free eBook on spiritual disciplines, "How God grows His people", sign up at my website: http://www.malcolmcox.org.
Please pass the link on, subscribe, leave a review.
"Worship the LORD with gladness; come before him with joyful songs." (Psalms 100:2 NIV11)
God bless, Malcolm