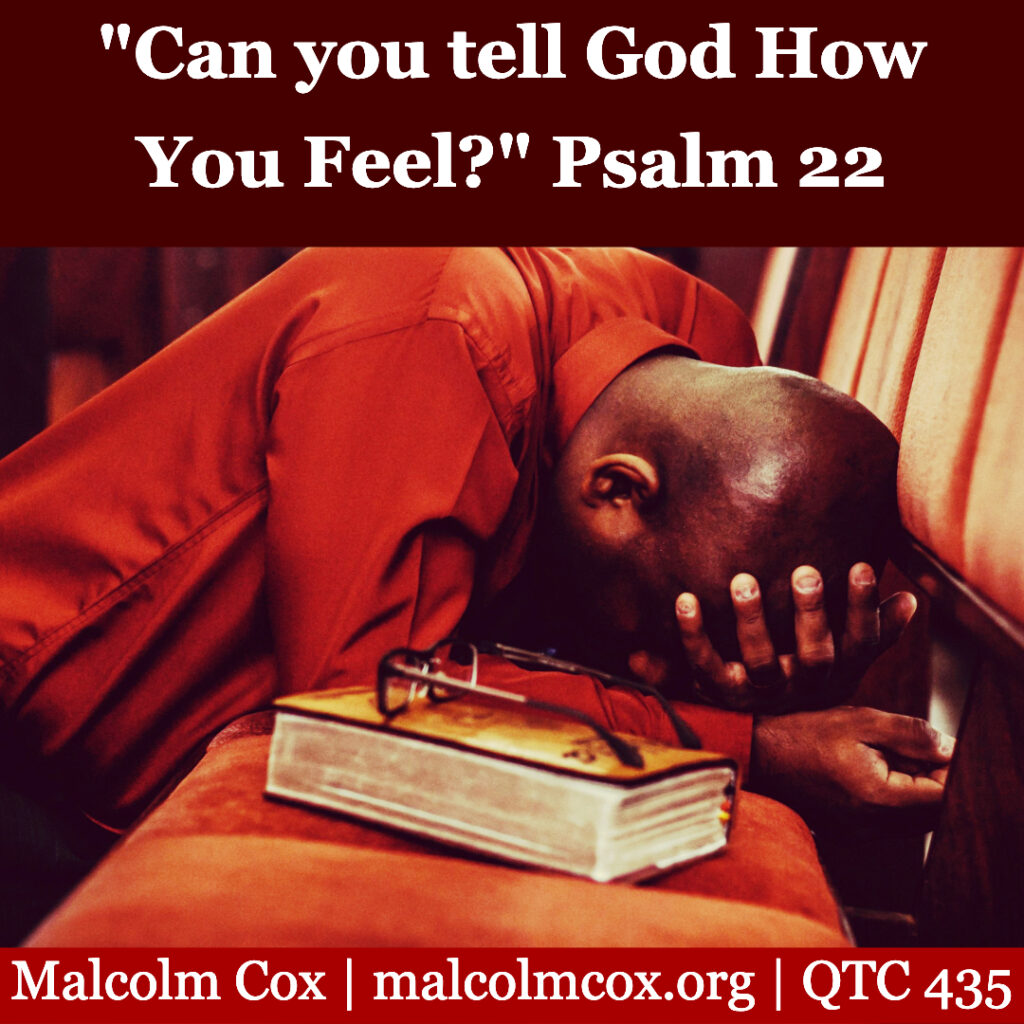 A meditation on Psalm 22
How do you feel about telling God what's going on in your life and how you feel about it? Does it seem indulgent? Or perhaps redundant. Doesn't he already know what's going on and how you are feel about it?
I searched the internet using the phrase 'justifications for telling God your feelings'. Almost every link was negative. The articles focussed on not following your feelings or emotions, but instead living in obedience by faith.
Psalm 22 is an excellent example for those of us who feel awkward being so vulnerable with our heavenly father.
David spends most of the first 18 verses talking about his challenges, his problems, and how desperate he feels about it all. God gets a mention, but is not directly engaged.
He moves from frustration to faith, or torment to trust by:
Honesty, vv1-2
Looking back at the faith of others, vv3-5
More honesty, vv6-8
Looking back at God's faithfulness to him, vv9-10
Tentative request, v11
Laying out his problems, vv12-18
Appealing, vv19-21
Promising, v22
Calling, vv23-24
Visioning, vv25-31
Everything changes in verse 19 with that key word 'but' —"But you, LORD, do not be far from me. You are my strength; come quickly to help me." (Psalm 22:19 NIV11) He does not start there, but he does get there. That shift would not have been so profound if he had not been so honest with God.
'Confessing our feelings to God is not weakness. Instead, when we do so, we admit our need for Him and allow Him to be as honest with us as we are with Him.' Charmain Sim, https://ymi.today/2019/03/3-ways-to-glorify-god-with-your-emotions/
Does anything hold you back from honesty with your heavenly father about your feelings? Tell him everything that's going through your heart, not just your mind. I suspect you will find that he is a good listener, and that your faith will work through your feelings back to him.
Please add your comments on this week's topic. We learn best when we learn in community.
Do you have a question about teaching the Bible? Is it theological, technical, practical? Send me your questions or suggestions. Here's the email: malcolm@malcolmcox.org.
If you'd like a copy of my free eBook on spiritual disciplines, "How God grows His people", sign up at my website: http://www.malcolmcox.org.
Please pass the link on, subscribe, leave a review.
"Worship the LORD with gladness; come before him with joyful songs." (Psalms 100:2 NIV11)
God bless, Malcolm