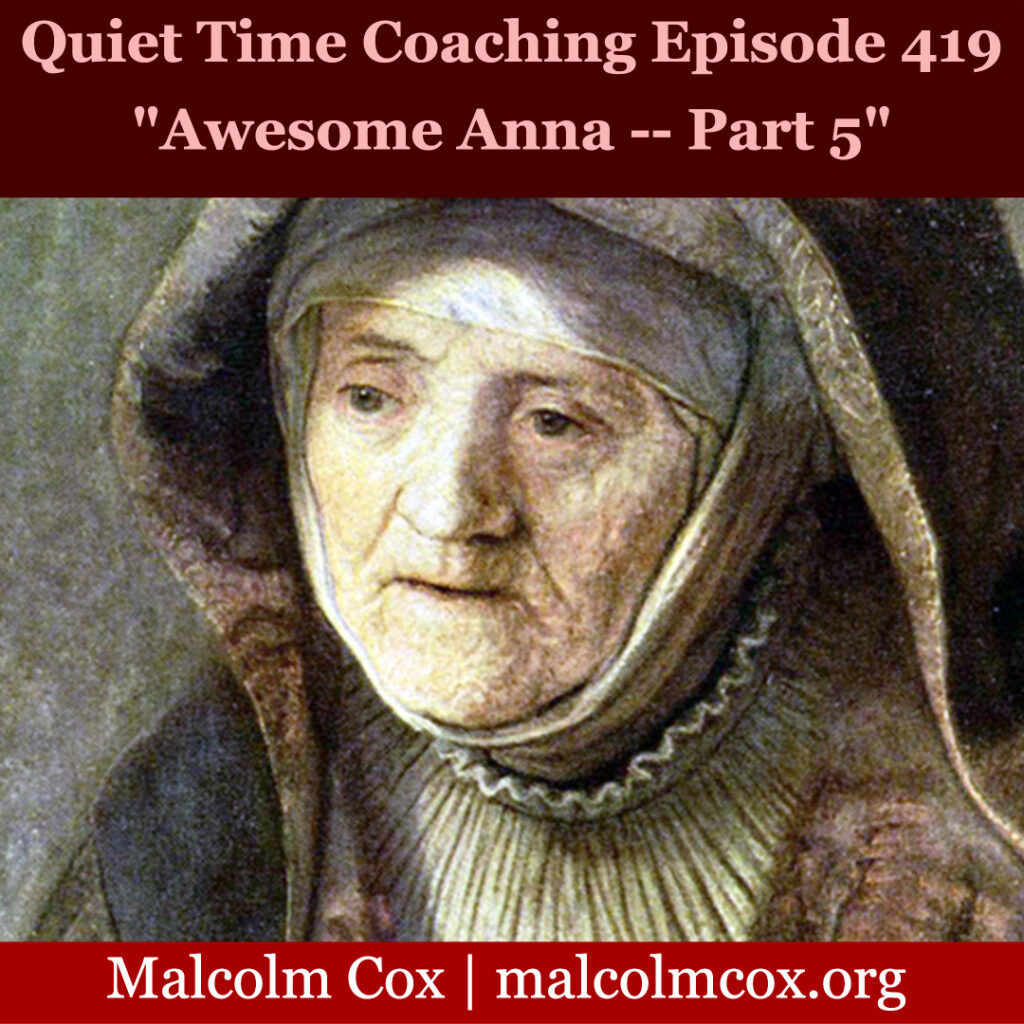 Introduction
Studying Anna for a sermon led me to some unexpected insights about her devotional life. It inspired me to put a multi-episode series together.
The Text
"There was also a prophet, Anna, the daughter of Penuel, of the tribe of Asher. She was very old; she had lived with her husband seven years after her marriage, and then was a widow until she was eighty-four. She never left the temple but worshiped night and day, fasting and praying. Coming up to them at that very moment, she gave thanks to God and spoke about the child to all who were looking forward to the redemption of Jerusalem." (Luke 2:36–38 NIV11)
What do we learn about Anna's relationship with God?
Her personal times of worship led to a natural enthusiasm to tell others about the works of God.
Anna is in tune with God. There's something about her devotion to him which puts her in the right place at the right time to notice what God is doing. Luke tells us that, 'at that very moment' she approached the family of Jesus. It seems that she is able to discern the work of God and deliberately move in to that work.
She 'gave thanks to God' presumably because she recognises that God has brought this about. The word in the Greek for gave thanks, is ἀνθομολογέομαι — anthomologeomai. It is only used here in the New Testament. The word means to come to an agreement; hence, to confess openly what is due; give thanks, render praise. She does not keep it in, she does not simply rejoice inwardly, she expresses her thanks verbally and joyfully.
And that is not all. We learn that she 'spoke..to all' about Jesus. In some sense she is an evangelist! She speaks boldly, clearly and enthusiastically. Perhaps she was stooped, toothless, possibly hard of hearing and partially-sighted, but it does not diminish her spiritual perceptiveness, nor her enthusiasm to tell others about Jesus.
Applications
What experiences have you had of noticing God at work? What was it about your devotion to God that made that possible? Could you do more of that?
In what way does devotion to God make you more enthusiastic about talking about him to other people — whether people of faith or not?
Conclusion
The New Testament does not teach us much about evangelism, but the people of God are very vocal about their faith. What conclusion do you draw from that? There are doubtless many legitimate answers, but at least part of it is to do with having a real, vital, meaningful connection to God through our times of personal devotion.
Please add your comments on this week's topic. We learn best when we learn in community.
Do you have a question about teaching the Bible? Is it theological, technical, or practical? Send me your questions or suggestions. Here's the email: malcolm@malcolmcox.org.
If you'd like a copy of my free eBook on spiritual disciplines, "How God grows His people", sign up at my website: http://www.malcolmcox.org.
Please pass the link on, subscribe, and leave a review.
"Worship the LORD with gladness; come before him with joyful songs." (Psalms 100:2 NIV11)
God bless, Malcolm
https://www.biblicalarchaeology.org/daily/people-cultures-in-the-bible/people-in-the-bible/anna-in-the-bible/ Robin Branch