Quiet Time Coaching Episode 254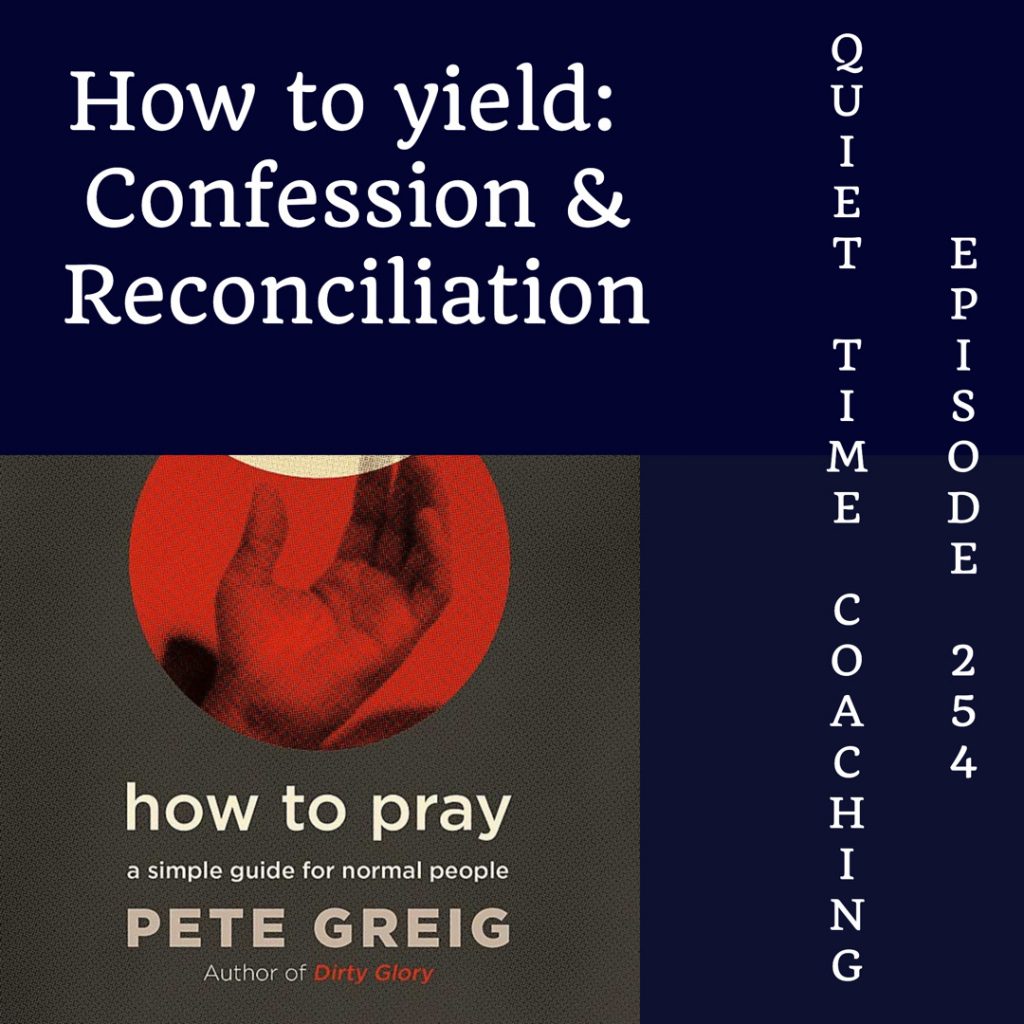 I am in my third year of participating in the Renovare book club. The first book in this season's set of four is "How to pray" by Pete Greig.
Quiet time coaching episodes will focus on his book for the next few weeks. You don't need to read it to benefit from these recordings, but you might like to get hold of a copy for yourself. I have finished the book and can thoroughly recommend it. A full review of the book will come at a later date in "What we are reading".
Last week we explored listening prayer – how to listen in prayer
Today we will reflect on the tenth chapter of the book, "Confession and reconciliation: How to get right with God".
Theme scripture: "'Forgive us our sins as we forgive those who sin against us.'" (Matthew 6:12 NIV11)
First, let's consider what we're talking about when we discuss confessional and reconciliatory prayer.
To confess your sins to God is not to tell him anything he doesn't already know. Until you confess them, however, they are the abyss between you. When you confess them, they become the bridge. (Frederick Buechner) Greig, Pete. How to Pray: A Simple Guide for Normal People (p. 147). John Murray Press. Kindle Edition.
Is this the hardest part of the Lord's prayer? Perhaps that's why it has more space devoted to it than other requests. Perhaps it is also the most extraordinary of all requests. Who are we to ask, nay, almost demand to be forgiven?
To pray this prayer reveals extent to which we trust the grace of God:
"– there is more grace in God than sin in you… You cannot be too bad, too broken or too boring for God's unconditional love, only too proud to acknowledge how desperately you need it."
The real question is whether we will trust God's word:
'If we confess our sins, he is faithful and just and will forgive us our sins and purify us from all unrighteousness.' 1 John 1:9
How do you feel about confession? Probably just as nervous as me. Let me take you through a confession technique which Pete Greig describes in his book. It's called the 'Examen'.
---
1. Replay
Go through your day in as much detail as you can in a way that is described as:
'rummaging for God. Going through a drawer full of stuff, feeling around, looking for something that you are sure must be there.'
Ask yourself where God showed up today? What happened? How did you conduct yourself?
---
2. Rejoice
Celebrate the moments when you noticed God was present, guiding, supporting, enlightening. Be willing even to celebrate what was less than pleasant:
'Unwelcome circumstances are not gifts. But they may contain a gift.'
---
3. Repent
Courageously face those moments which come to mind where you behaved less like a Christ follower and more like a pagan or a pharisaical hypocrite. God knows about it anyway, and he still loves you. So you might as well fess up.
One of the many benefits of doing this is to keep the conscience and the spirit tender to sin:
"Behaviours that would once have seemed shameful or even shocking will become tolerated, accommodated and eventually normalised as your conscience is numbed. But by confessing your sins regularly, your life will smell sweet!"
---
4. Reboot
At this point we have spent enough time thinking about the past, and now turn our thoughts to the future. God is not done with us yet, and has good plans for our future. Plans that include increased progress towards Christ-likeness. Does that happen overnight? Not at all. Our growth is achieved:
"…incrementally day by day, choice by choice, as we train our brains to 'rejoice always' and incline our hearts again and again away from the shadows and towards the light."
Take a moment or two to thank God for the day that has gone, and ask him to set your heart and mind in a good place for the opportunities of tomorrow.
---
Reconciliation
Pete closes the chapter with some inspiring stories of forgiveness offered in the face of terrible injustice. There would be no point in my trying to reproduce the powerful effect of those stories here. Why not buy the book for yourself!
For the sake of this blog, it will suffice to be reminded that our capacity and willingness to forgive others is inspired by the forgiveness we have received.
The more often we are refreshed in this reception of grace by employing something like the Examen, the easier we will find it to forgive those who offend us.
---
Conclusion
The best way to end this chapter is to recall these words of David after his shameful treatment of Bathsheba and her husband:
"Have mercy on me, O God, according to your unfailing love; according to your great compassion blot out my transgressions. Wash away all my iniquity and cleanse me from my sin. For I know my transgressions, and my sin is always before me … Create in me a pure heart, O God, and renew a steadfast spirit within me." (Ps. 51:1–3, 10)
Questions for discussion:

What stands out to you about confessional and reconciliatory prayer?
How might your prayer life grow if you could learn how to practice confessional and reconciliatory prayer?
Suggestion: Focus on confessional and reconciliatory prayer for the next seven days.
Resources mentioned in the book:
PRAYER TOOLS: 1. How to Pray the Jesus Prayer. 2. How to Confess. 3. Identificational Repentance (prayercourse.org).
Further Reading: The Lost Art of Forgiving, by Johann Christoph Arnold.
Next week we will go on to look at spiritual warfare in prayer.
---
Please add your comments on this week's topic. We learn best when we learn in community.
Do you have a question about teaching the Bible? Is it theological, technical, practical? Send me your questions or suggestions. Here's the email: malcolm@malcolmcox.org.
If you'd like a copy of my free eBook on spiritual disciplines, "How God grows His people", sign up at my website: http://www.malcolmcox.org.
Please pass the link on, subscribe, leave a review.
"Worship the LORD with gladness; come before him with joyful songs." (Psalms 100:2 NIV11)
God bless, Malcolm
PS: You might also be interested in my book: "An elephant's swimming pool", a devotional look at the Gospel of John
---