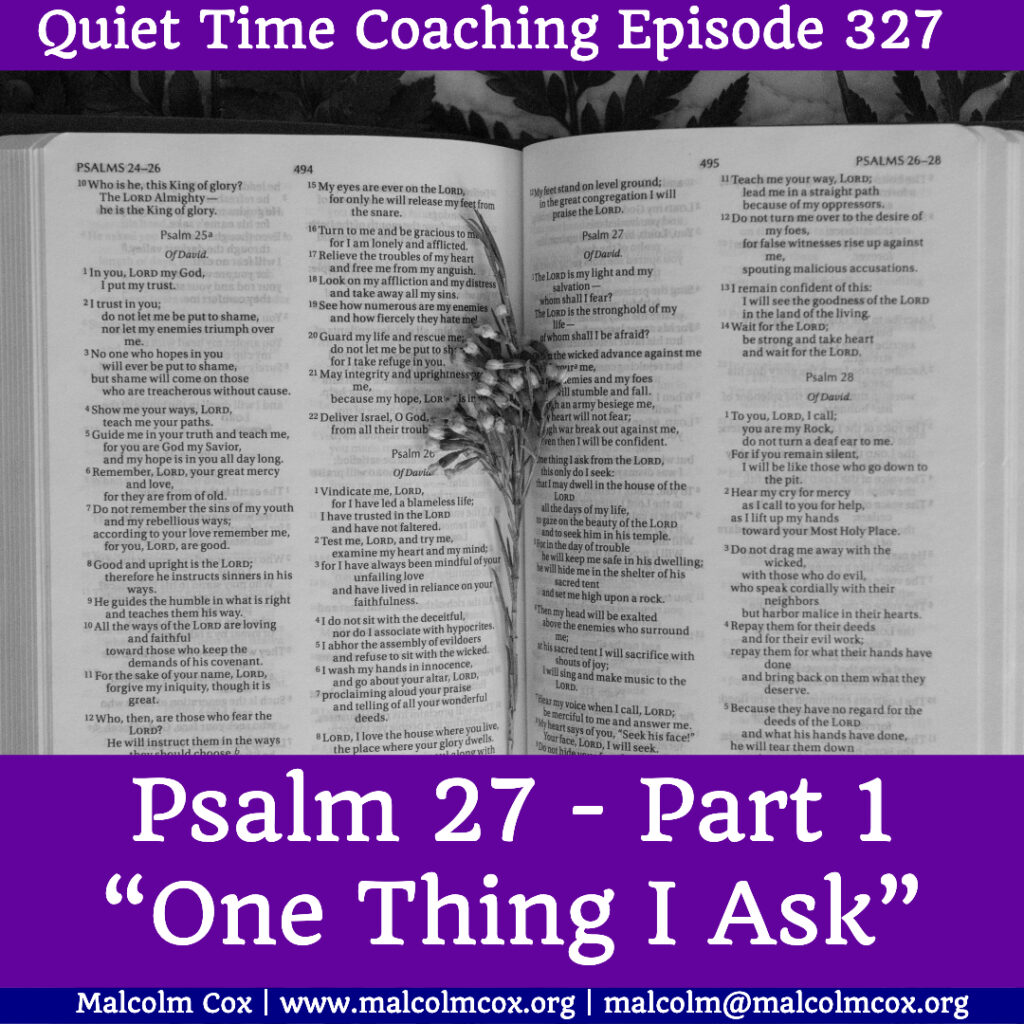 Today we start a new series based on Psalm 27. I spoke on this Psalm's theme, and especially verse 4, for the Watford church of Christ. We are part-way through a series based on the "one thing" phrases found in the Scriptures.

I am dedicating this series to my friend Akin who told me that Psalm 27 was his father's favourite Psalm.

I was so taken by the Psalm that I thought it would be worth taking the time to go deeper into the passage. We will take one verse at a time, week by week. We begin this week with a brief introduction, a reading of the Psalm and then I will share with you a short song I wrote using the words of verse 4. Music helps to embed words into our memories. I hope you will take the time to listen and learn this simple song. I believe it will enable the truth of God's Word to find a permanent home in your soul.

First a comment or two on the Psalm's setting. It has similar themes as the previous Psalm and following one. These are primarily the challenges created by enemies, and delight in the Lord's house. You might benefit from reading the other Psalms in order to grasp more of David's circumstances. All three Psalms may refer to the same situation in David's life, which could have been his flight from Jerusalem as a result of his son Absalom's coup (1 Samuel 15-18).
"Of David.
The LORD is my light and my salvation— whom shall I fear? The LORD is the stronghold of my life— of whom shall I be afraid?
When the wicked advance against me to devour me, it is my enemies and my foes who will stumble and fall.
Though an army besiege me, my heart will not fear; though war break out against me, even then I will be confident.
One thing I ask from the LORD, this only do I seek: that I may dwell in the house of the LORD all the days of my life, to gaze on the beauty of the LORD and to seek him in his temple.
For in the day of trouble he will keep me safe in his dwelling; he will hide me in the shelter of his sacred tent and set me high upon a rock.
Then my head will be exalted above the enemies who surround me; at his sacred tent I will sacrifice with shouts of joy; I will sing and make music to the LORD.
Hear my voice when I call, LORD; be merciful to me and answer me.
My heart says of you, "Seek his face!" Your face, LORD, I will seek.
Do not hide your face from me, do not turn your servant away in anger; you have been my helper. Do not reject me or forsake me, God my Savior.
Though my father and mother forsake me, the LORD will receive me.
Teach me your way, LORD; lead me in a straight path because of my oppressors.
Do not turn me over to the desire of my foes, for false witnesses rise up against me, spouting malicious accusations.
I remain confident of this: I will see the goodness of the LORD in the land of the living.
Wait for the LORD; be strong and take heart and wait for the LORD."

(Psalm 27:0–14 NIV11)
Now let me share my song with you.

Next week we will proceed to the first verse of the Psalm. In the meantime, please add your comments on this week's topic. We learn best when we learn in community.

Do you have a question about teaching the Bible? Is it theological, technical, practical? Send me your questions or suggestions. Here's the email: [malcolm@malcolmcox.org](mailto:malcolm@malcolmcox.org).

If you'd like a copy of my free eBook on spiritual disciplines, "How God grows His people", sign up at my website: http://[www.malcolmcox.org](http://www.malcolmcox.org/).

Please pass the link on, subscribe, leave a review.

"Worship the LORD with gladness; come before him with joyful songs." (Psalms 100:2 NIV11)

God bless, Malcolm