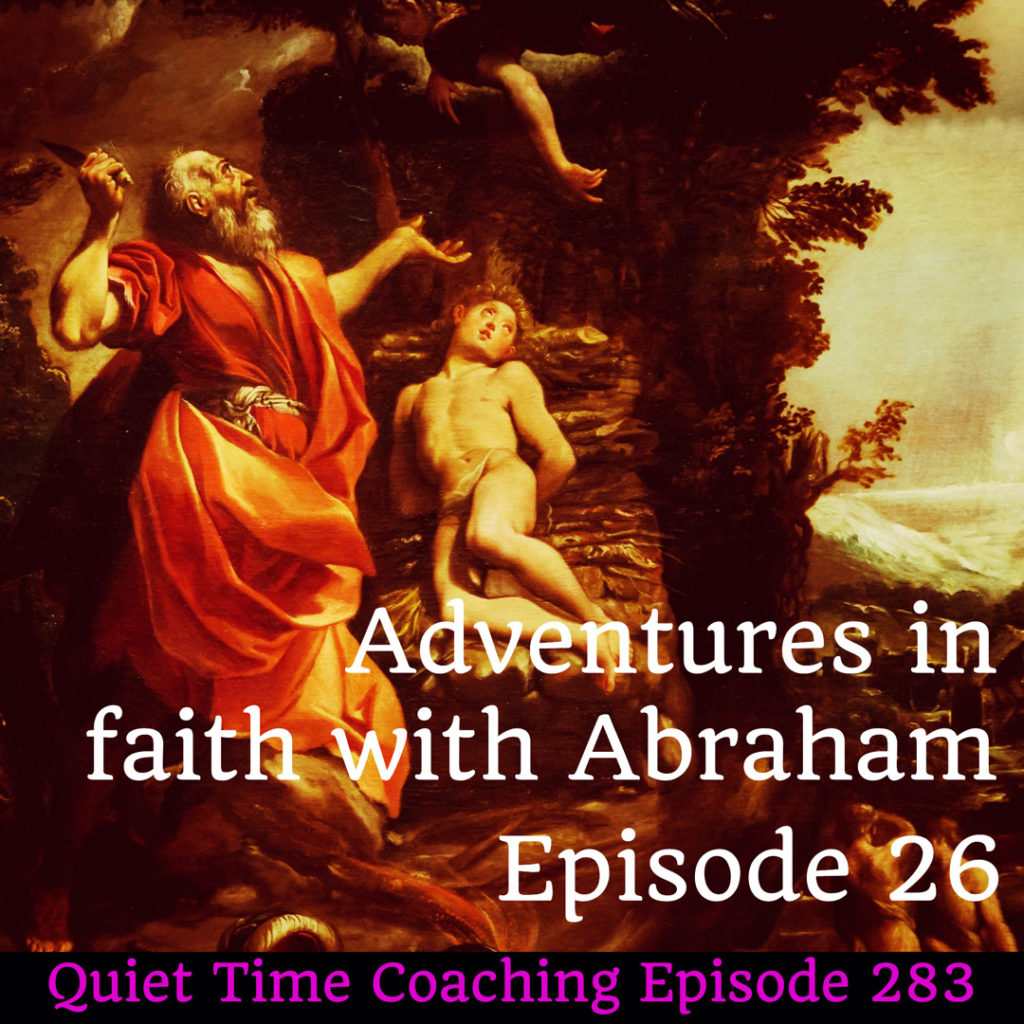 Would you like to learn more about faith? You've come to the right person. No, not me, Abraham. This is a daily devotional podcast supporting a teaching series for the Watford church of Christ and the Thames Valley churches of Christ called "Adventures in faith with Abraham". It is also part of my quiet time coaching series.
What is it about Abraham which is so admirable? Many things. But perhaps above all else his adventurous faith, "By faith Abraham, when called to go to a place he would later receive as his inheritance, obeyed and went, even though he did not know where he was going." (Hebrews 11:8 NIV11)
Join me as we step out on a faith adventure with Abraham.
---
Episode 26
---
Today we finish chapter 16
"The angel of the LORD said to her further, "Behold, you are with child, And you will bear a son; And you shall call his name Ishmael, Because the LORD has given heed to your affliction. "He will be a wild donkey of a man, His hand will be against everyone, And everyone's hand will be against him; And he will live to the east of all his brothers." Then she called the name of the LORD who spoke to her, "You are a God who sees"; for she said, "Have I even remained alive here after seeing Him?" Therefore the well was called Beer-lahai-roi; behold, it is between Kadesh and Bered. So Hagar bore Abram a son; and Abram called the name of his son, whom Hagar bore, Ishmael. Abram was eighty-six years old when Hagar bore Ishmael to him." (Genesis 16:11–16 NAS95)
What are we seeing here? When we feel seen by God we are given the courage to live by faith.
God gives wonderful promises to Hagar. How does she feel? She feels seen. The way it is expressed is almost like an astonished question, "He sees even me – even me?"
The well called 'Beer Lahai Roi' means, "well of the living who sees me". The name is a reminder of the caring God Hagar encountered in her times of desperation.
---
Devotional thought for today
When we feel seen by God, we live by greater faith. It is interesting that the one person in this narrative who is a model of faith is not Sarai nor Abram, but Hagar.
She listens to the Lord, feels seen and heard by him, and obeys him. She goes back to the household of the one who abused her (by no means does this imply there are any extenuating excuses for domestic violence, by the way).
She trusts that God will sort out a messy situation. She has a confidence that God is with her.
What helps you to feel "seen" by God? What convinces you that he is paying attention to you, personally, all the time?
Just before giving his followers the words of what we now call "the Lord's prayer", Jesus says this:
"And when you pray, do not keep on babbling like pagans, for they think they will be heard because of their many words. Do not be like them, for your Father knows what you need before you ask him." (Matthew 6:7–8 NIV11)
He knows what you need. We have the right to ask him for our "daily bread". He will give to those who make requests (Matt 7:7,11).
Do you want greater faith? The place to begin is discovering how to feel seen by God.
---
Prayer point for today
Ask God to give you the assurance that you are seen
---
If you have any questions or feedback please contact me: malcolm@malcolmcox.org.
The apostle Paul said of Abraham, "He is the father of us all." (Romans 4:16 NIV11) Let's allow him to be the father of Faith to you and me in January and February 2021.
Many thanks for listening today. See you tomorrow as we continue our adventure of faith with Abraham.
Take care and God bless, Malcolm